Bill Russo, one of Biden's campaign staffers, has criticized Facebook over how it is handling the aftermath of the presidential elections, suggesting that even with Facebook's censorship reaching new heights – it's not enough and he wants more. He said that Facebook was "shredding" the fabric of democracy by the way it is handling the post-election times and allowing its users to voice their concerns about voter fraud.
"If you thought disinformation on Facebook was a problem during our election, just wait until you see how it is shredding the fabric of our democracy in the days after. Look at what has happened in just the past week," tweeted Russo.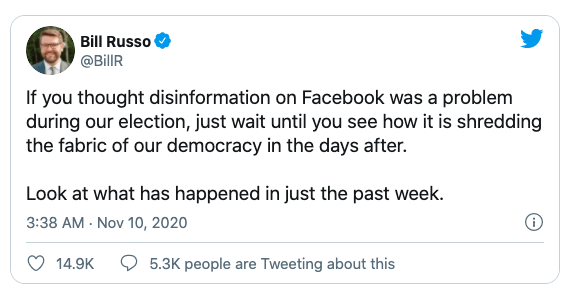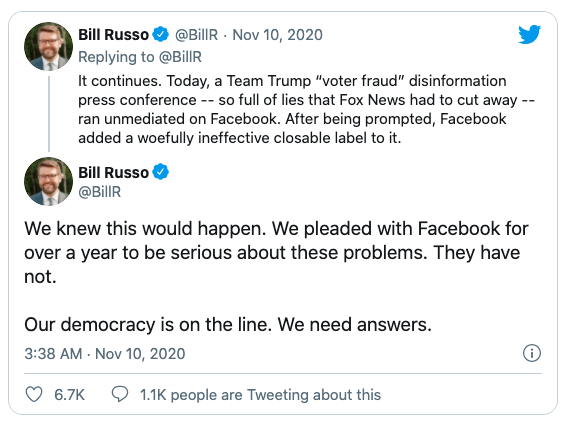 The early election results have triggered a huge spectrum of reactions across the American population. Russo, in a series of tweets, condemned Facebook for not handling the "misinformation" prevalent on its platform and undermining his boss's claims of victory.
He also accused Facebook for not effectively censoring the posts by a former Trump advisor, Steve Bannon and Breitbart, a popular conservative news outlet.
Russo's criticism of Facebook is regarded to be a close indicator of how Biden may deal with Big Tech. The Democrat leader has already hinted at his approach towards several concerns with the tech industry, calling for more moderation of content.
Here's what Biden told New York Times recently about Facebook:
"No, I've never been a fan of Facebook, as you probably know. I've never been a big Zuckerberg fan. I think he's a real problem."
What's more, Biden also thinks that the Section 230 of the Communications Decency Act, which happens to be the backbone for several social media platforms, needs to be "revoked" – but, unlike some conservatives who want it revoked as a way to force Big Tech to uphold free speech, Biden wants it revoked so that platforms can be sued for allowing "misinformation."
So far, most lawmakers and regulators haven't really entertained the idea, or rather have gone to the extent of wanting to meddle with Section 230; but it seems like Biden may do so.
Facebook is already being grilled by the FTC and a coalition of states over a number of antitrust violations for a while now. With Russo's tweets and Biden's anti-Facebook stance, it seems like the Big Tech giant will face even more calls for censorship with passing time if he takes the presidency.