With the 2020 US presidential election less than three months away, the tech giants have announced in a joint statement that they met with government partners to discuss "protecting the integrity of the election."
Representatives from Facebook, Google, Twitter, Reddit, Microsoft, Verizon, Pinterest, LinkedIn, and the Wikimedia Foundation attended the meeting and discussed their "preparations for the upcoming conventions" and "scenario planning related to election results."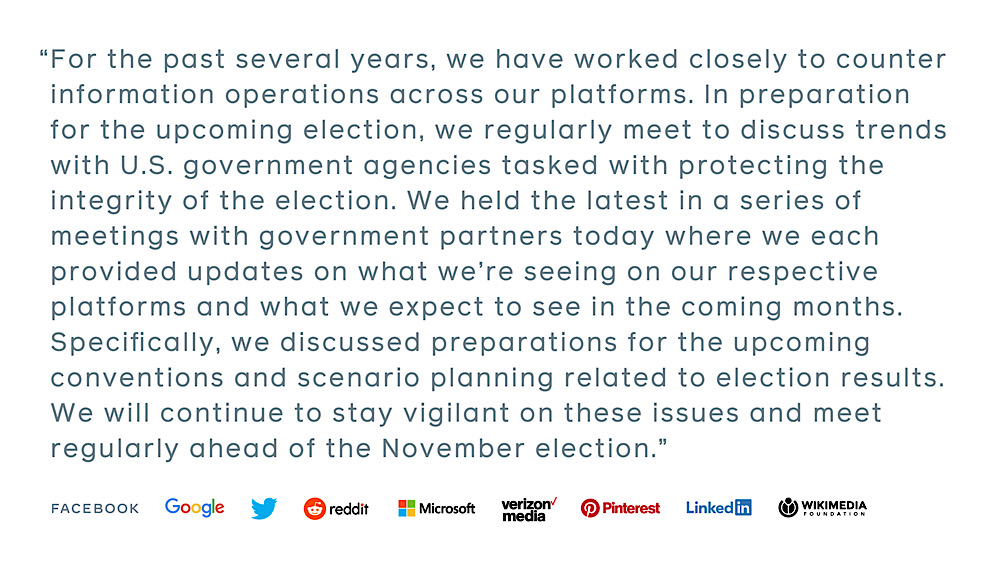 They added that they'll be holding regular meetings on their election preparations ahead of the November election.
The tech giants didn't provide any specifics on upcoming changes or policies that could be part of their election preparations.
However, previous statements and updates from these companies do provide an indicator of the election-related policies that are likely to be introduced as the election draws closer.
Reports from inside Facebook and statements from its CEO Mark Zuckerberg have been the most revealing in this area.
Zuckerberg recently said the platform is planning to get people ready for "the fact that there's a high likelihood that it takes days or weeks to count this — and there's nothing wrong or illegitimate about that." He added that Facebook is also considering new censorship rules regarding "premature claims of victory or other statements about the results."
Zuckerberg has also reportedly told employees that the company may label posts from political figures and commentators who "attempt to try to call an election early" with a message stating that the results are not yet final and that the company is "thinking through what policy might be appropriate" if Trump declared the election result invalid.
Additionally, Zuckerberg has confirmed that Facebook will be removing what it deems to be "false claims" about polling conditions in the 72 hours leading into election days, Immigration and Customs Enforcement (ICE) agents checking for immigration papers at polling places, and "threats of coordinated interference."
Finally, Facebook employees have reportedly "debated the merits of censoring a sitting president's potentially false statements about election results" on Facebook's internal message boards.
Outside of Facebook, the testimony of several Big Tech companies during a House Intelligence Committee hearing on election misinformation in June also provides some indication of the types of changes they could be making in the run-up to the election.
During this hearing, Google cited the coronavirus and widespread protests as potential "fodder for nation state-sponsored disinformation campaigns," Facebook cited its takedown of some ads and posts from President Trump's campaign, and Twitter said the platform had identified a new threat of disinformation in the wake of the George Floyd protests.
Before this announcement, Facebook started adding info panels to posts about voting with President Trump being the first to have his post hit with one of these panels while Twitter has fact-checked several of the President's statements about mail-in voting.
Several Silicon Valley companies including Google, Facebook, and Microsoft are also partnering with major news networks to tackle what they deem to be election misinformation. As part of this collaborative project, partners will tip each other off when they find what they think is "fake news" that could compromise the "integrity of the election."