BitChute is a video sharing platform that was founded in 2017 and has become one of the most popular free speech focused YouTube alternatives with tens of millions of monthly visits.
Its founder, Ray Vahey, stated that he was motivated to start the site to do something about the growing levels of censorship and demonetization on YouTube.
BitChute caters to a wide range of interests and some of its many content categories include "Anime & Animation," "DIY & Gardening," "Gaming," "Health & Medical," "News & Politics," "Pets & Wildlife," "Spirituality & Faith," and "Travel."
However, political news and commentary videos are generally the most popular on the site with its most subscribed channels and trending videos covering politics and current events.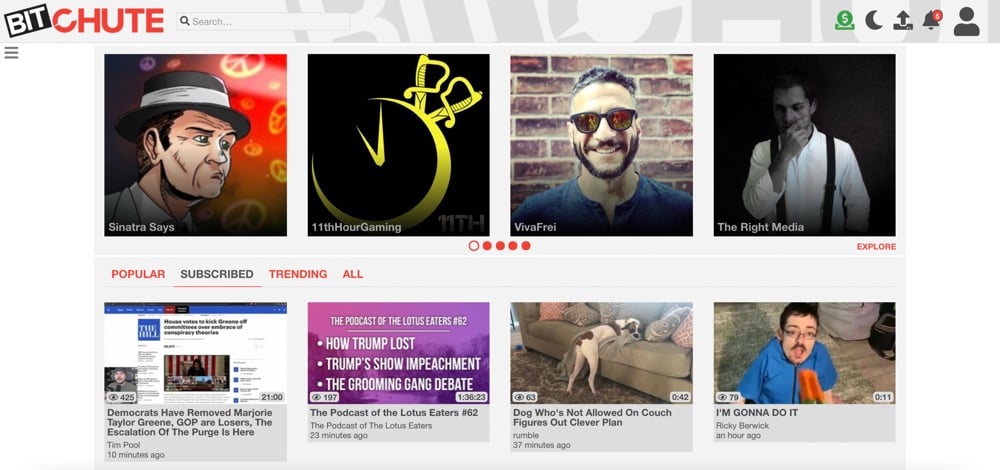 Decentralized, peer-to-peer technology integration
BitChute has built the peer-to-peer video streaming torrent client WebTorrent (which makes the decentralized peer-to-peer file hosting protocol BitTorrent work in web browsers) into its platform. This means that anyone watching the video can help to host it and that popular videos are hosted and served by lots of different users.
BitChute also lets users download and seed torrents of the videos directly via a torrent client or a browser that supports torrent files. The torrent link can be accessed by clicking or tapping on the "Magnet Link" icon that appears below videos. If users download and seed the torrent file, other users can then download and help to host the associated BitChute video without having to rely on BitChute's copy of the video.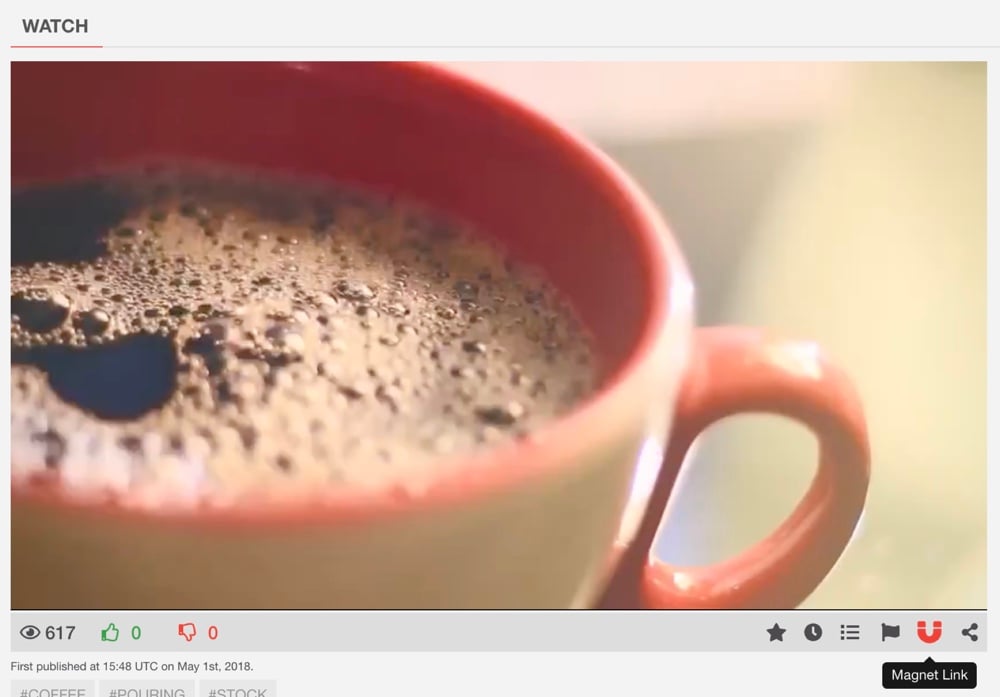 There are some areas where access to BitChute videos is still centralized. Currently, the only way to access videos that haven't been seeded by other users is via BitChute's web client. Videos with a low view count are also hosted and served up by BitChute.
However, this partial decentralization does make popular videos and videos that have been downloaded and seeded more resistant to censorship. And BitChute has committed to "leverage, develop and implement decentralised technology that will help with the storage and distribution of content available through the platform."
Approach to content moderation and community
Vahey and BitChute have vowed to support freedom of expression on the platform and put creators first.
"I really see the importance of free speech in society in general," Vahey has said. "If we lose that, then we really are in trouble. It's the way we resolve our differences without conflict. So that is what motivates me when we run BitChute and we don't deplatform people."
Vahey has also thrown his supports behind the notion that "the way to target bad ideas or to defeat bad ideas has got to be the good ones" and said that "more platforms need to wake up to this fact and support it."
There are several categories of prohibited content on BitChute which include videos of kidnapping, attempted murder, murder, mutilation, rape, torture, animal cruelty (which is defined by the "Prevention of Harm" section of the UK Animal Welfare Act 2006), child abuse or endangerment (which is defined by the offenses listed in the UK Children and Young Persons Act 1993), sexually explicit material, terrorist or violent extremist material, threats or incitement to violence, and platform misuse (which includes dogpiling and brigading, metric manipulation, using misleading metadata, name squatting, scamming, and spamming).
BitChute also prohibits "harassment," "harmful activities," and "incitement to hatred." However, unlike Big Tech rules which often use these vague, subjective terms to justify their censorship of users, BitChute's rules in these areas are either grounded in the law or lay out very specific criteria.
Harassment is defined as any harassment that's "determined to be unlawful within the domiciles of either the originator or the target" and harmful activities are defined as the "injection / ingestion of dangerous substances, self-harm, suicide and other activities that are intended to lead to someone getting badly hurt or worse."
BitChute is incorporated in the UK and so to comply with the UK's Audiovisual Media Services Regulations 2020, it has to geoblock content that's deemed to be inciting "hatred against a group of persons or a member of a group of persons based on any of the grounds referred to in Article 21 of the Charter of Fundamental Rights of the European Union." These geoblocking requirements apply to citizens of the United Kingdom (UK), European Union (EU), and European Economic Area (EEA).
When applying its rules, BitChute has stuck to Vahey's promise of supporting freedom of speech with many of the creators that have been censored by YouTube finding success on BitChute.
The implementation of WebTorrent technology also means that if BitChute ever does censor content, users are free to download the torrent file, seed it, and share it with others without relying on BitChute.
In addition to being pro-free speech, BitChute is also pro-creator and has published a public commitment to preventing platform bias (by making all platform moderation decisions as transparent as legally possible and subject to reasonable appeal), empowering creators (by providing integration points that let them monetize their content), and using objective metrics such as views, likes, and subscriptions to determine which content rises to the top.
Video discovery and distribution features
BitChute has several options for finding new videos and creators to follow. If you want to browse all the videos on the site, you can use the BitChute homepage. Alternatively, you can browse BitChute's topic-based categories via the sidebar.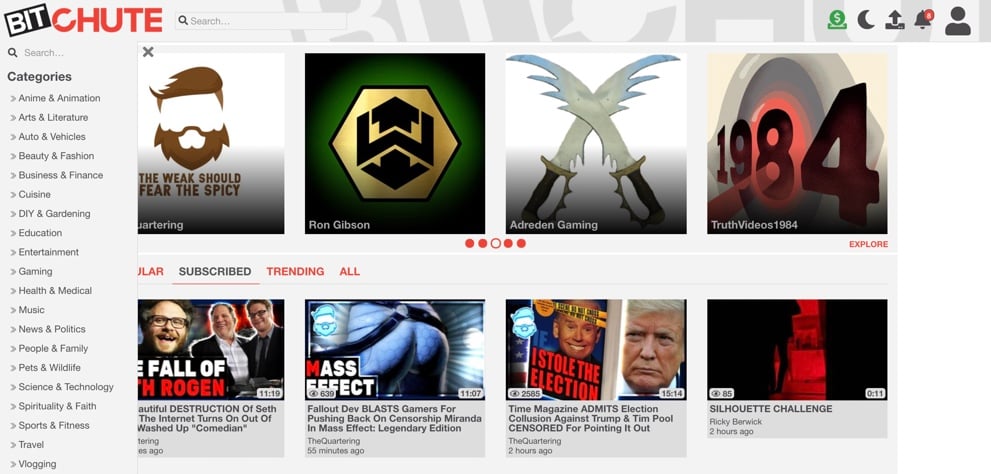 BitChute's homepage and all of its category pages showcase a selection of channels in the slider at the top of the page and a selection of videos below this slider.
These videos can be organized by the "Popular" tab (which showcases recent content from channels that have a high number of views and subscriptions and is refreshed every 24 hours), "Subscribed" tab (which showcases the latest videos from the channels you're subscribed to), "Trending" tab (which showcases the videos with the most views for the last day, week, month, or year), and the "All" tab (which showcases the latest videos that have been uploaded to BitChute).
The Trending tab also showcases "Trending Tags" which display the most used tags on the site.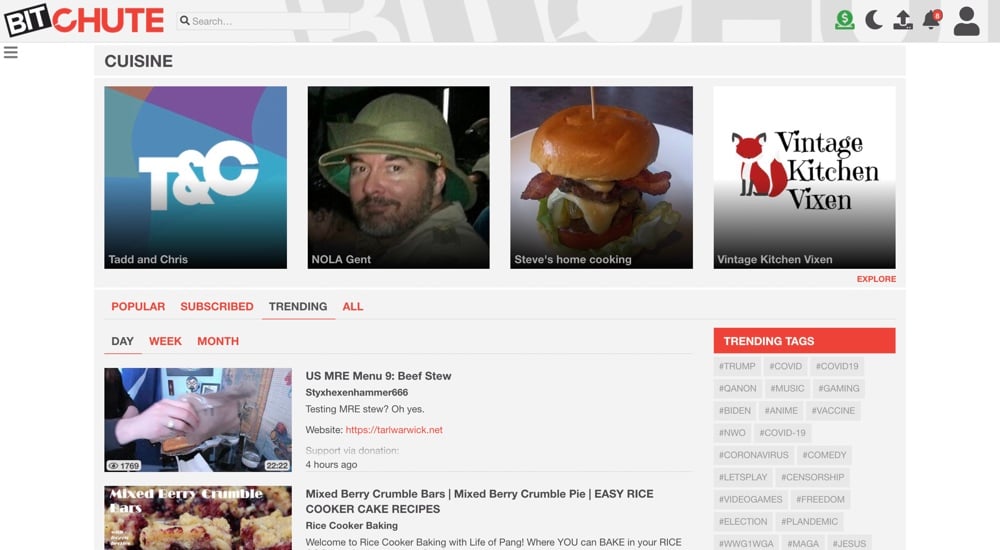 If you want to search for specific content or creators, you can use BitChute's search box. Searches can be filtered to return just videos, just channels, and specific video durations (any duration, 5-20 minutes, 20 minutes +, and 45 minutes +). They can also be organized by relevance, newest first, or oldest first.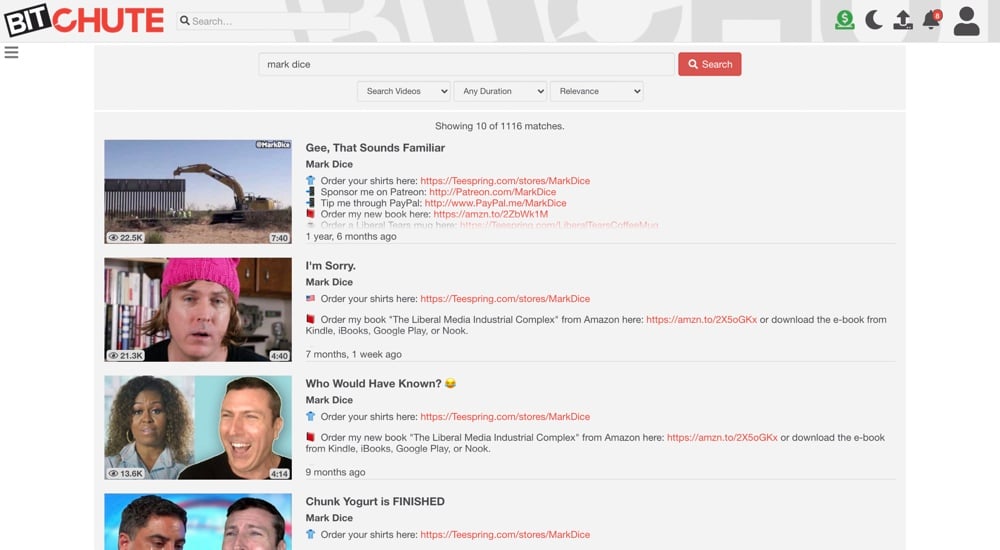 When you start watching videos, BitChute will recommend other videos in the sidebar or below the video.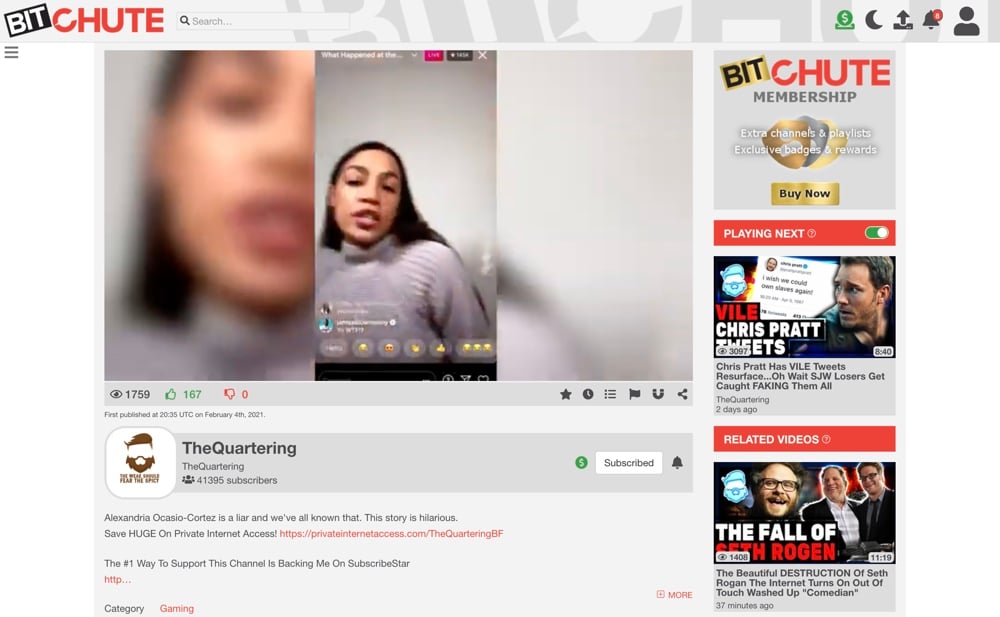 BitChute also has a "Recently Active Channels" page that showcases all the channels on the platform with those that uploaded most recently appearing at the top of the list.

If you want to browse for videos from a specific channel, each creator's channel page highlights their most recent videos and their most viewed videos.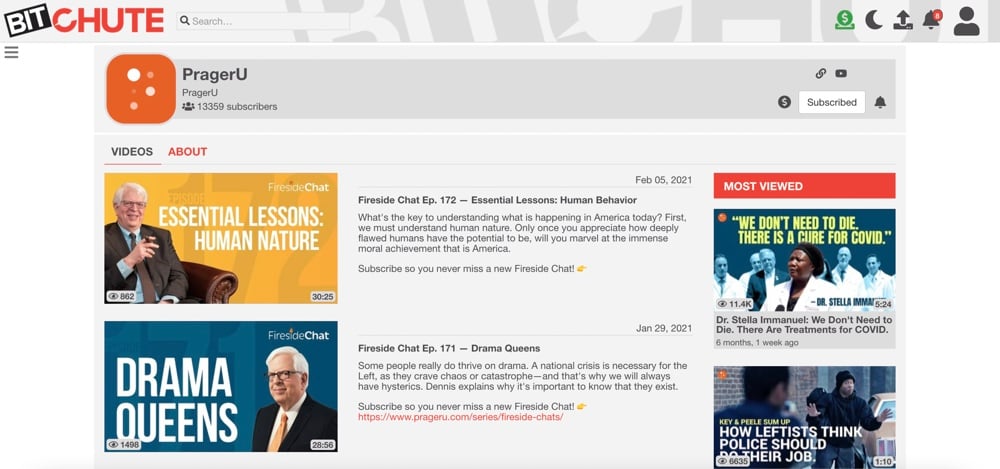 Native monetization options
BitChute's main video monetization tool is tips and pledges but it's also trialing an invite-only advertising option for select creators.
You can receive tips or pledges via SubscribeStar (a membership platform that lets you accept one-time or recurring donations and offer exclusive content to your subscribers), CoinPayments (a payment gateway that lets you accept cryptocurrency donations), Patreon (a membership platform that lets you accept recurring donations and offer exclusive content to your subscribers), and PayPal (a payments gateway that lets you accept one time or recurring donations).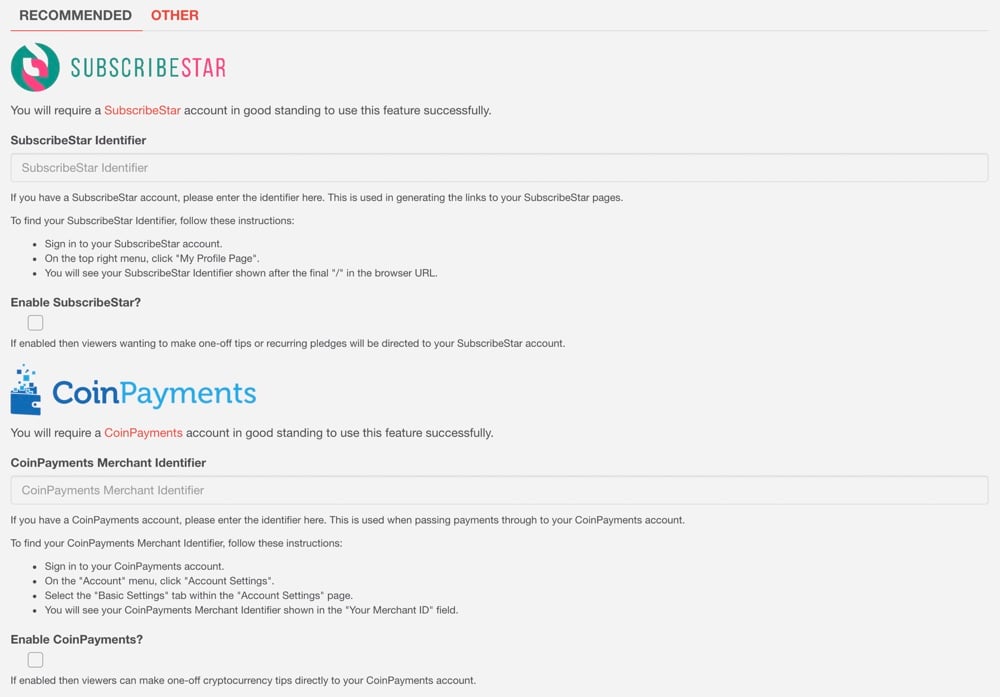 After you've enabled one or more of these tip or pledge options, the dollar icon on your channel will turn green. Viewers can donate to any monetized channel by clicking or tapping the green dollar icon and then selecting their preferred service.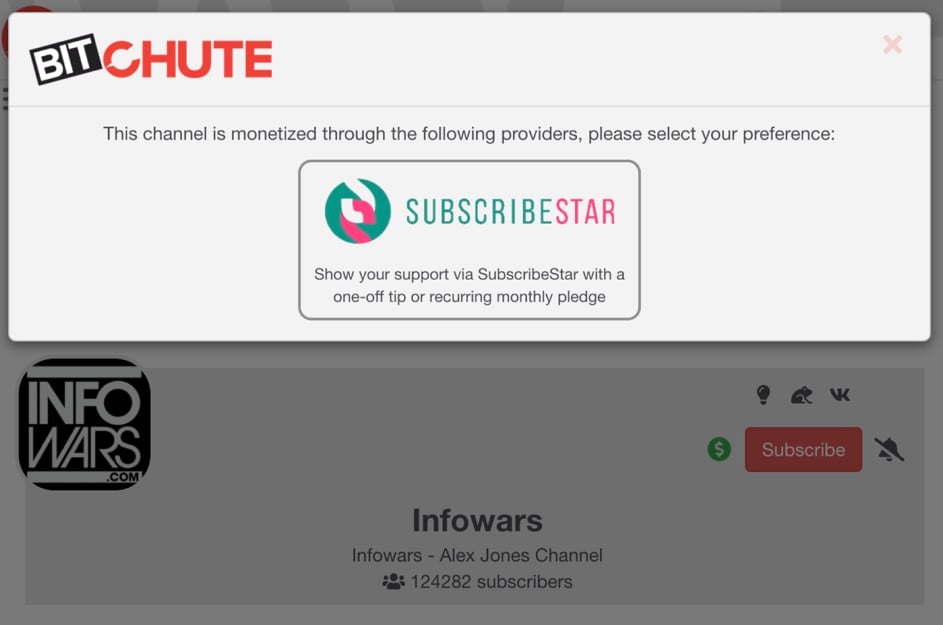 If you're invited to BitChute's advertising program, you can also monetize your content via ads that will appear alongside your videos. You can choose to source and create your own ads, use ads sourced by BitChute, or display both types of ads.
Viewers can enable or disable ads via their BitChute account settings.

Engagement and sharing features
All BitChute channels have tip or pledge, subscribe, and notification toggle buttons which you can use to stay up to date with and support your favorite creators.

Each BitChute video also has these same engagement metrics along with the option to save them to different playlists via the "Favorite," "Watch later," and "Add to Playlist" buttons. You can also like or dislike any BitChute video, comment on it, flag it, share it, and get its magnet link (to download and seed a torrent of the video).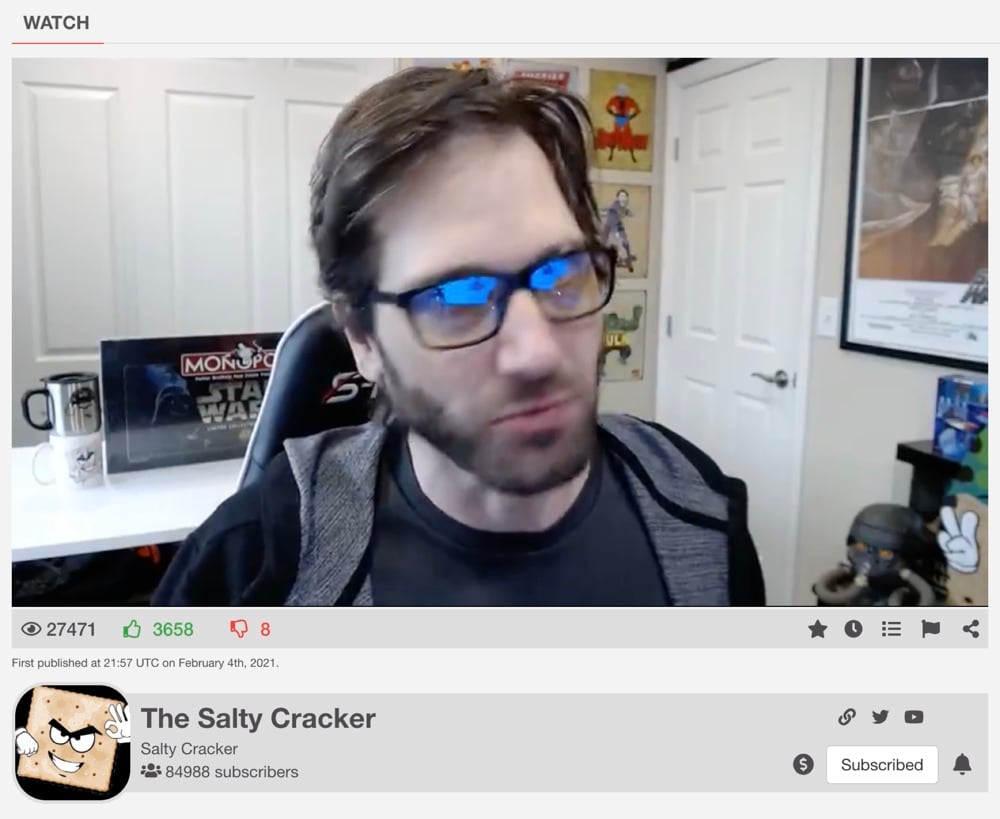 Additionally, you can like comments, reply to comments, flag comments, and rank comments by newest, oldest, and most popular.

Video playback options
Every BitChute video has a picture in picture (PIP) option which displays the video you're watching in a new floating window. You can position this floating window anywhere on the screen and it even remains visible when you navigate to other websites or programs.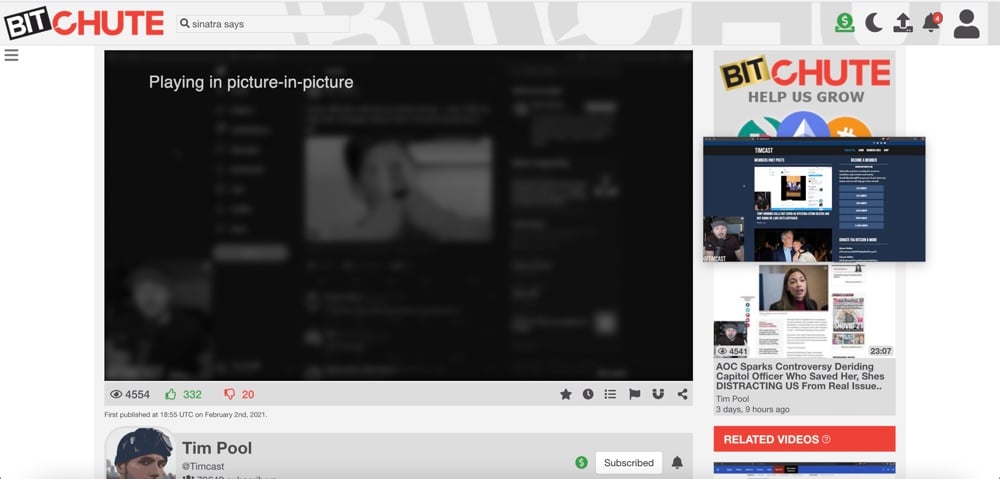 You can also toggle the playback speed of any video from a low of 0.5x to a high of 2x.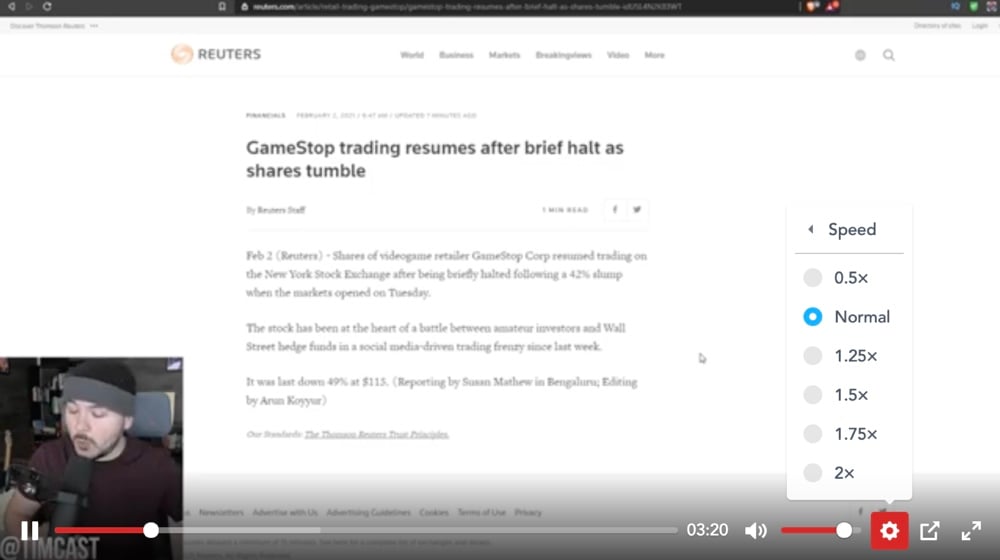 By default, BitChute auto-plays videos from the channel that you're currently watching. However, you can choose to enable or disable this auto-playback at any time.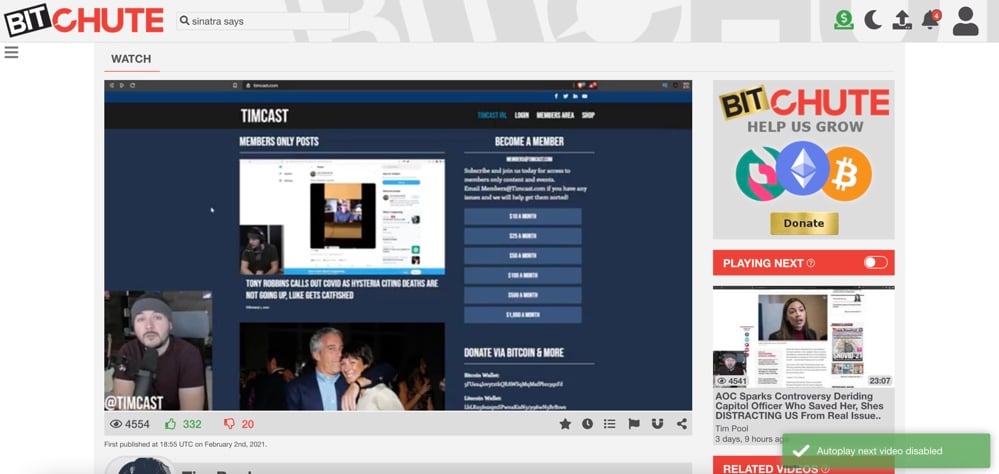 Any videos that you've chosen to Favorite, Watch later, or Add to Playlist will be added to your Favorites page, Watch later page, or a playlist.
All three of these options essentially add the videos to a playlist but custom playlists have more features than the Favorites page and Watch later page.
You can create playlists by clicking or tapping the Add to Playlist button below any video and entering the name of your new playlist or by selecting the "Create Playlist" button on the "Your Playlists" page.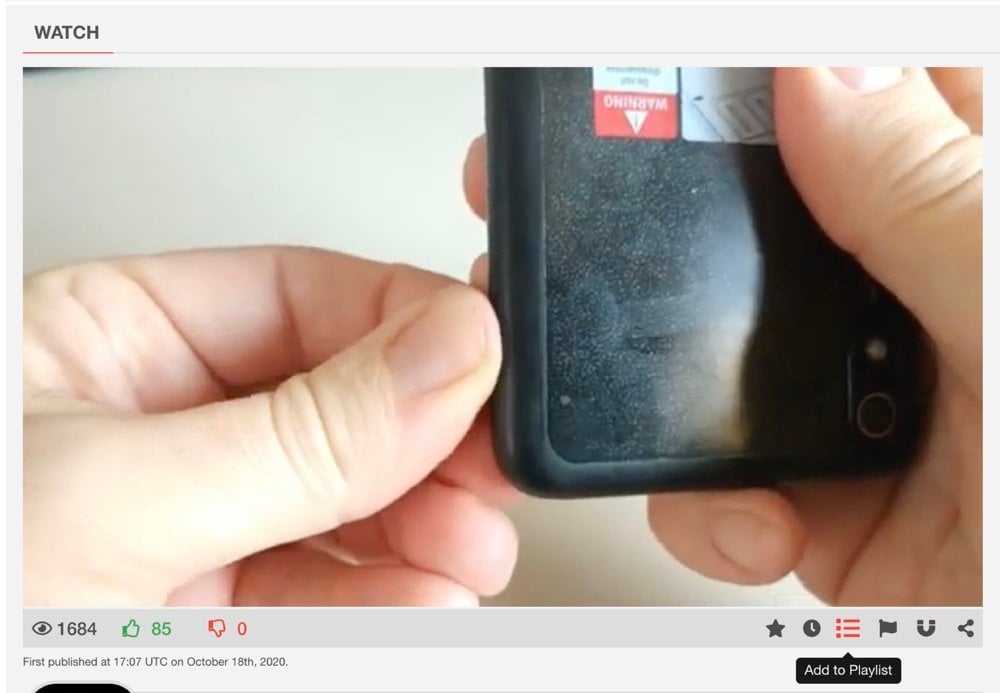 After you've created a playlist, it will appear when you click or tap the Add to Playlist button below any videos. You can then add videos to or remove videos from the playlist via the checkbox in this menu.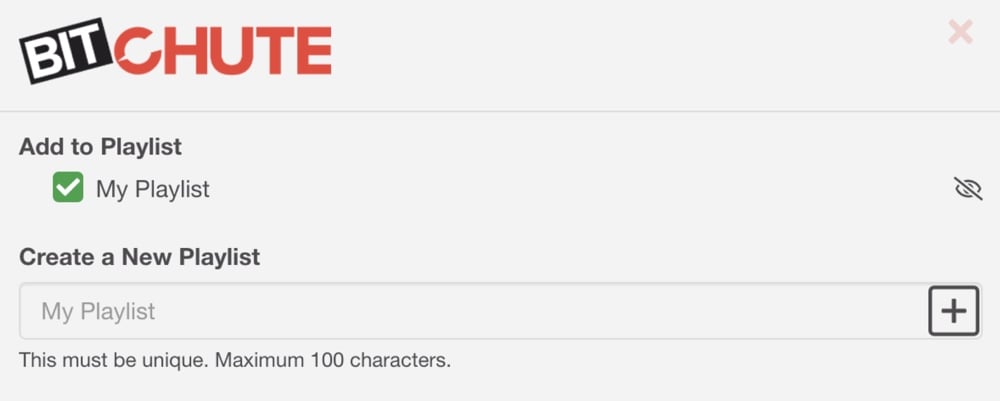 Alternatively, you can use the "Remove From Playlist" button that appears next to each video on the playlist page to remove videos from the playlist.

By default, the playlist will be private but you can make it public via the playlist settings. You can also change the name of any playlist, add descriptions to your playlists, and upload custom playlist thumbnails.
When you open a playlist with multiple videos, you can also set the video playback order and then play all the videos in order or randomize the playback.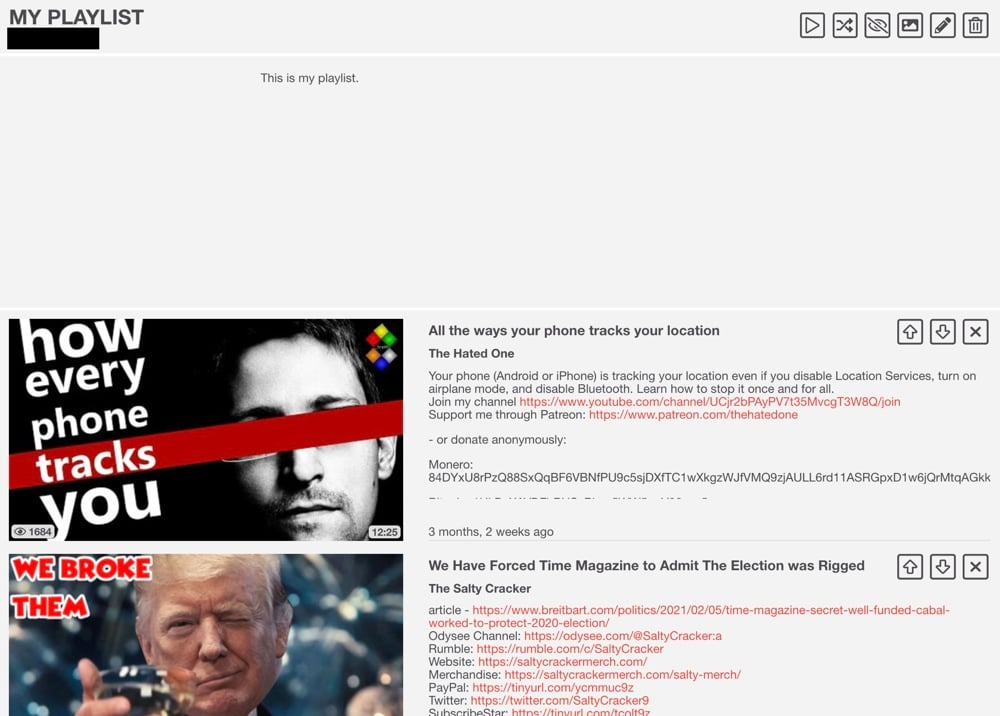 Users with standard BitChute accounts can create up to four playlists while paid account holders can create up to 100 playlists.
The Favorites and Watch later pages function in the same way as playlists except you use the Favorite or Watch later buttons that appear below BitChute videos to add videos to and remove videos from these pages. These buttons will turn green when a video has been added to your Favorites page or Watch later page and turn dark gray when the video has been removed from your Favorites page or Watch later page.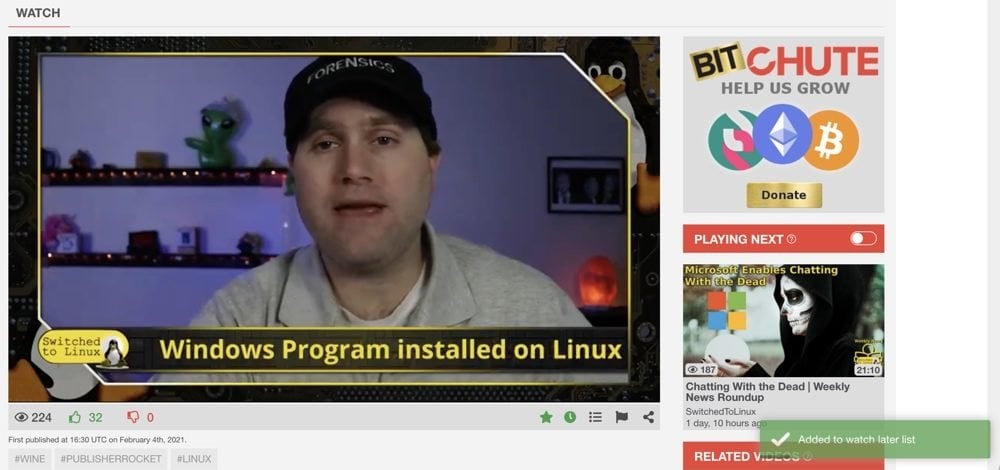 The Favorites page and Watch Later page also can't be made public, can't be renamed, can't have custom descriptions, and can't have custom thumbnails.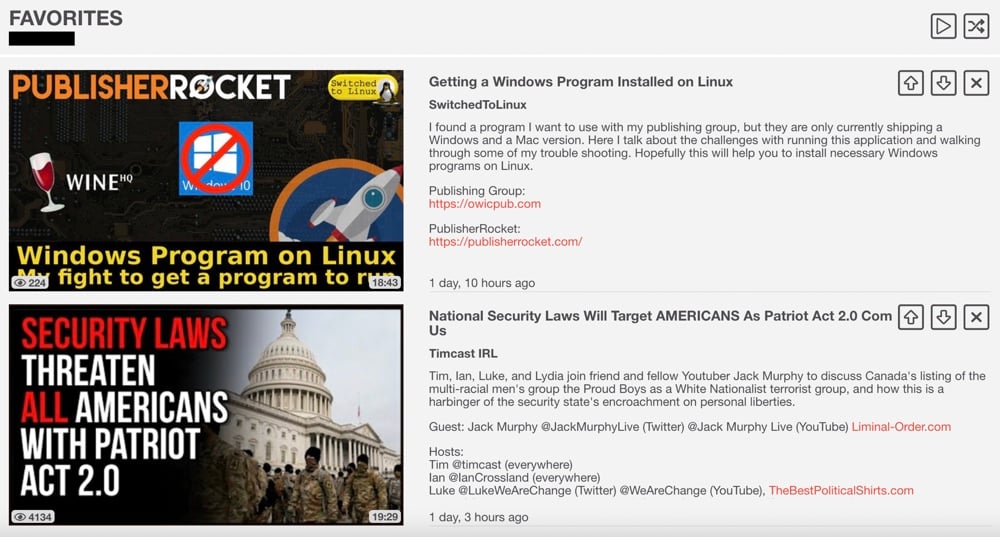 While BitChute has a much wider variety of video playback options than most other YouTube alternatives, its maximum video resolution is 640p which is much lower than most of its competitors. BitChute also doesn't have any toggles to adjust the video playback quality.
Notification options and customization
You can toggle notifications on or off for any of the BitChute channels that you're subscribed to via the bell icon on any channel or video page.

BitChute posts notifications to the "Your Notifications" page whenever any of the channels you've enabled notifications for post new videos. If you have unread notifications, BitChute will display an unread notifications counter next to the notification bell in the top menu bar. When you click or tap this notification bell, a list of your most recent notifications will be displayed.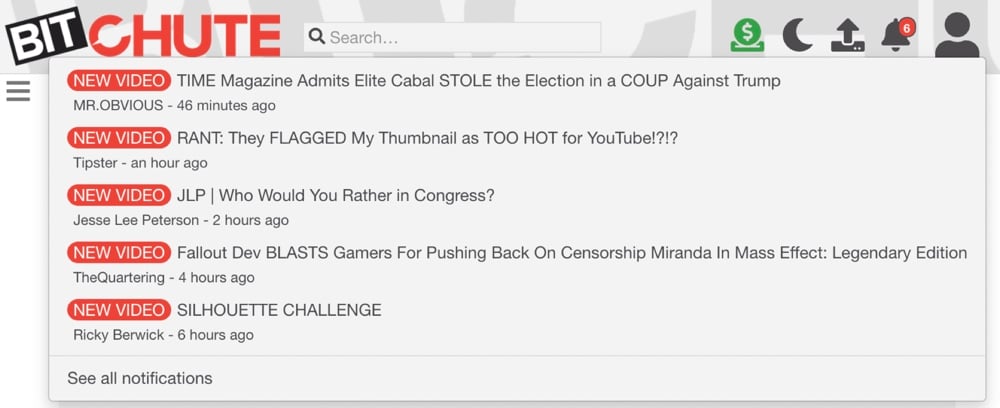 You can tap or click these notifications to watch the associated videos or manage all your notifications via the Your Notifications page. On this page, you can mark all notifications as read, mark individual notifications as read, delete all notifications, delete individual notifications, add the associated videos to your Watch Later page, or watch the associated videos.

Additionally, you can manage how you receive notifications via the Notifications tab in your account settings. You can choose whether to receive in-site notifications, email notifications, and notifications for new comments on videos that you've uploaded. You can also toggle in-site notifications and email notifications on or off for each of the channels you're subscribed to.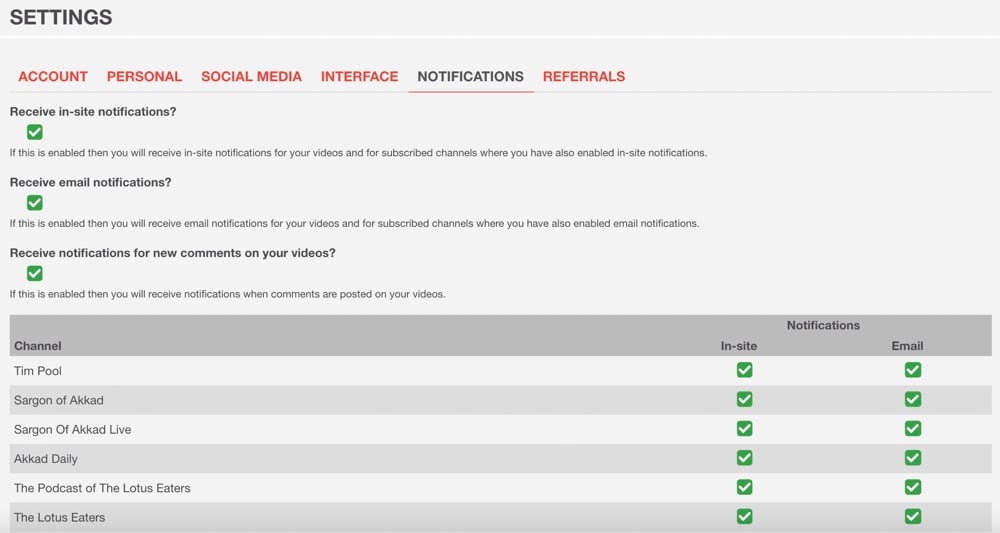 Display options
BitChute has both light and dark modes. You can toggle between the two display modes using the sun and moon icons in the top menu bar.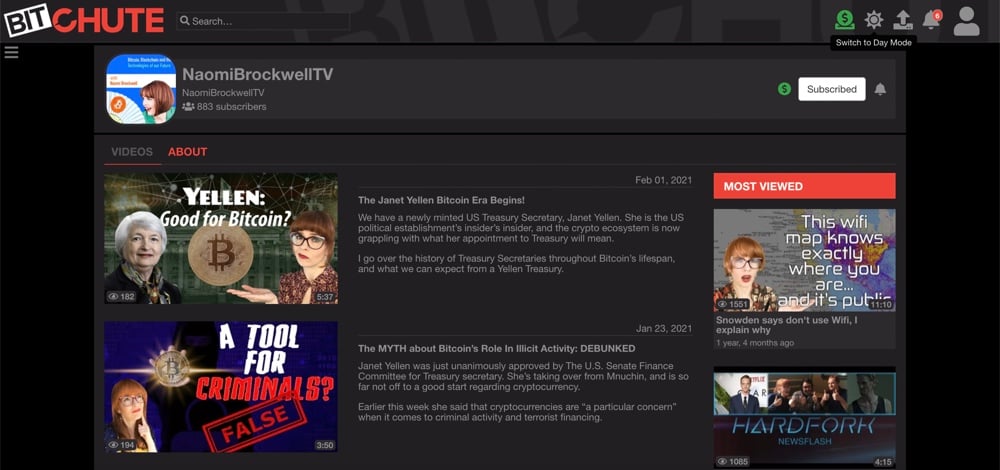 Account security features
BitChute lets you add an additional layer of security to your account via email-based two-factor authentication. This is disabled by default but it can be enabled via your BitChute account settings page.

Paid upgrades
All of BitChute's features are free to use. However, if you want to add additional channels and playlists to your account, you can get a paid BitChute membership.
BitChute offers four paid membership plans (note: to claim the exclusive baseball cap and t-shirt you have to subscribe for at least six months at the relevant level):
Bronze: $5 per month for a bronze supporter badge, one channel, 12 playlists, and 100 entries per playlist.
Silver: $10 per month for a silver supporter badge, two channels, 25 playlists, 150 entries per playlist, and an exclusive baseball cap.
Gold: $20 per month for a gold supporter badge, three channels, 50 playlists, 250 entries per playlist, an exclusive baseball cap, and an exclusive t-shirt.
Platinum: $50 per month for a platinum supporter badge, four channels, 100 playlists, 500 entries per playlist, an exclusive baseball cap, and an exclusive t-shirt.
You can also get a 10% discount if you pay for three months up front and a 20% discount if you pay for six months up front.
You can pay for your membership with US dollars (via SubscribeStar) or with cryptocurrencies (via CoinPayments).
If you don't want a membership but you want to support BitChute you can also send them a one-time tip via SubscribeStar.
Website and apps
You can access BitChute on desktop and mobile via its website or sideload the third-party BitSlide app to Android devices: