Borderlands 3 publishers Take-Two Interactive and 2G Games will soon find out if all publicity is indeed good publicity.
The kind they are getting – the anger of the fans and the announced boycott of the game, the unfounded takedown notices against creators and YouTube channel blocking, the dispatching of private investigators to the doors of a popular creator – it looks like a mess and it doesn't bode well.
The run-up to the release of the highly anticipated third installment of the game has certainly been tumultuous – exposing as it unfolds a host of ills that today plague not just the gaming industry and their relationship with customers, i.e., "fans" – but also the weaknesses and inadequacies of YouTube as a video platform.
The machine vs. Supmatto
The controversy begins with a popular Youtuber Supmatto, who dedicated most of his time to the Borderlands franchise, not only making a living on the video platform, but also effectively promoting the game.
If you expected that would be enough to dissuade Take-Two from going after him hard with phony copyright takedown notices, you expected wrong.
Supmatto caused the wrath of the publisher when, in some of his videos, he reported about leaked information from the upcoming game that's available on the internet. Not illegal – and not capable of jeopardizing the game or its release – but nonetheless, Take Two and 2K viewed it as a capital sin.
This was fairly outrageous in and of itself and got the internet to start reacting. But things then escalated. The publishers tracked the YouTuber down and harassed him in his home.
In one of the subsequent videos, Supmatto explains that on July 25 private investigators came to his home and questioned him. The private investigators were sent to the YouTuber's house by the Borderlands publishers – what people have called an act of intimidation. It does raise the question: if they treat their loyal fans and promoters like this – what wouldn't they do to the rest of us?
"Take-Two and 2K take the security and confidentiality of trade secrets very seriously. The action we've taken is the result of a 10-month investigation and a history of this creator profiting from breaking our policies, leaking confidential information about our product, and infringing our copyright," a statement from the publishers said in the wake of the incident.
Well, they had more in store for Supmatto: after scaring him off the YouTube several days after the visit by 2K and Take Two private investigators – they have now appeared to shut down his YouTube channel through issuing strikes with YouTube. This left Supmatto without his livelihood, and his 142,000 subscribers out in the cold.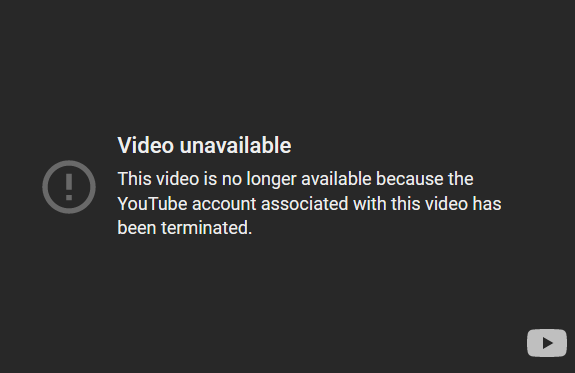 No doubt with an eye on the mounting online outrage against their actions, a new statement from 2K Games "updates" their narrative to speak not only about intellectual property infringement and the alleged damage to its business. Now, they also paint themselves as "more importantly" the protector against anything that may negatively impact "the experiences of our fans and customers."
What is YouTube doing?
As is often the case in the gaming industry and fandom controversies, camps started forming around content creators and their audiences, and publishers and the press on the other side.
But one important element in this story remains by and large unexplored, and that is YouTube's role. Should YouTube have done more to protect one of its creators, and could it have done it?
One thing the video giant has done is comply with the game publisher's dubious claims over content originating from a Borderlands 3 test stream over on Twitch – that had already been posted elsewhere online – by terminating Supmatto's entire channel.
But when big and influential publishers start rough-handling their own fans, all the way to sending goons to their doors – YouTube seems to simply joins in on the party to facilitate the publishers' claims. There is no regard for the fact creators are bringing traffic and users to YouTube as well as tying their income source to the platform – or for how catastrophic it can be to be suddenly cut off with no good reason, and no good explanation.
The nature of YouTube is becoming more and more apparent with each channel blocking – either on copyright infringement or political and ideological grounds – and it's that the platform is volatile and unreliable – and for all its popularity, really the ultimate kind of "user-unfriendly": showing no interest in protecting its creators.
One of the reasons for this is the deployment of content-policing algorithms that nowadays often demonetize videos and creators by mistake – while behind this increasing deployment are YouTube's and its parent company Google's biases that are being laid bare with several leaks and insider testimonies.
Despite all these problems, YouTube remains prominent, basically because of its popularity: it's where most content consumers are, so it seems logical to put the content there, and accept the ever-growing number of risks.
Alternative platforms
So what, if any, are the alternatives to YouTube, and what makes them different? Hosting your own content, of course, is always a better idea than handing it over to the mercy of a giant centralized platform. A creator would be in a much better position to fight back in the face of dubious copyright or intellectual property claims, such as the ones 2K and Take Two dished out against Supmatto.
Using peer-to-peer services like BitChute is another option, and it's particularly attractive to those attempting to avoid censorship. The service could stand to profit from YouTube's vague standards and guidelines, and political and ideological pressure, that could eventually lead to more and more creators looking for a new place to migrate to. And the peer-to-peer model means that YouTube's giant server infrastructure is no longer an insurmountable obstacle to new and emerging platforms.