When people used to take offense to a social media post, they would express their grievances to the individual that posted it. However, in today's culture, when someone takes offense to something you posted, they barrage your employer with complaints in the hope you get fired.
This week, Bosshardt Realty, a real estate company in Florida has fired an employee that worked with their company for more than twenty years after outrage over her Facebook memes.
Susan Baird, who was once the Alachua County Commissioner, was fired from her position as she posted a meme about vice presidential and presidential candidates Kamala Harris and Joe Biden through a meme wherein the senator was referred to as a derogatory term.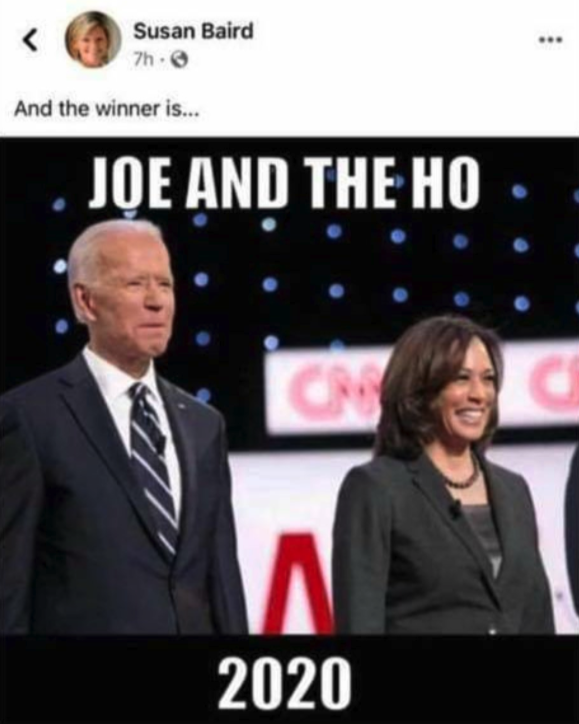 She also posted a meme of 2016 Presidential candidate Hillary Clinton with darkened skin.
Baird's post gained quick attention and, by midnight that night, the owner Aaron Bosshardt and other important stakeholders of the company were bombarded with a number of outraged messages.
Her posts spread like wildfire and several of the outraged ended up threatening to not use Bosshardt Realty's services anymore due to the memes Baird posted.
"If you go back and look at her posts, she walks the line for sure. We had a lot of talk and training here about being sensitive to the issues and your colleagues. We brought in a trainer about what diversity should look like in the real estate profession – we had a Zoom call. You can't be tone deaf to what is going on," Bosshard said.

As people started berating the company over Baird's post, Bosshardt decided to terminate Baird's employment.
"This has been a rough morning. Like so many of you, we were shocked and upset by a post shared by one of our Realtors on social media. We have severed our relationship with Susan Baird effective immediately. We are grateful for the input from the public and our amazing group of associates, and we would like to state clearly that this post is not reflective of who we are as a company. There is no place for racism or misogyny at Bosshardt Realty," read the Facebook post announcing Baird's dismissal.