Brave CEO Brendan Eich blasted rival privacy-focused browser DuckDuckGo for its Bing and LinkedIn trackers exemption in its Android, macOS, and iOS apps. DuckDuckGo has a contract with Microsoft that exempts the Big Tech from the privacy defenses.
"For non-search tracker blocking (e.g. in our browser), we block most third-party trackers," DuckDuckGo CEO Gabriel Weinberg explained in May. "Unfortunately our Microsoft search syndication agreement prevents us from doing more to Microsoft-owned properties. However, we have been continually pushing and expect to be doing more soon."
Eich said the explanation was not genuine because DuckDuckGo also has exceptions that allow Microsoft trackers despite the use of third-party cookie blockers.
"Trackers try to get around cookie blocking by appending identifiers to URL query parameters, to ID you across sites," Eich explained, adding that DuckDuckGo knows that because it blocks advertisers such as Facebook and Google from circumventing third-party cookie blockers.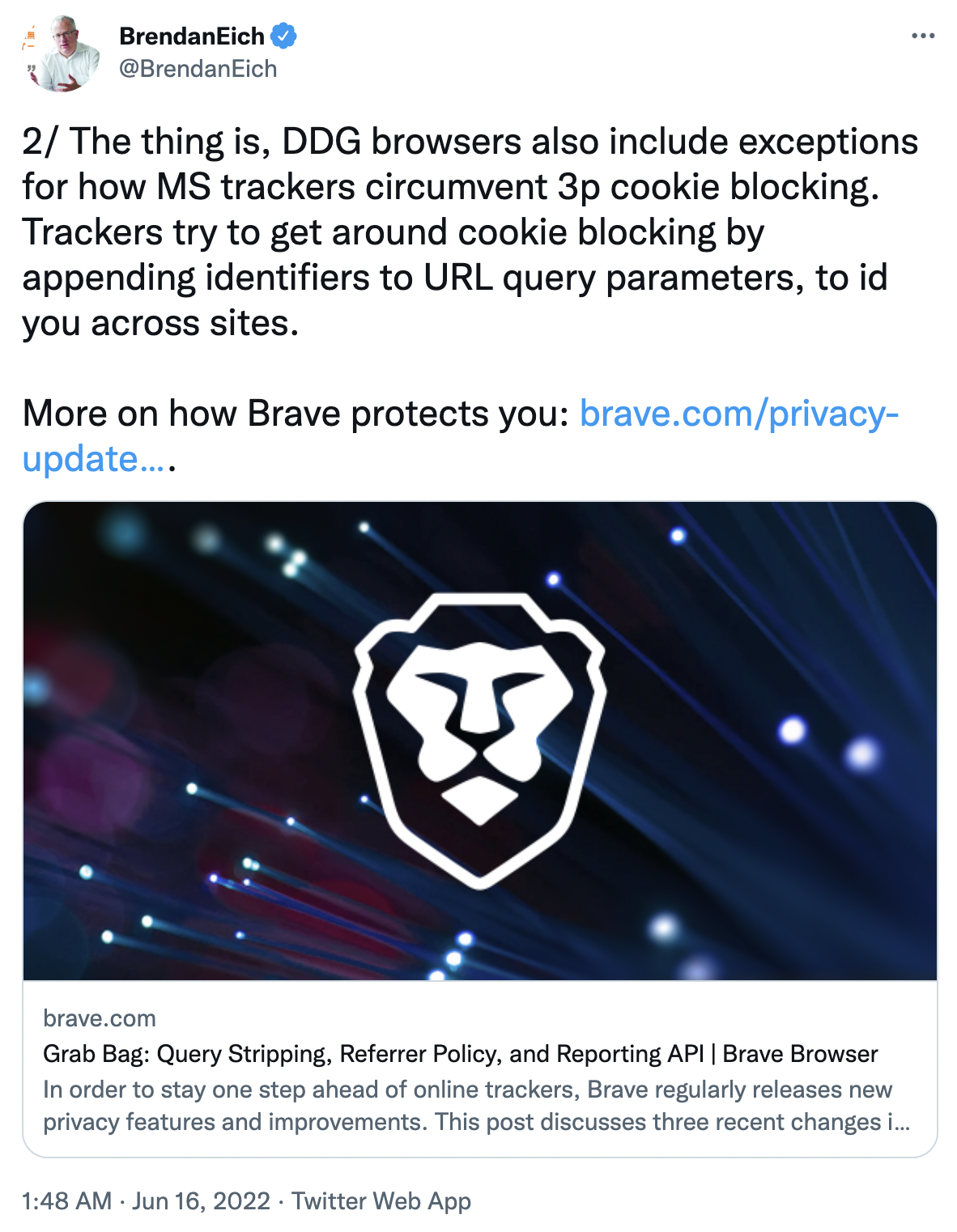 "[DuckDuckGo] removes Google's 'gclid' and Facebook's 'fbclid'," Eich said. "Test it yourself by visiting https://example.org/?fbclid=sample in [DuckDuckGo]'s macOS browser. The 'fbclid' value is removed."
"However, [DuckDuckGo] does not apply this protection to Microsoft's 'msclkid' query parameter," Eich continued. "[Microsoft's] documentation specifies that 'msclkid' exists to circumvent third-party cookie protections in browsers (including in Safari's browser engine used by DDG on Apple OSes)."
Eich insisted that privacy-focused companies like DuckDuckGo should prioritize privacy.
"Brave categorically does not and will not harm user privacy to satisfy partners," he said.
DuckDuckGo disagreed with Eich's conclusion.
"What Brendan seems to be referring to here is our ad clicks only, which is protected in our agreement with Microsoft as strictly non-profiling (private)," the company told The Register.
"That is these ads are privacy protected and how he's framed it is ultimately misleading. Brendan, of course, kept the fact that our ads are private out and there is really nothing new here given everything has already been disclosed."
In layman's terms, DuckDuckGo's defense is that it allows Bing to circumvent tracking defenses so that Bing advertisers can monitor clicks not to allow the tracking of users.
"This is talking about link tracking which no major browser protects against (see https://privacytests.org/), however we've started protecting against link tracking, and started with the primary offenders (Google and Facebook)," DuckDuckGo explained. "To note, we are planning on expanding this to more companies, including Twitter, Microsoft, and more. We are not restricted from this and will be doing so."
As noted by The Register, more concerning is that Microsoft Bing tells advertisers how they can track ad clicks even when users have applied privacy protections like cookie blocking.
"Last year, Apple Inc introduced a feature called Intelligent Tracking Prevention that impacts how conversion tracking works on the Safari browser," Microsoft Bing Ads documentation explains. "To help ensure that conversions continue to be reported accurately and in full across your Bing Ads campaigns, the auto-tagging of the Microsoft Click ID in ad URLs is now required."