Brazilian President Jair Bolsonaro has had two of his tweets removed by Twitter, making him one of the first heads of state to have his tweets censored.
In the two tweets that were removed by the platform, the Brazilian president was freely roaming around in the crowds in a market, encouraging the country to bid a goodbye to the lockdown and carry on with their day-to-day activities.
According to Bolsonaro, the lockdowns have an adverse effect on the country's economy, which when compared to the impact of the coronavirus, could end up being more problematic.
In an effort to spread his message in the masses, he mingled with the crowds in a market.
At a juncture where the coronavirus pandemic is wreaking havoc and has alarmed the heads of most countries, resulting in a total shutdown, the Brazilian President is taking a different approach by violating the universally suggested and enforced guidelines.
Here's what Glenn Greenwald had to say about the deleted tweets by the Brazilian president: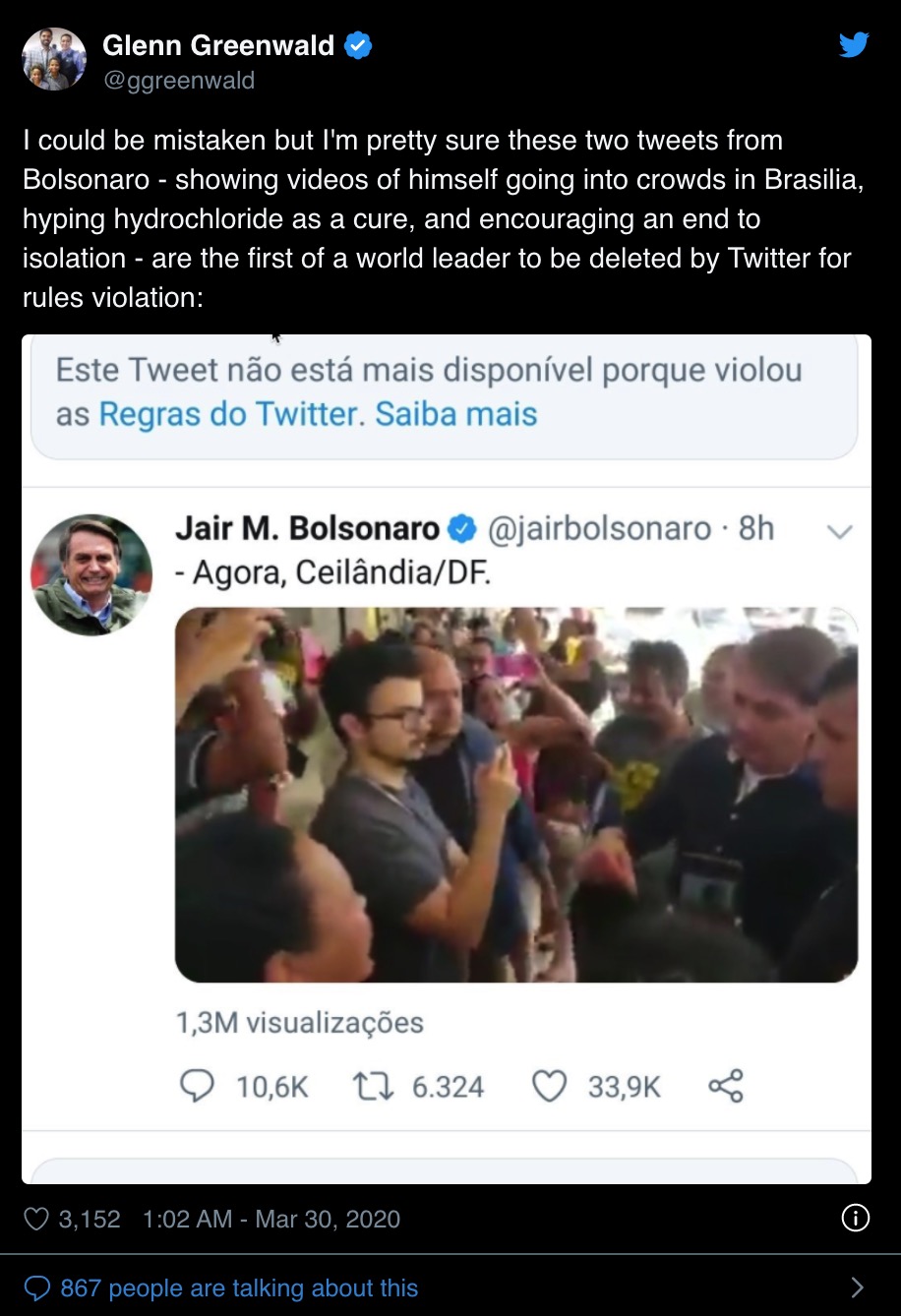 "I could be mistaken but I'm pretty sure those two tweets from Bolsonaro – showing videos of himself going into crowds in Brasilia, hyping hydrochloride as a cure, and encouraging an end to isolation – are the first of a world leader to be deleted by Twitter for rules violation."
Bolsonaro's tweets were picked up for spreading and promoting false information surrounding the pandemic and were removed from the platform.
In a video featured in one of the two deleted tweets, one could observe the president reassuring a street seller that he was "not going to die".
"What I have been hearing from people is that they want to work," said Bolsonaro, reflecting on how the working class is suffering from financial turbulence.
Twitter, without offering any additional information or insights into deleting the tweets of Bolsonaro, simply referred to its original guidelines about action against misinformation about the pandemic.
"Twitter recently announced… the expansion of its rules to cover content that may be against public health information directed by official sources and that could put people at greater risk of transmitting Covid-19," Twitter said in a statement.