Seemingly emboldened by the result in US presidential elections – Twitter is further cracking down on those it dislikes.
Journalist Steven Edginton of The Sun posted about the case where the account of @AndyWigmore has been suspended, while the message he quoted – of a Biden supporter urging others to "burn down the Republican Party" remains intact on the platform.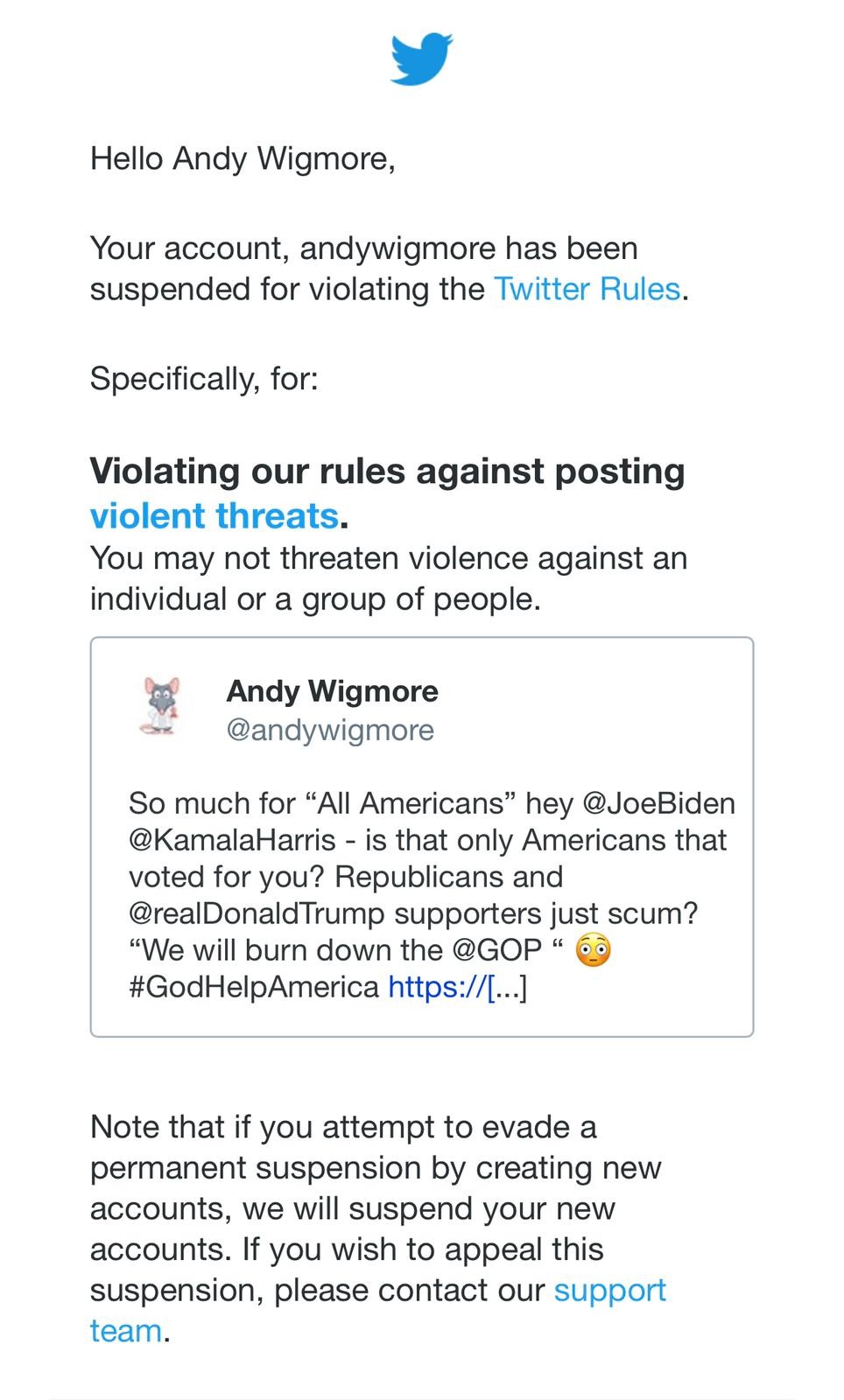 The Biden supporter in question is MSNBC guest Jennifer Rubin, and if accurately quoted, her statement shows in a chilling way not only the state of mind among some in the political divide in the US but also the collusion between corporate media, true or fake liberal politics, and permanent power centers.
"We have to collectively in essence burn down the Republican Party, we have to level them, because if there are survivors, if there are people who weather this storm, they will do it again," Rubin said on MSNBC, as user @Maajid initially quoted her words on Twitter.
This revolutionary zeal and ruthlessness that even the Bolsheviks of 1918 would not be shy to put in one of their pamphlets was then quoted by Wigmore.
Twitter correctly identified this content as violent threats – but for some reason failed to "punish" its source – according to Edginton, the threat-making person's account was still up as of the time of posting.
However, Wigmore's was not, regardless of the fact his tweet quoting the thread in no way endorsed it – in fact he tagged Joe Biden and Kamala Harris to ask if this was the kind of Americans that voted for them – i.e., those threatening to burn down their opponents' party.
In what Edginton described as insanity, and more Big Tech censorship, Twitter's reaction was to ban Wigmore, warn *him* that threats of violence against a group of people or an individual are not allowed – and then reject his appeal.
Not everyone was surprised, however. Wigmore is a vocal pro-Brexit campaigner, and some Twitter commenters said that this was the perfect time to silence them after Trump's removal from office.
"It's a new era. Big Tech can't be touched," said one Twitter user.