ITV's soap Coronation Street in the UK has booted one of its directors over online posts refuting the existence of racism in the industry. His removal from the show is a testament to the intolerance of political incorrectness in the media and entertainment industry.
Steve Finn has worked on the 60-year-old TV show as a director for the last two years – and he was involved in this year's Christmas Day episode. Finn was dropped because his online posts went against the values of both the show and the network.
"We have been made aware of comments on social media by a freelance director, Steve Finn, which are inconsistent with the values of both Coronation Street and ITV," a spokesperson for ITV said. "The director will not therefore be returning to Coronation Street."
The whole saga started earlier in the year when David Olusoga, a TV presenter and historian, commented on the issue of racism in the industry during the Edinburgh TV Festival. Olusoga said that at some points in his career, he has felt "crushed, isolated, and disempowered."
At the time, Olusoga provided insights into his experience as a black person in the media industry "in the spirit of Black Lives Matter." He acknowledged that being a TV presenter was "the best job in the world" but noted that the industry's culture caused him so much stress that he was diagnosed with clinical depression.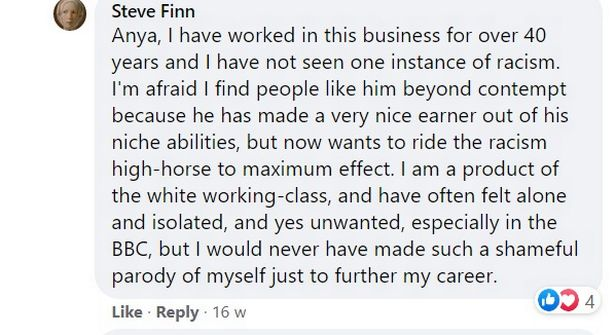 Olusoga's remarks did not sit well with Finn. In August, he responded by saying that he had not seen any racism in his four decades in the industry.
He insinuated that Olusoga made the comments to further his career.
"I'm afraid I find people like him beyond contempt because he has made a very nice earner out of his niche abilities, but now wants to ride the racism high-horse to maximum effect. I am a product of the white working-class, and have often felt alone and isolated, and yes unwanted, especially in the BBC, but I would never have made such a shameful parody of myself to just further my career."
In September, Finn continued criticising Olusoga.
"I notice that Davis Olusoga, who was so crushed by racism in the media, has a new program on BBC 4 for which I bet he was paid a hefty fee. Also, he seems to have quite tasty book deals telling us what racists we are! Jeez, I wish I could earn that kind of money… kerching! *sigh* I will just have to go on making TV programs watched by millions more that his for a fraction of his salary and shut up," Finn wrote on Facebook.