Burger King in the UK was criticized and reprimanded for condoning and encouraging antisocial behavior through a joke tweet that read, "Dear people of Scotland. We're selling milkshakes all weekend. Have fun. Love BK. #justsaying."
In the wake of recent incidents where European election candidates such as Nigel Farage were assaulted with milkshakes, a McDonald's outlet in Edinburgh, Scotland, put up a notice saying they wouldn't be selling milkshakes and ice creams by "police request" during Farage's visit in Edinburgh.
Alongside Farage, several other prominent figures such as Stephen Yaxley-Lennon, aka Tommy Robinson and UKIP candidate Carl Benjamin were attacked with milkshakes.
As a response to McDonalds not selling milkshakes with regards to Farage's visit, Burger King tweeted saying they sold milkshakes all week. While the fast-food giant claimed that it was simply trying to be 'tongue-in-cheek,' the Advertising Standards Agency (ASA) didn't think so.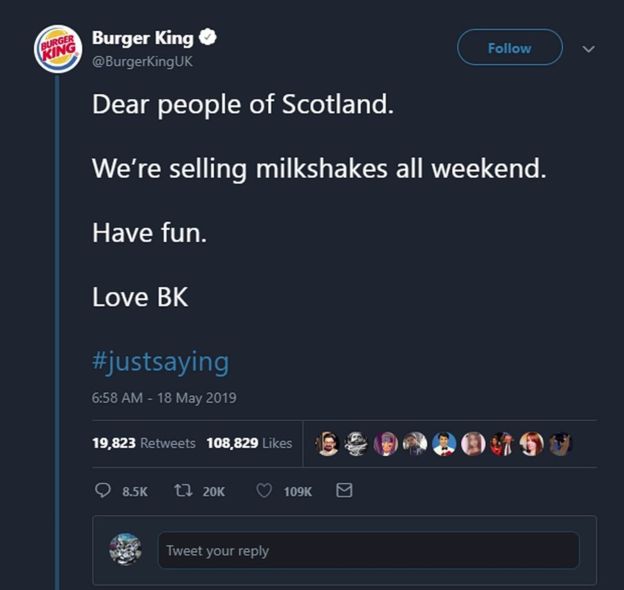 The ASA said that 24 people had complained in regard to BK's tweet and pointed out that the tweet was irresponsible and offensive. Though ASA agreed that the tweet may have been a joke, it was still considered as irresponsible behavior on the company's part.
"Although we acknowledged that the tweet may have been intended as a humorous response to the suspension of milkshake sales by the advertiser's competitor, in the context in which it appeared we considered it would be understood as suggesting that Burger King milkshakes could be used instead by people to 'milkshake' Nigel Farage," said the ASA.
While the ASA firmly stated that BK may have been potentially instigating antisocial behaviors, a spokesperson from the fast-food giant disagreed and said, "Our tweet regarding the situation in Edinburgh was intended to be a tongue-in-cheek reaction to the situation. It appears some have misinterpreted this as an endorsement of violence, which we should absolutely reject."
"At Burger King, we totally believe in individuals' right to freedom of expression and would never do anything that conflicts with this. We'd never endorse violence or wasting our delicious milkshakes."
Finally, the ASA said that it had communicated with BK and had told the company to "ensure that its future marketing communications did not condone or encourage anti-social behavior."