There is growing discontent in Canada with the official government-mandated ArriveCan app that contains mandatory travel and health information, the use of which is required for entry into the country.
And although Canadian authorities say that its goal is to keep travelers safe and "modernize cross-border travel," ArriveCan is increasingly a source of frustration to those forced to use it, and many are now calling for it to be abandoned.
The app was introduced during the Covid pandemic as a public health measure but is now morphing into one way to implement the digital ID agenda, critics are warning, and those in power in Canada are not really protesting this claim.
Minister of Public Safety Minister Marco Mendicino is quoted as stating that the app is moving to become "an airport convenience measure." But numerous reports show that ArriveCan is actually inconveniencing travelers.
Like many government-maintained apps, this one is prone to technical glitches and even full-on crashes, leaving Canadians stranded at airports.
And those who would like to visit Canada are also falling victim to the unreliable app, causing the head of Canada's Tourism Industry Association to join those voices calling for the end of ArriveCan.
The opposition Conservatives lead the way there, referring to the app as one of the "stupid things" that have happened to Canada under its current Liberal government.
"Rules for the sake of rules. Rules that don't make sense. Rules that leave people upset and angry. Stop forcing ArriveCan on people. Restore sanity to our airports," MP Pierre Poilievre tweeted.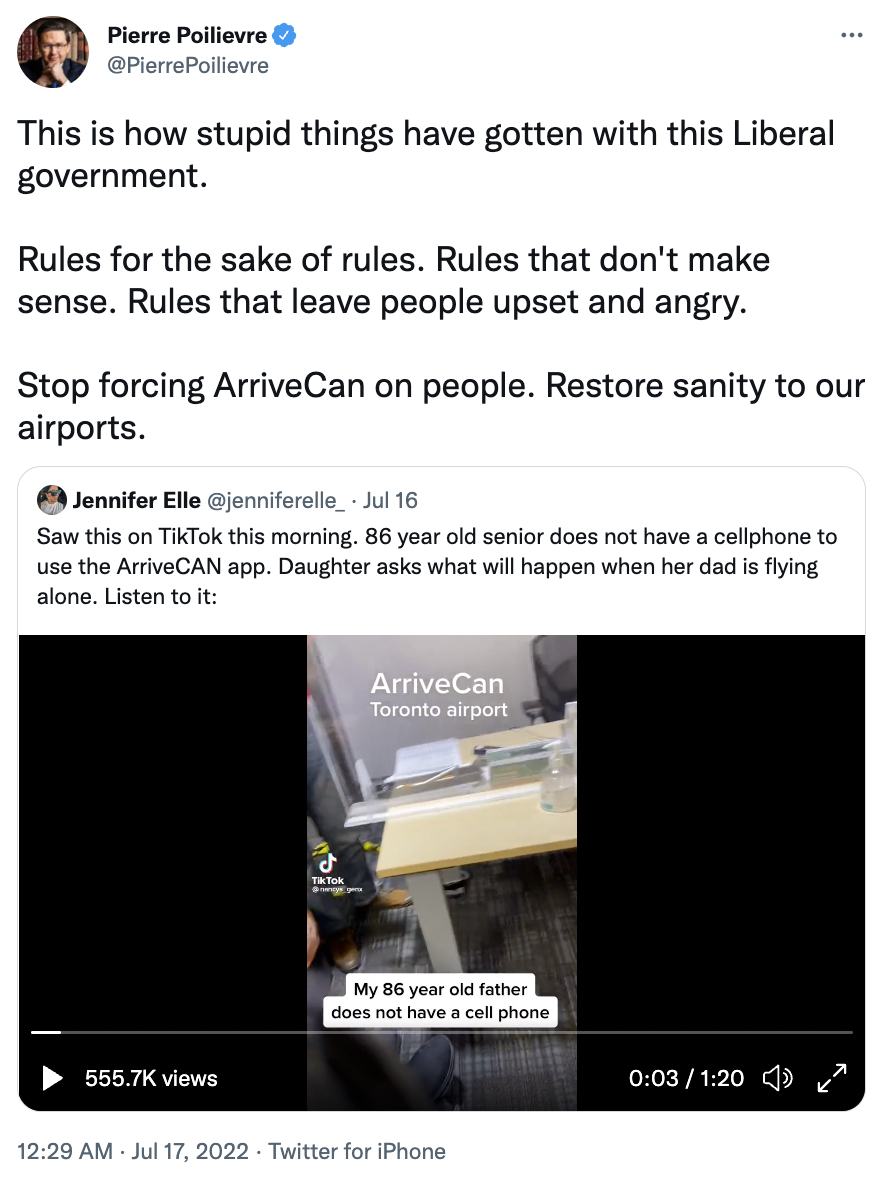 Meanwhile, those in the government, like Finance Minister Chrystia Freeland, are defending the app in some very unusual ways, like saying Canadians need it because they believe "in modesty and humility as a national virtue."
In the meantime, people are getting delayed and fined for not using the app or not presenting their vaccination status records.
A recent incident is very telling of the app's negative impact. An 86-year-old disabled man was last weekend threatened with a $5,000 fine because he didn't use the app.
The exchange between the man and an official was caught on video, showing the man explaining that he does not have a smartphone and therefore cannot use the app but has been vaccinated four times and has his passport – and was struggling to understand why he is being punished.
"Because they want the app. The government wants the app," the official told him.