Palm Beach Atlantic University canceled an invitation they had sent to alumnus Seth Dillon, the CEO of the satirical news website The Babylon Bee, to speak at the school's chapel. Dillon is disappointed that cancel culture has arrived at his alma mater.
PBA had invited Dillon to participate in a speaking event at the school's chapel on September 30. However, the university cancelled the interview at the chapel, changing the venue to the school library, Campus Reform reported.
The venue change was a result of an uproar by students on social media, demanding that the school should not welcome Dillon.
The school contacted him via email to inform him of the change in venue in the afternoon of September 29.
"After I was slandered by @IsomRig and others as a racist — and a cancel mob inundated the school with emails — @PBAUniversity decided they didn't want me to appear in the chapel since that is a 'sacred place,'" Dillon wrote on Twitter after receiving the email.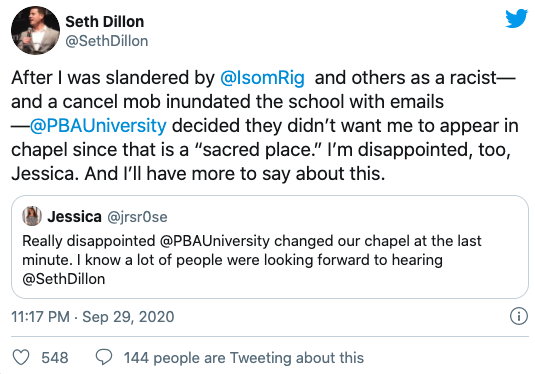 In an email to Dillon, PBA Executive Vice President for Advancement Laura Bishop used the same "sacred place" argument the students used on Twitter.
"We anticipated that an honest conversation like this could become passionate and that emotions may run high," said Bishop. "We did not want to compromise the sacredness of a chapel gathering, and, after heated exchanges on social media, it was decided that the Lassiter Rotunda of the Warren Library would be a more suitable venue for Mr Dillon."
However, Bishop did not explain what Dillon had done or said that made him unsuitable to speak at the chapel. The talk was supposed to focus on Dillon's experiences when he was a student and as a Christian media entrepreneur. The assumption that he would stray from the subject or focus on the heated Twitter discussions "was pretty uncharitable."
"It seemed to me that it was an excuse… what they wanted to do was cancel me without canceling me and appease everyone involved," he explained.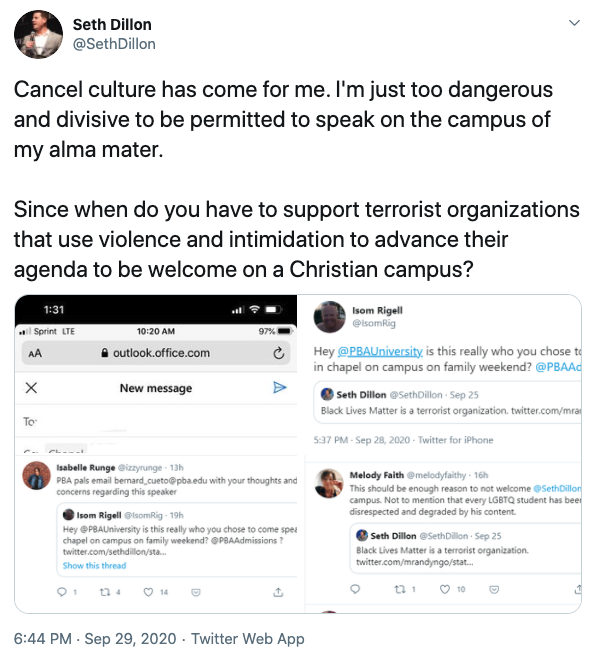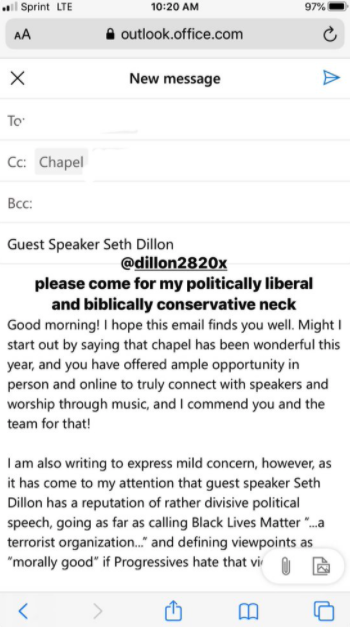 Dillon refused to attend the speaking event at the library as he did not feel welcome.
"Bishop would not explicitly tell me what I'd said or done that made my presence in the chapel suddenly inappropriate. I told her that if I'm not welcome in their chapel, then I don't feel welcome on their campus."
Later, Bishop and PBA President Debra Schwinn met with Dillon, who generously donates to the school, and apologized and said they were working towards rectifying the situation. The university said it would look for opportunities in the future where they would invite Dillon to talk at the chapel.
However, Dillon, speaking to Campus Reform, said that he would only attend an event and continue donating to the university if it "boldly and openly engage in the battle against cancel culture and take a clear stand against it." He added that PBA should support people like him rather than "doing exactly what the mob want them to do."