Online mattress seller Casper and podcasts make strange bedfellows, some may say – especially when Casper pushes to sponsor content unrelated to its own business, like tech and politics shows. But Casper is today a major presence and source of revenue in the world of podcasts.
The company seems fully invested in doing business in the digital realm going forward, too – at least if details emerging from Casper's IPO are anything to go by.
So finely tuned does Casper seem to be to its chosen business environment – i.e., the internet – that it cited influencers as "unusual risk" in the documents preparing to list this private company on the stock market.
The mention of influencers and related risk means that future investors are being given the obligatory heads-up – here, influencers are a part and parcel of the way Casper markets itself – and this, as any major marketing effort, could eventually go awry.
Bloomberg writes that influencers as cited by Casper, "may materially and adversely affect our reputation or subject us to fines or other penalties."
Since it's mattresses we're talking about here – the free-wheeling world of influencers (as opposed to the almost scientific and anthropological way professional marketing agencies try to pull their sales tricks on consumers) – means it's almost inevitable we'll be facing some faux pas promos.
Over on Instagram, some of Casper's influencer-promoters have included "a woman wearing revealing lace undergarments" and a man whose "bare backside is featured next to a Casper box," Bloomberg writes.
Others observers, though – like Derek Thompson on Twitter – tried to break down the nature and health of Casper's actual business, as it heads into the IPO.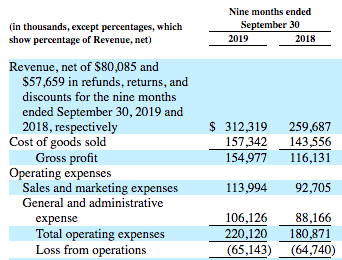 It seems like it's a typical operation willing to lose money big time now – until it grows big enough in terms of perception and presence in the (tech) market – with the goal of being acquired, for a gazillion dollars, by a bigger company. And that new owner may or may not be a company capable or willing to turn all that (empty) buzz into real money.
Either way – what happens to the podcasts currently relying on sponsorships from Casper and similar start-ups – who, in turn, use podcasts as a way to build reach, community and userbase numbers online mostly for their short-term IPO gains?
If these start-ups fail in their own right – or their new owner says it has no interest in spending money on podcast ads – what happens?
Figuring out a reliable long-term business model to ensure the longevity of the podcasting model seems to remain a problem with no real solution in sight.