Germany's CDU party seems to have hoisted itself onto its very own super-controversial copyright petard – i.e., – "the EU's Copyright Directive." And it all happened on YouTube.
What's been violated here is what's known colloquially as "Article 13" – and it's what pretty much every digital and otherwise freedom activist – and even Big Tech companies out there – wholeheartedly agreed earlier in the year was the wrong thing to make into EU law. Even if the EU, nevertheless, wound up adopting the legislation.
And this by and large unwanted EU decision came not least because of Germany, i.e., the country's ruling CDU party, deciding the Directive was the right way to go about the problem.
But if you're not European, or even if you're a European who doesn't have their ear on the ground when it comes to the continent's politics – you could be forgiven for thinking that something called "CDU" somewhere in the world, backing any policy, is largely not even newsworthy, let alone important – whether it wins or loses, or indeed, embarrasses itself on YouTube.
But here, you would be wrong. That's because CDU is Germany's ruling party – and Germany is EU's ruling member-state – and therefore anything that happens in that space will affect, one way or another, EU's other 28 (or 27 – Brexit permitting) – states, and their policy and regulations.
And the time the Copyright Directive was adopted – Germany spurred it on at the cost of convincing some less relevant members of the European Union (EU), like France – as reports suggested earlier in the year.
Fast forward to today – ahead of the European Parliament (EP) elections – and CDU has reportedly been using video clips to bolster its election campaign that it apparently had no right to use – at least as far as the most up-to-date copyright in the EU is concerned. And the CDU has had to remove those clips. This has all been taking place in plain sight, pretty much before the entire world, over on the YouTube, Der Spiegel said.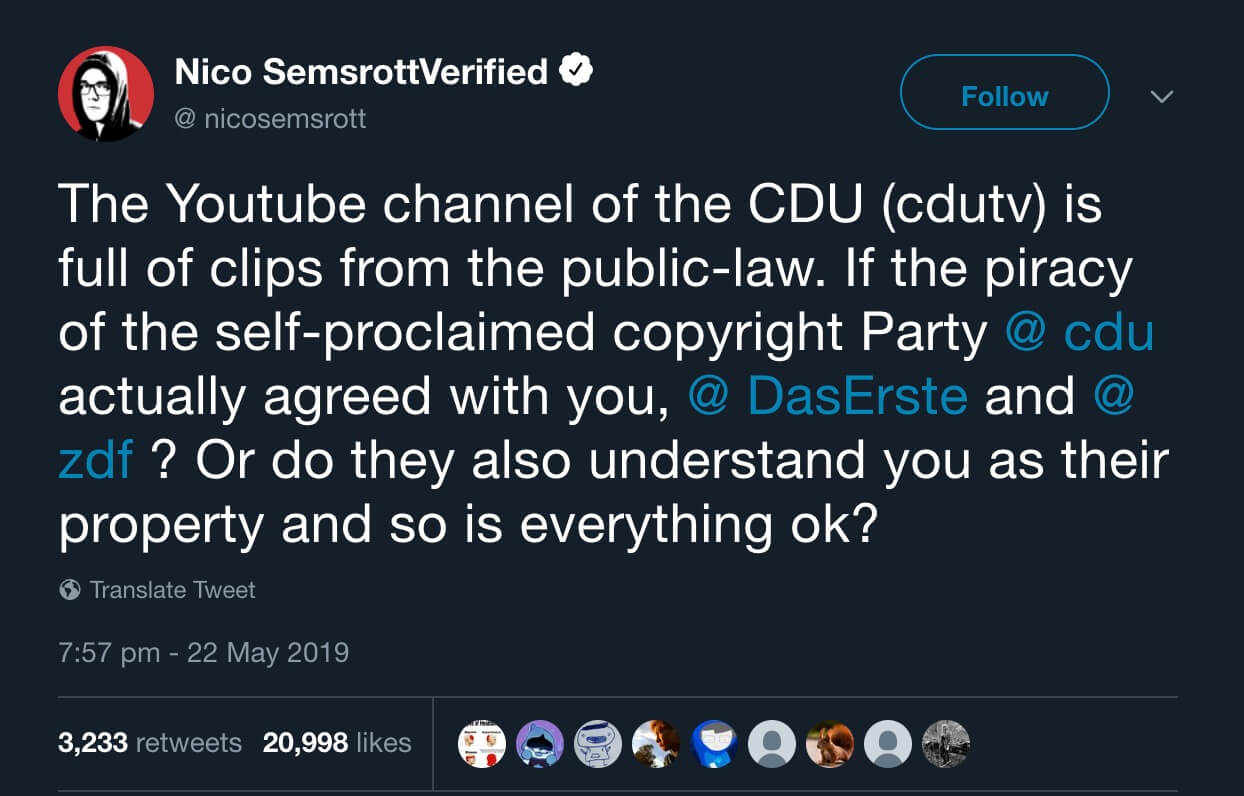 According to the report, before it was forced to step back, admitting to its own transgression, CDU had been called out on Twitter by Nico Semstrott of Germany's satirical "Die Partei" party, who noticed that dozens of extracts from talk shows, originally published on Germany's public service broadcasters ARD and ZDF, had been used on YouTube by CDU just before the EP elections.
And when Semstrott asked ARD and ZDF on Twitter whether they had agreed to allow "the self-proclaimed copyright party" – i.e., CDU – to use their material – ARD replied on Thursday that there had been "no such agreement" and that the case was being "investigated."
But, according to reports, CDU wasted no time, and removed the clips themselves – before, presumably, suffering the indignity of YouTube doing it for them.
According to Der Spiegel, "more than 30 clips had been removed" from CDU's YouTube channel – including statements by leading CDU candidate for EP elections, Manfred Weber.
But what a spectacle this has been – and what news, too, here in Europe. None other than CDU failing spectacularly its own (online) test – at a time of the highly anticipated and contested European Parliament (EP) elections – now let's see who ignores that.
Perhaps one who might make an effort to ignore it is CDU's own Axel Voss – that politician who earlier relentlessly pushed for the controversial Copyright Directive to be adopted in the first place.
And it's unlikely that any of the critics of Article 13 will now be taking the high road and defend CDU – for one thing, CDU appears indefensible under Article 13 rules. But for another, far more important – the party's wholesale use of copyrighted material without prior permission from copyright holders seems to have directly violated copyright law.
Meanwhile, the thundering criticism of Article 13 and EU's Copyright Directive as a whole never came from a copyleft angle.
It has always been about preventing the overreaching law from blocking and removing perfectly legal content, caught in a crass AI-powered dragnet – i..e, the inadequate technology that the Copyright Directive proposed.
On another note – beyond these current "high politics" battles in Germany – when referring to the right to post content on YouTube without fearing "the hand of god" arbitrarily declaring it illegal – and completely ignoring the "fair use" copyright principle – see the country's creative community's long-standing, ongoing, and infamous battle against the GEMA performance rights organization.