China's continued censorship is impacting the entire world and it's now covering up the cover-up.
The coronavirus pandemic is hardly anywhere near to being completely over, while that of our economies and societies is at this point unforeseeable.
Still, many media outlets have for a while now been trying to attack another question: how coronavirus came to be, and be unleashed onto the world.
China and the United States were in the middle of a hot trade war when this first Chinese, then global crisis broke out, so it's not surprising that their views on what's true and what's propaganda, as well as their narratives and counter-narratives are in many cases diametrically opposed.
But the establishment outlet, The Guardian, has a new story that focuses on China's attempt to control any evidence of online research of the coronavirus origin from the internet.
We all know that China is behind a propaganda campaign targeting the West (see our deep-dives on that here, here, and here) and apparently doing it successfully, as Western media organizations are becoming a mouthpiece for China's arguments and information, including that the country has all but taken care of the coronavirus problem within its borders.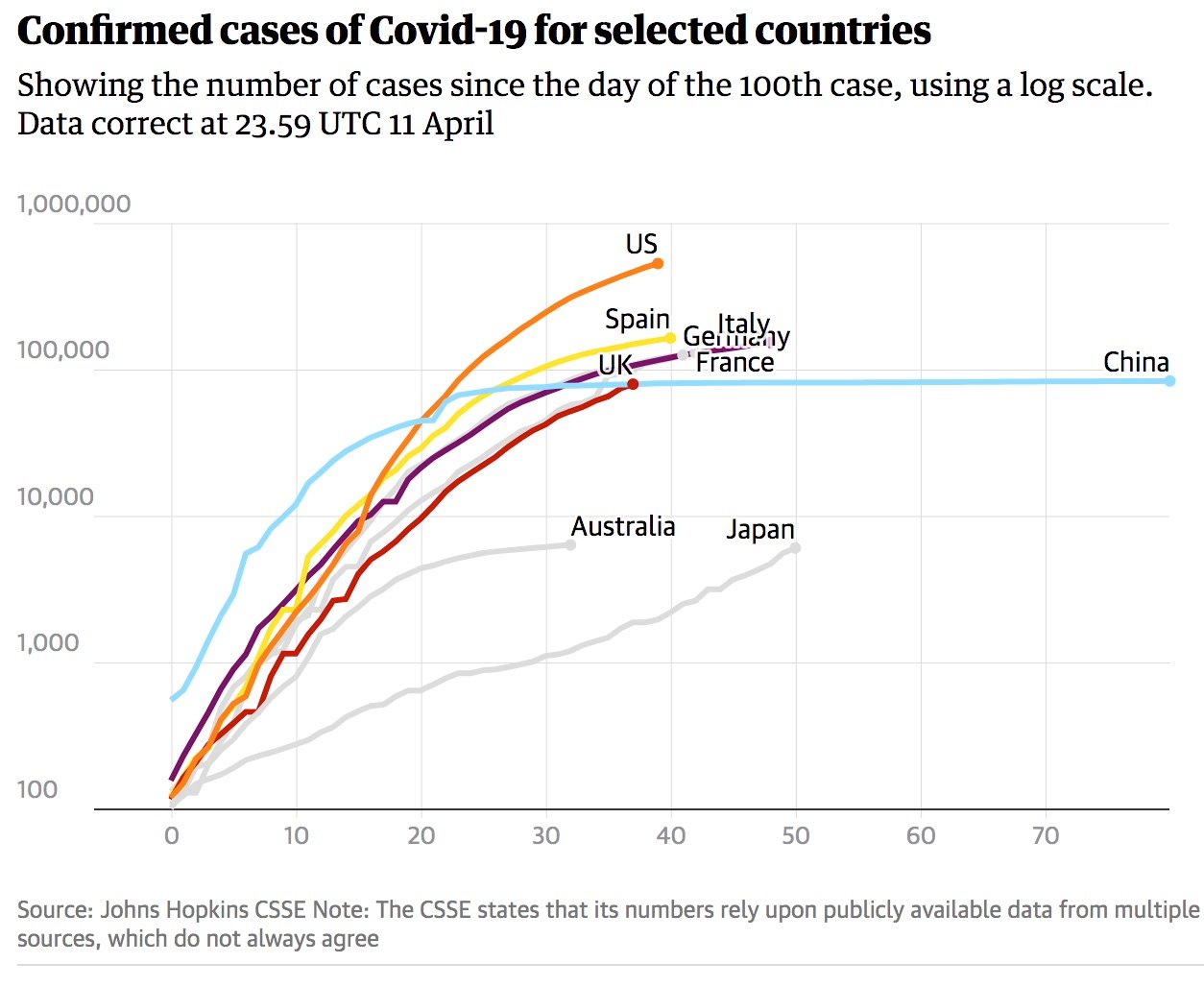 But the Guardian thinks there's no easy way to handle this type of story without peppering it with qualifiers: it says that China is clamping down on the online publication of academic research, "likely" as it wants to achieve tighter grip around the narrative – while all this is something that the now disappointed documents from Chinese universities "appear" to show.
The report states that Fudan University and the China University of Geosciences from Wuhan "appear" to have first published, and then deleted documents revealing China's new rules for publishing scientific papers studying the virus.
The deleted pages, which among other things said that researching the origin of the virus is "particularly sensitive" and therefore must undergo an extra amount of vetting by the authorities, was seen in cached pages on verified websites after the deletion.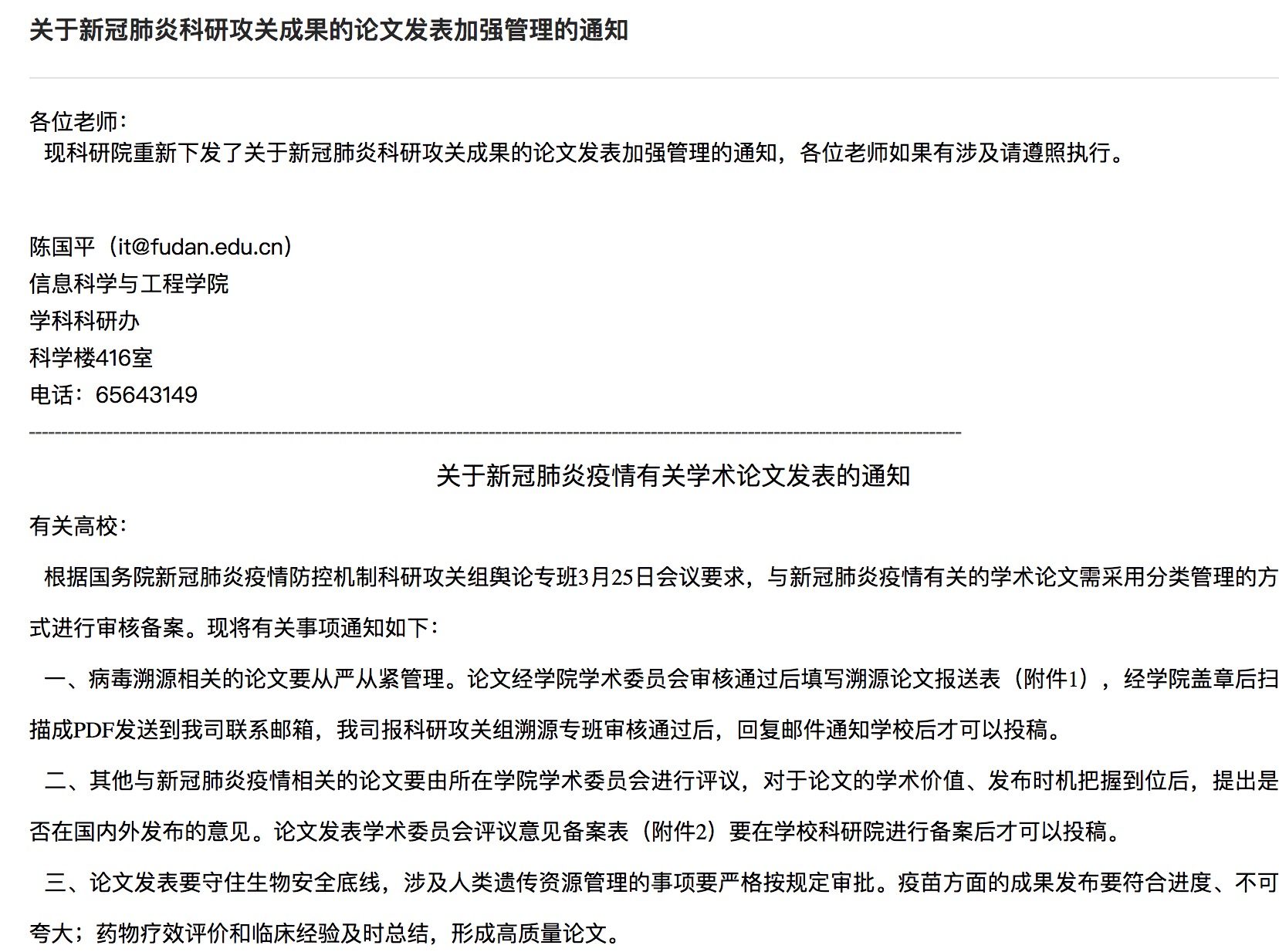 Another warning, which was published on April 9 (here's an archived version) by the school of information science and technology at Fudan University in Shanghai, called for "strict and serious" management of papers investigating the source of the outbreak.
This type of information is no doubt sensitive to a country like China, as it might be to many others, for at least two reasons: either to hide some deep dark secret about the outbreak, or to control any damage from the way this research information might be used and interpreted to (further) damage its image and standing in the world.
But you can bet that if China is keen on deleting announcements about censorship of research regarding the origin of the virus, then it's pretty clear what it is likely to have been.
However, it's also likely that we are a long way away from knowing which, if any of these scenarios are true, just as many things concerning this catastrophic global event are at this point, along with all its effects and "side-effects."
What we do know is that a lid was kept on information about the coronavirus outbreak in Wuhan and its severity for at least several weeks by the Chinese authorities, for unknown reasons. And now, commentators like Gordon Chang are saying that any further attempts at cover-up are something that should be very disconcerting.
Steve Tsang of the London-based SOAS China Institute said that China is seen as having attempted to manage the crisis and control it from the very beginning.
He even makes this bold and chilling statement – referring to Beijing's policy: "In terms of priority, controlling the narrative is more important than the public health or the economic fallout."