Google is being criticized by Hong Kong officials and lawmakers for the pro-democracy song "Glory to Hong Kong" showing up in searches for the national anthem. The pro-democracy song became popular during the 2019 protests in the city before the enforcement of the national security law.
The issue about the anthem hit headlines last month after "Glory to Hong Kong" was played before a game between Hong Kong's and South Korea's rugby national teams. Officials at the event said the mistake was made by a junior staffer who got the song from the internet. Last week, the song was mistakenly played again at a weightlifting competition in Dubai. Police said they were investigating the two incidents.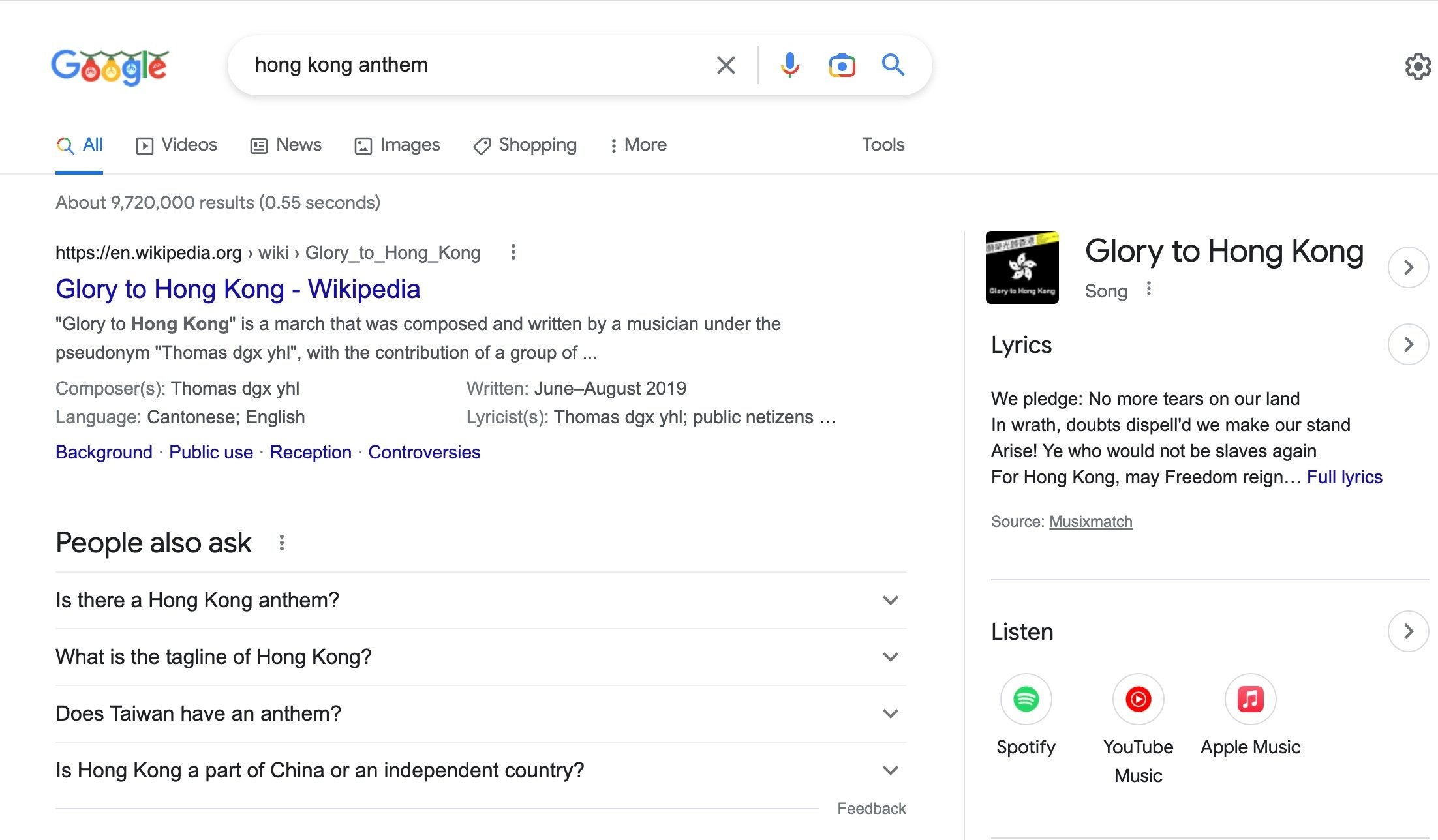 Since China took over Hong Kong from Britain 25 years ago, its national anthem, according to China, has been China's "March of the Volunteers."
In recent days, Google has been criticized about the pro-democracy song by three members of the pro-Beijing legislative council, including the city's chief secretary – The WSJ reports. Last week, a lawmaker staged a protest at Google's offices in Hong Kong.
Unlike in mainland China, the internet in Hong Kong is mostly uncensored, which explains why foreign companies like Google continue to provide services in the city.
Chief Secretary Eric Chan Kwo-ki, the city's second in command, told the media that the government was discussing the issue with Google and YouTube.
Lawmaker Duncan Chiu said: "It's about dignity and respect." He said that the company should take the necessary measures to ensure searches for the national anthem display "March of the Volunteers," not "Glory to Hong Kong." He added that the city's judicial system could rule on whether Google displaying the protest song is in violation of the National Security Law.
In September a harmonica player who played the pro-democracy song was arrested on suspicion of sedition. He played the song outside the British diplomatic mission in Hong Kong where mourners had gathered to pay tribute to Queen Elizabeth II. At least two street musicians have been prosecuted for playing the song in public.
Both YouTube and Google search bring back results for "Glory to Hong Kong" when someone searches "Hong Kong national anthem." Bing and Yahoo also bring back results featuring the pro-democracy song.

Defend free speech and individual liberty online.
Push back against big tech and media gatekeepers…