Bogus Twitter accounts attributed to China are getting mixed up in a controversy that arose between Taiwan, World Health Organization (WHO) Director-General Tedros Adhanom Ghebreyesus, and China.
Previously, Ghebreyesus, who is African and black and has a good relationship with China (as we've witnessed during this whole pandemic), accused Taiwan's authorities of doing nothing to stop a campaign of what he said were racists insults and threats originating from that territory.
Taiwan's President Tsai Ing-wen responded by inviting Ghebreyesus to visit and see that this is not "a bigoted country," reports are saying.
That, of course, could be tricky since WHO as a UN agency won't allow Taiwan to become a member because it is not a member of the UN, since China considers it a part of its territory rather than an independent country.
China jumped in immediately to also accuse Taiwan of being behind the racist campaign. After this, Twitter accounts started posting messages in Chinese apologizing to Ghebreyesus on behalf of Taiwan – making it appear as if Taiwan was admitting to the racism accusations.
But Taiwan's authorities are now accusing China of being behind these Twitter accounts and apologies, with the Justice Ministry presenting what it said was evidence that Twitter was being used as a platform to post these messages making false claims.
Focus Taiwan has reported that the Twitter posts seem to all be in a similar format, while the first account to start publishing these "apologies" is a strange hodgepodge of veiled political references.
The account, @RFXZ, belongs to Radio Free Xuzhou – apparently a tongue-in-cheek nod at Radio Free Asia, that is funded from US federal grants and is critical of China's policies.
Further, @RFXZ bills itself as the biggest media outlet in Xuzhou, uses a frog meme like that used by anti-Beijing protesters in Hong Kong – and has picked pornhub.com as its "official site."
The account tweeted, "I am Taiwanese, and I feel extremely ashamed that the Taiwanese attacked Tedros in such a vicious way. On behalf of the Taiwanese, I apologize to Tedros and beg him for forgiveness."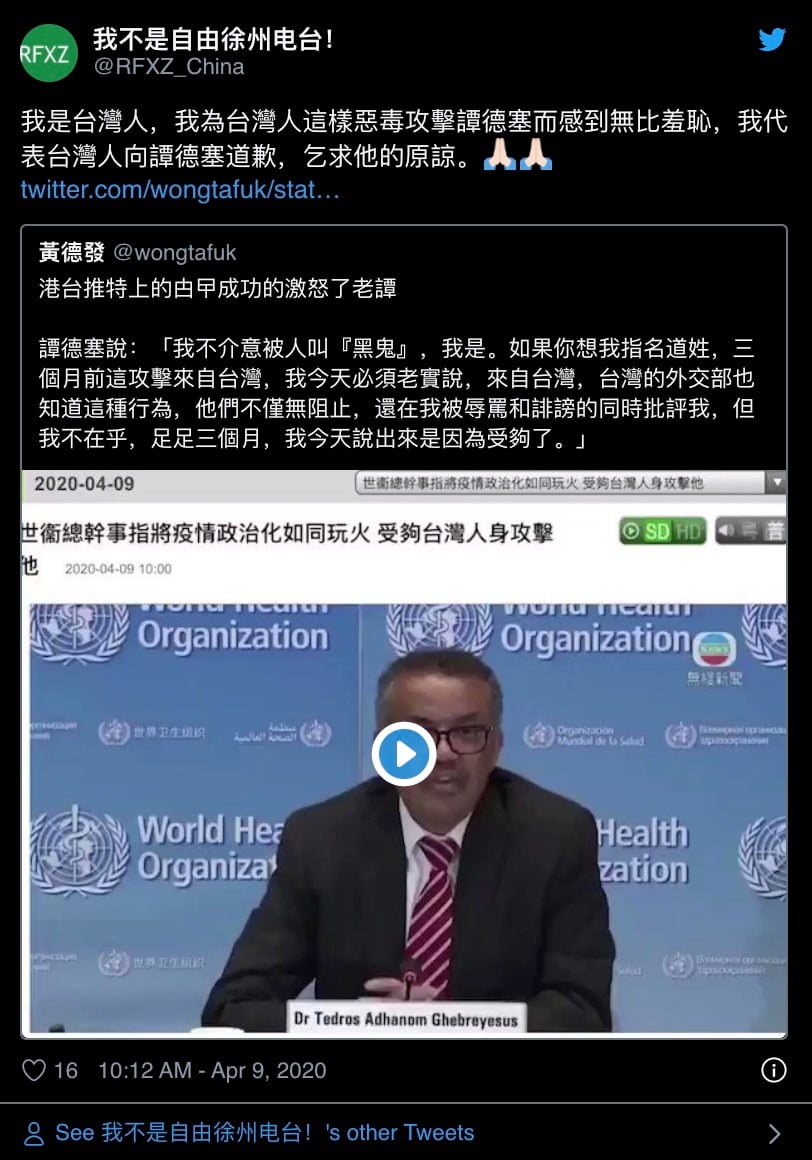 Several other accounts with similar messages of Taiwan's alleged apology also appeared, while the original one posted a tweet in English saying it was run by a Chinese individual.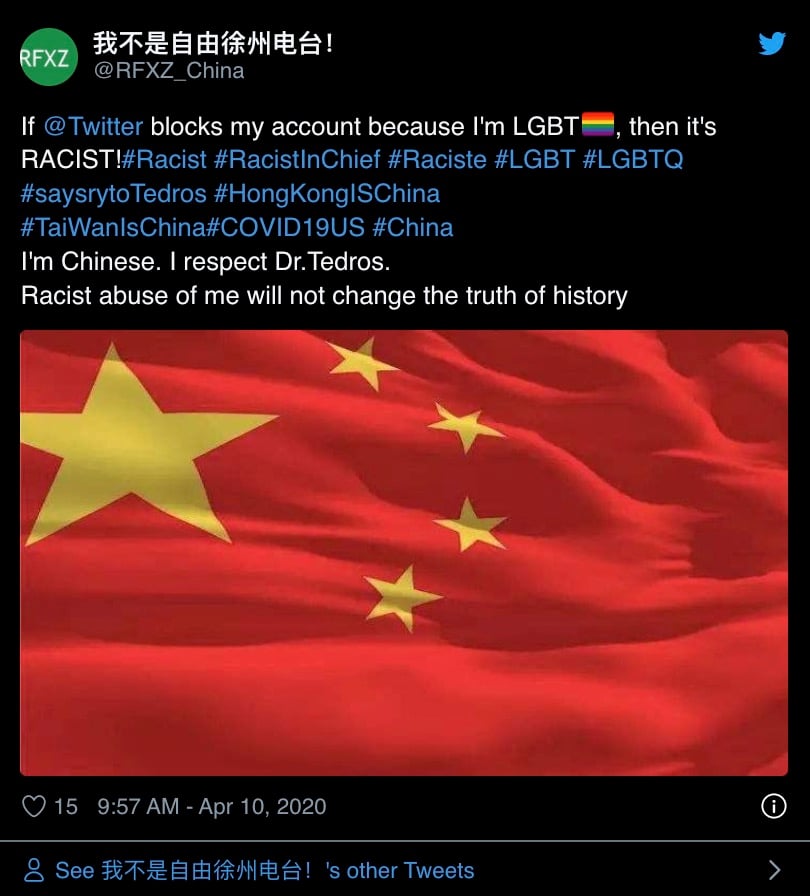 Keep in mind that the Chinese Communist Party (CCP) recently launched a propaganda campaign on Twitter to which the platform has not reacted.