38-year-old Chinese blogger Qiu Ziming was sentenced to eight months in prison for contradicting the government's narrative of the death toll of last year's clash with India. China had long denied casualties during the clash, only admitting to four casualties in February (eight months after the clash).
Last June, Indian and Chinese soldiers fought over a contested territory in the Himalayas. India claimed to have lost 20 soldiers, but China refused to disclose casualties. However, in February this year, the People's Liberation Army (PLA) said four Chinese soldiers were killed in the battle, an announcement that seemed to be in response to critics who claimed it was hiding the truth because it suffered heavy losses.
The PLA's claim was contradicted by India, which claims China has lost at least the same number of soldiers, and potentially double. However, China cannot admit to a high number of casualties as it would damage the image of its army. The government's "Wolf Warrior" propaganda portrays its soldiers like the superhuman stars in action movies.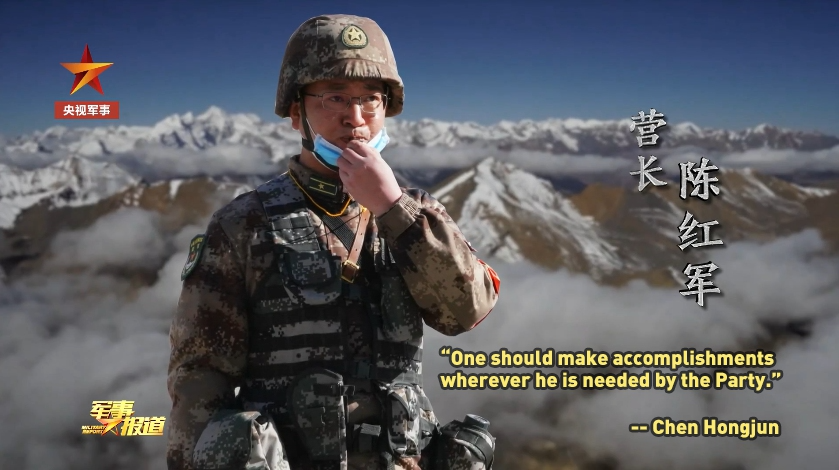 Citizens who questioned the belated admission of casualties, like blogger Qiu Zimming, were arrested and charged with "smearing" the PLA. Their social media accounts were also deleted.
Qiu, who goes by "Labixiaoqiu" on China's Twitter-like platform Weibo and had 2.5 million followers, was arrested a day after he said that the death toll in the battle was much higher than what the PLA claimed. According to the Voice of America (VOA), Qiu was arrested for publishing "a series of blog posts suggesting more soldiers were killed during the clashes, and that a commanding officer had survived because he was the highest officer on the scene."
On May 31, China's state-affiliated tabloid the Global Times tweeted that Qiu "was sentenced to 8 months in prison for infringing on the reputation of heroes and martyrs, and ordered to make a public apology."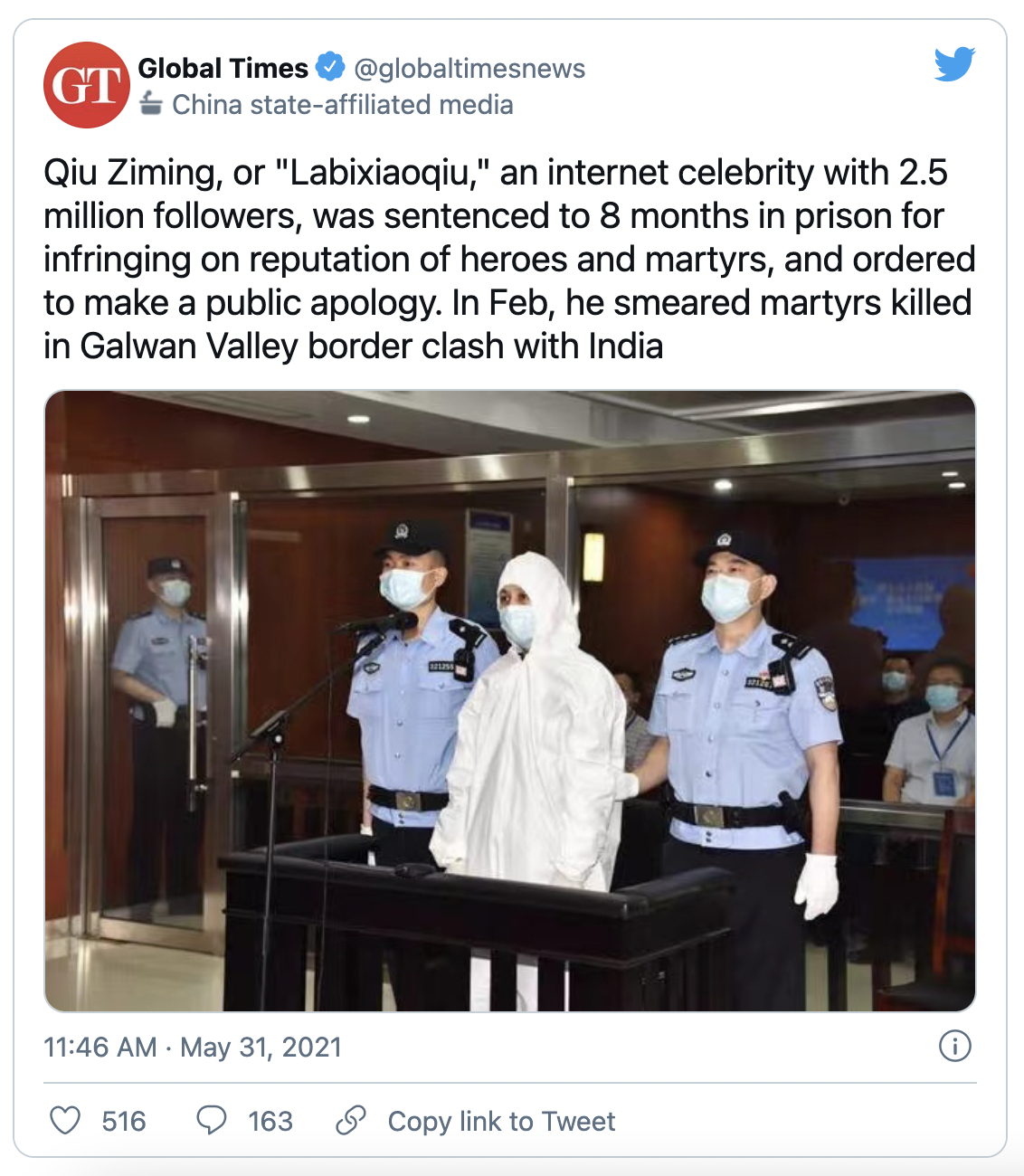 According to the outlet, "Qiu released false information on China's Twitter-like social media platform Sina Weibo, smearing the four heroes who were killed when dealing with the Indian military's illegal trespassing of the Galwan Valley Line of Actual Control."
The outlet added that he was arrested for "stirring up trouble that brought about a severe negative social impact." His Weibo account was deleted and, on March 1, he was forced to make an apology on state broadcaster CCTV, during the national news broadcast.
In his apology, Qiu said: "I feel extremely ashamed of myself, and I'm very sorry. My behavior was an annihilation of conscience."
Qiu was charged under new amendments to China's criminal code that went into effect on March 1. The new amendments are supposed to "protect heroes' and martyr's reputations" from "online insults." However, in the real sense they are just a new way for the government to make it more difficult for people to challenge government propaganda. Initially he was arrested under the famous charge of "picking quarrels and provoking trouble," which the authoritarian regime uses on critics and dissenters.