At least two Chinese companies appear to have removed support for the Uyghur and Tibetan languages. The moves underscore the trend of tech-enabled suppression of ethnic minorities in China.
Last Friday, Talkmate, a language learning app that has UNESCO as a partner, announced that it had "temporarily" removed Uyghur and Tibetan language classes because of "government policies." The announcement, made via Weibo, did not say when the two languages would return.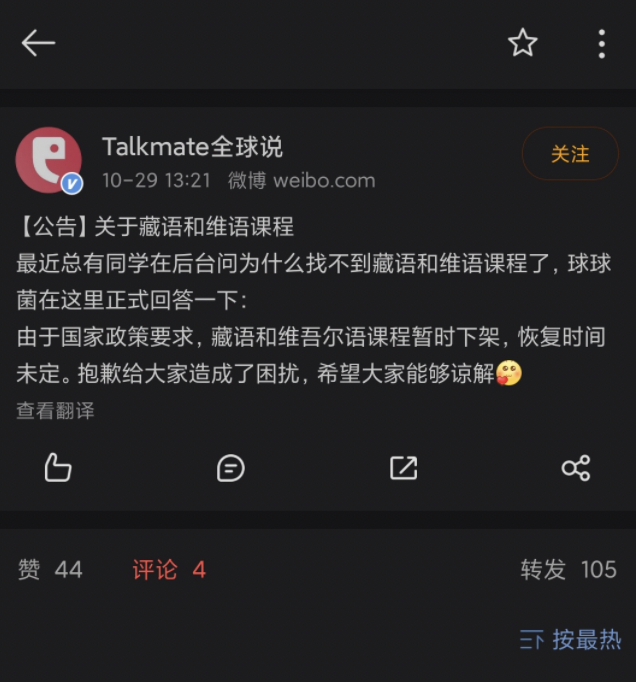 Earlier this week, internet users noticed that Bilibili, a popular streaming service in China, was removing comments made in both Uyghur and Tibetan. Trying to comment in either of the two languages returned an error saying, "Comment contains sensitive information." Some users claimed that the censorship of Uyghur comments on Bilibili began mid-2020.
Both companies claim to be committed to inclusivity and diversity.
According to Protocol, Bilibili and Talkmate are not the only Chinese tech companies that have censored ethnic minority languages. The outlet interviewed a former Douyin (ByteDance-owned TikTok-like platform that operates in China) employee who said that the content moderation team asked the software engineering team to create an algorithm that could automatically detect Uyghur language in livestreams and remove them.
Douyin alerts users to switch back to Mandarin when they livestream while speaking ethnic minority languages. If they do not comply with the warning, the livestream is manually cut off by content moderators, regardless of the type of content.
There is no law directly prohibiting platforms from allowing ethnic minority languages. Tech companies appear to be doing the censorship out of fear that allowing those languages might result in the violation of national "security" laws.
Ethnic minority languages, especially Uyghur and Tibetan have been highly suppressed in China during Xi Jinping's rule, despite the Chinese constitution allowing all ethnic groups to "use and develop their own spoken and written languages."