Actor David Choe, featured in Netflix Series Beef, is using copyright takedown notices to remove from social media clips of a podcast episode where he alleged he had previously engaged in "rapey behavior."
In 2014, in an episode of his podcast DVDASA, Choe detailed a story of how he sexually assaulted a masseuse – something he later said was a joke.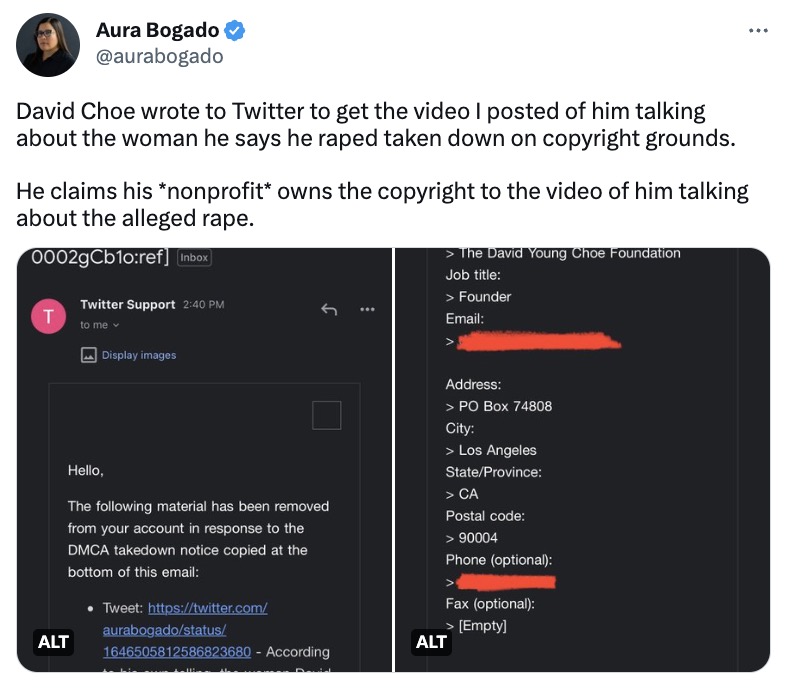 They clips have started resurfacing now that Choe has been featured in the popular Netflix series Beef.
The clip features Choe telling porn star and podcast co-host Asa Akira about his experience at a massage parlor.
In the past few days, clips of the comments have gone viral on Twitter. Several people who posted the clips were sent notice that their tweets had been taken down for copyright infringement, putting their accounts at risk.
According to a screenshot posted by writer Aura Bogado, the take down notices were sent by the "David Young Choe Foundation," a nonprofit created by Choe in 2015.
Writer Meecham Whitson tweeted that her account was suspended after posting a clip of the podcast.
After the podcast episode was published in April 2014, Choe released a statement on the podcast's website clarifying that he is not a rapist. He insisted the masseuse story was not "a representation of my reality."
Choe appears to be taking advantage of the Digital Millennium Copyright Act (DMCA) takedown process to protect his reputation.
Related: How the DMCA has become one of the biggest threats to online speech