Another conservative figure is experiencing censorship on YouTube, reports say, as they cite radio host Eric Metaxas who revealed that Google's video platform has removed all videos of his radio show from the channel.
Metaxas, who is a Christian author, announced the news on Twitter, but didn't seem at all surprised. "FINALLY," he wrote, "YouTube decided that because we violated their 'community standards' my show has been entirely kicked off their platform."
He then went on to say sarcastically that "in related news" the Chinese Communist Party (CCP) and the North Korean government also dislike the videos – a comparison often made between the ongoing censorship on YouTube and other huge western social media platforms, and free speech suppression under those regimes.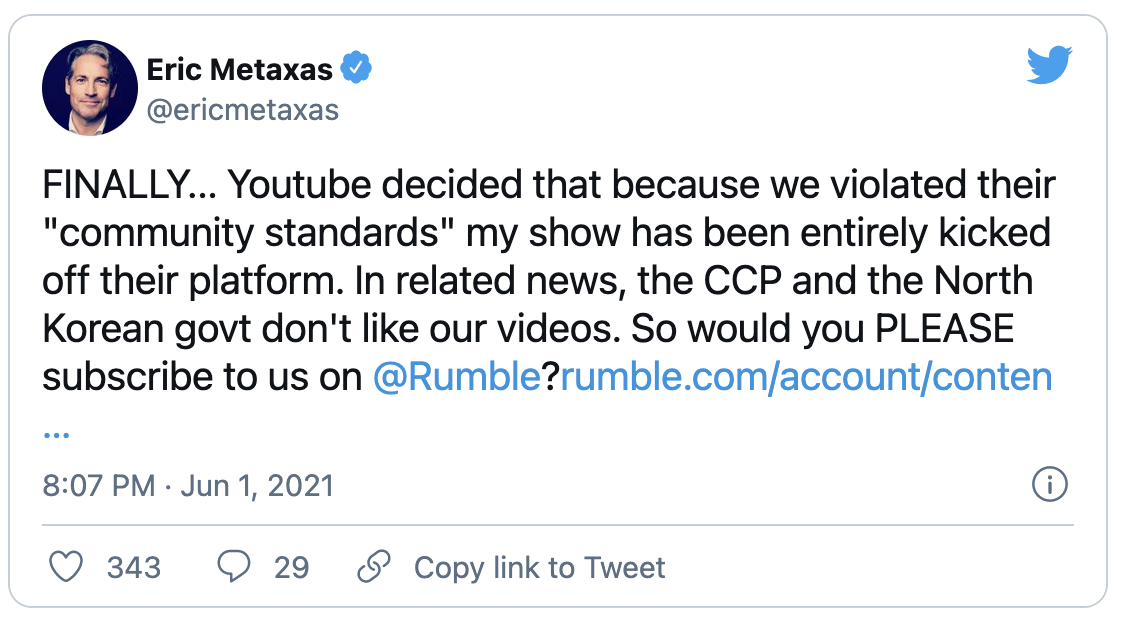 Metaxas, who is a vocal critic of the current US administration, also urged his followers to subscribe to the radio show's channel on Rumble, a YouTube competitor. Another way to access his content is to subscribe to a newsletter via his website.
The resurgence of newsletters and emergence of alternatives to social media networks owned by Big Tech have been some of the ways creators, seemingly disproportionately conservative, have used to remain online and connected to their audiences.
This New York Times best-selling author's followers on Twitter wanted to know what reason YouTube had given for removing the videos (while the channel itself has not been taken down, at least for now).
In a video on Rumble, Metaxas said that the channel tried to follow YouTube's rules by what sounds like a form of self-censorship – although he described it as "playing patty-cake" – for the sake of remaining on the platform.
"You don't want us to put on anything that talks about, you know, all the exciting stuff. So, alright, we won't post that on YouTube," Metaxas said of the attempts to somehow appease YouTube's censorship overlords.
But that was never going to be "good" enough – and he now believes that YouTube went through some old videos on the channel, just to get rid of all of them in a move of blanket censorship.
"So, we did everything we could to play patty-cake with Satan," Metaxas said. But unsurprisingly – he discovered that "Satan doesn't play nice, even when you're trying to play nice."
"So, we're now on Rumble," Metaxas concluded.
Many other content creators facing censorship and deplatforming have found a new home on this platform, and the trend is expected to grow.