On June 1, the beginning of Pride Month, Christian and conservative rapper Bryson Gray released a song criticizing the LGBT movement. Streaming giant Spotify has banned the song.
The lyrics cover:
"Real Christ Gang,
"I don't recognize no pride month,
"Revelation twenty one eight, you thought He lied huh?,
"What happened to Sodom and Gomorrah?,
"They all fried huh?,
"Y'all keep disrespecting Yah like He won't slide huh?,
"I'm just tryna make it in them Heaven gates,
"Repent and turn from sin or be reprobate,
"Pride a deadly sin but y'all celebrate,
"If you don't become new then only Hell awaits,
According to Gray, the song was completely removed from his page after only two weeks. In a tweet, the rapper complained that he is "the ONLY music artist this happens too without any resolution" adding that he is "the most banned artist in the country."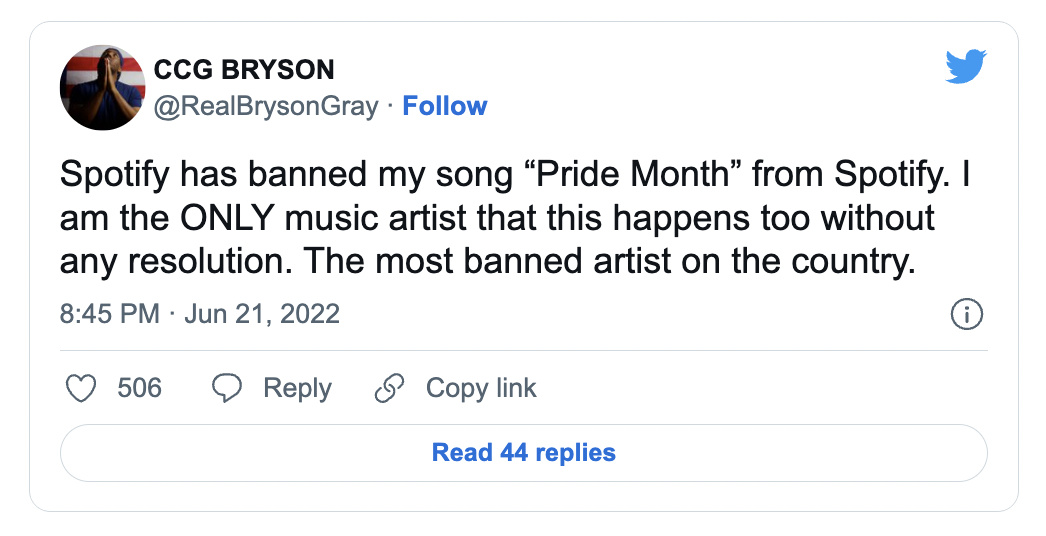 Last year, Spotify banned Gray's and Patriot J's song "Safe Space." The song, whose first line is "they might ban me for this song," criticizes the BLM and LGBT movements.
Rap is often known for its controversial lyrics and, on Twitter, Gray noted that artists such as Eminem, Kendrick Lamar, and DMX have homophobic lyrics in their songs yet they have not been banned.
"Eminem made a song called 'Fall,' which was on his Kamikaze album a few years ago, and in the song he calls Tyler the Creator the word that gay people hate, the f-word… It's right here, free to listen to. How about the other songs where Eminem said the same exact word? Like, the 'Marshall Mathers' song or how about his song 'Rap God' where he literally says he will break a table over the head of the f-word that you can't say. Nope, you can listen to that song too! And I didn't even say that word," Gray explained in a video posted on Twitter.
Gray asserted that he was banned for making Biblical references, noting that music that promotes violence is not banned.
"A lot of these artists cry about censorship but never actually experience censorship," Gray tweeted. "You want to truly experience it? Start making biblical music. You can rap about killing people all day and be fine though."