A Christian stylist at a hair salon in Virginia over a Facebook post criticizing Disney+. Sidney York had worked at Hair We Are since July 2021.
"I can't take this anymore, I stand with Jesus," York wrote in a Facebook post in response to a National Geographic special advertised by Disney+ that is titled "Pride from Above."
She continued:
"This is MOCKERY of the covenant God made with his people—that He would not destroy the earth again by water. It's not okay & it's not acceptable," she wrote. "Pride from above? Is pride claiming to be the prophet? Is Disney spelled upside down look like Jezebel (the name God calls intolerable) to you? Does the '+' look like it could be an upside down cross? Should we tolerate her?"
Two days later, the salon's manager texted her to inform her that she had been fired for insubordination, The Daily Signal reported.
"I asked you to take the post down yesterday afternoon at 3:15," the manager wrote. "You chose not to. You leave me no other choice but to let you go from my company immediately for insubordination."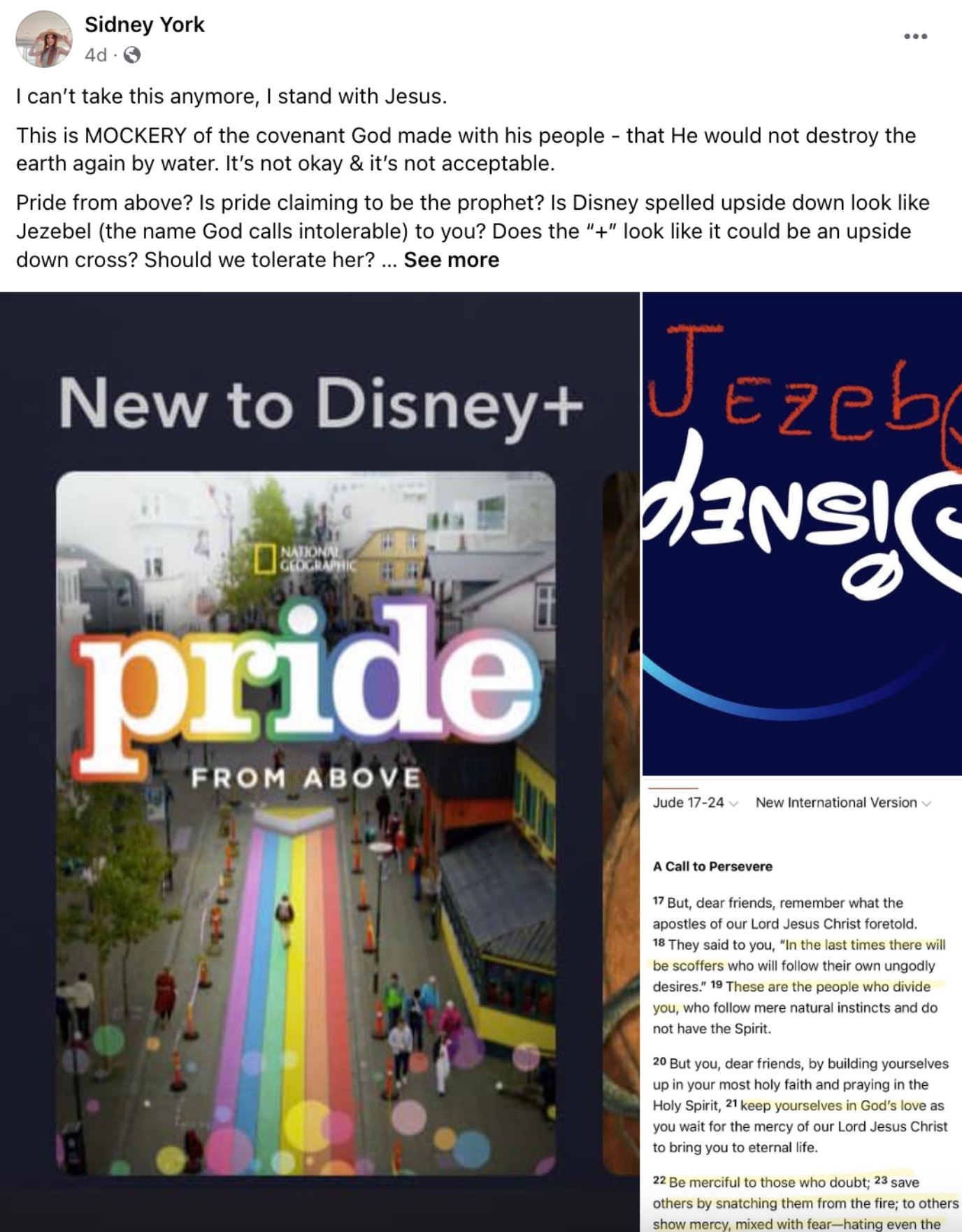 In a public statement on Instagram, the salon condemned the remarks made by York.
"We want to address a recent incident involving remarks made by a former employee that were homophobic and contrary to the values we hold dear," Hair We Are Salon posted on Instagram. "At Hair We Are Salon, we believe in fostering a work environment that is built on respect, inclusivity, and acceptance for everyone and every type of hair. We love hair and helping everyone feel wonderful.
"We want to make it clear that such behavior is completely unacceptable and does not align with our company values," the company continues. "We do not tolerate any form of discrimination, including homophobia, within our organization or in any interactions related to our business."
Speaking to the Daily Signal, York said she knew that her colleagues would not welcome her Christian views but felt she had to speak up.
She is considering legal options, starting with filing a complaint with the Equal Employment Opportunity Commission.