A Christian school teaching assistant who was fired from Farmor's School in Fairford, Gloucestershire last year after she shared concerns about plans to teach that gender is a matter of choice to young school children is seeking £56,000 ($71,560) in damages at a UK employment tribunal.
Kristie Higgs had worked at the school for seven years before being fired over two Facebook posts which didn't mention her employer and were shared under her maiden name to around 100 of her friends. The investigation that ultimately resulted in Higgs being terminated was triggered by a single anonymous complaint.
In the first October 24, 2018 Facebook post, Higgs shared her concerns about a UK government consultation into making Relationships and Sex Education mandatory in schools, described the proposal as "brainwashing our children," and linked to a petition opposing the government's plans.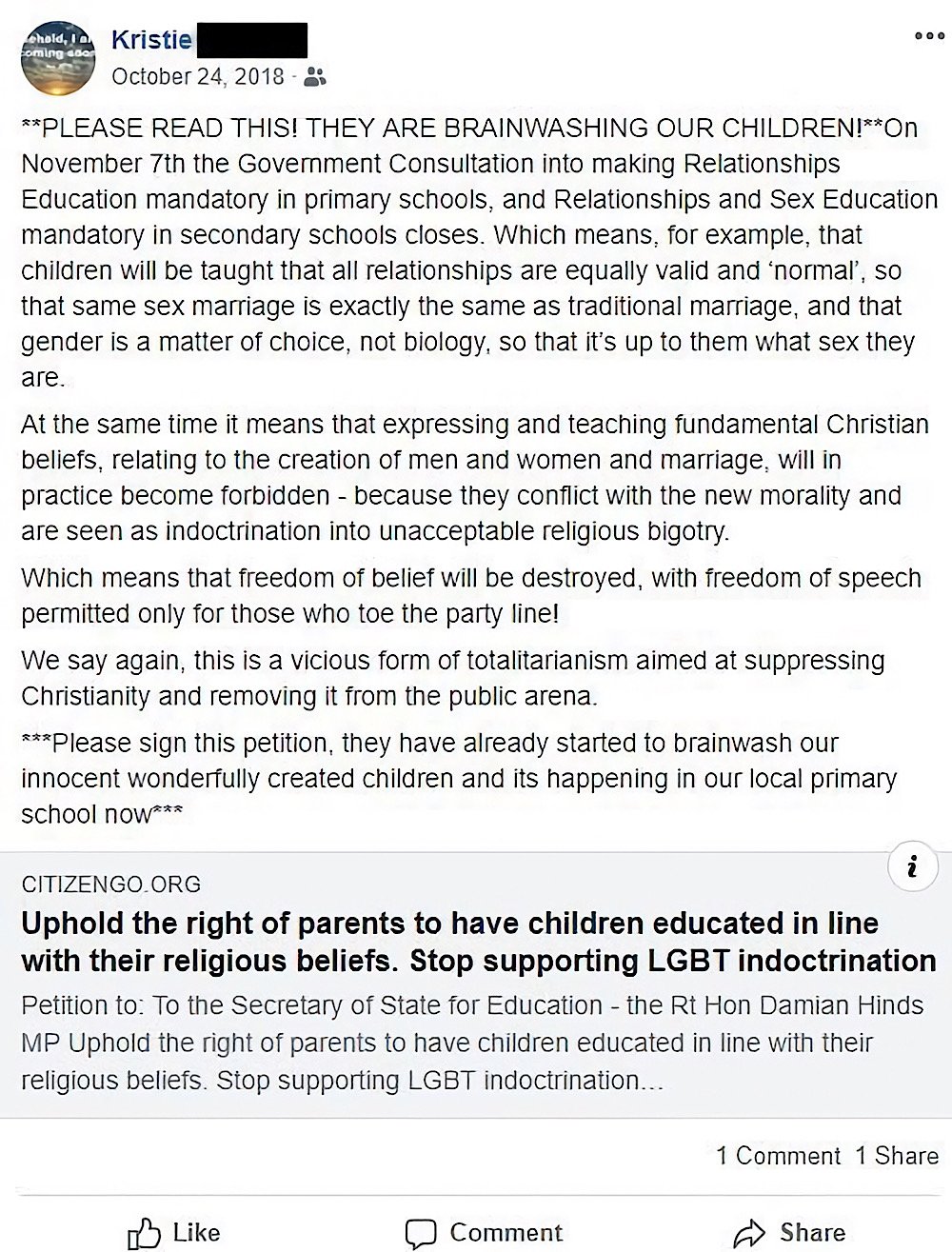 In the second October 27, 2018 Facebook post, Higgs linked to an article about schools using brightly illustrated children's books to teach children about transgender ideology and wrote: "This is happening in our Primary Schools now! ?". The books featured in the article include a book about a boy who wants to wear a dress and a book about a red crayon that discovers it's really blue.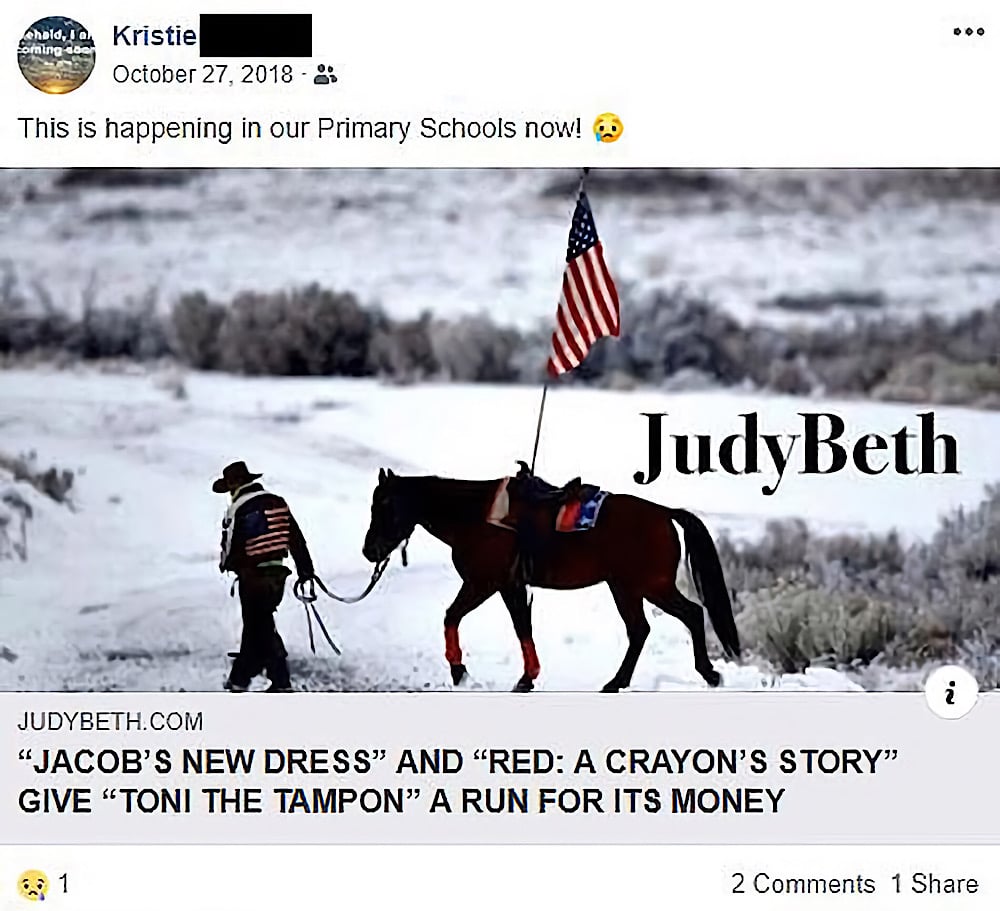 At the time of the second post, Higgs had discovered that several of these books had been introduced at her son's Church of England primary school.
After Higgs made the first Facebook post, a single anonymous complaint was made to the school on October 26, 2018 which accused her of "posting homophobic and prejudiced views against the LGBT community on Facebook."
Days after this complaint, Higgs was suspended, investigated, and ultimately dismissed in January 2019 after a disciplinary hearing.
According to the Christian Legal Center, which is representing Higgs, the school indicated that Higgs was terminated for "illegal discrimination, serious inappropriate use of social media, and online comments that could bring the school into disrepute and damage the reputation of the school."
However, the school admitted that there was "no evidence" its reputation had been damaged to date.
Higgs has also accused a school governor and the disciplinary hearing's chairman of branding her a "pro-Nazi," "far-right" extremist during the disciplinary hearing.
Additionally, Higgs said that while she was being investigated, the school had trawled through her work emails, questioned why she had used her school email to receive "inspirational" quotations from the Bible, and told her that she had no absolute rights to freedom of expression or to share her religious beliefs.
In a statement submitted to the employment tribunal, Higgs said: "I believe that God created mankind as 'male and female' and what he has created is good. He does not make mistakes. I therefore do not believe in the modern ideas of gender fluidity and transgenderism."
Higgs added that she was concerned that many parents across the country didn't know what was going on and that she felt it "morally necessary to speak out in defense of the Bible truth when false and harmful doctrines are being promoted."
The chief executive of the Christian Legal Center, Andrea Williams, told MailOnline: "This case is about the freedom to hold Christian views about what it means to be human. Many Christians have faced pressure for expressing these views in the workplace before, but in this case, Kristie has been dismissed for sharing her views among friends on Facebook."
Williams added that Higgs has an exemplary record at the school and that if she doesn't win the case, her entire career will be tarnished and she won't be able to work with children again.
"I have been punished for sharing concerns about relationships and sex education," Higgs said. "My number one concern has always been the effect that learning about sex and gender in school will have on children at such a young age."
Higgs' case against her former employer follows several other people being fired after challenging transgender ideology on social media.
Last month, assistant literary agent Sasha White was fired from her job at The Tobias Literary Agency after transgender activists complained that her alternative Twitter account, which made no reference to her employer, was "transphobic."
And earlier this month, Canadian political candidate Roland Michaud was dropped by his party after online complaints about an almost two year old meme about Target's 2016 announcement that it would be allowing "transgender team members and guests to use the restroom or fitting room facility that corresponds with their gender identity."
In addition to people being fired for opposing transgender ideology, many major institutions, including TedXLondon and CNN, are erasing references to women in their public statements and articles and replacing it with terms such as "individuals with a cervix" as part of a push towards more "inclusive" language.