CNN is often accused of showing unabashed biased against conservatives and Republicans, and in particular against President Donald Trump – however, the bias may be just a little bit more nuanced than it might appear at first glance.
And whether or not the bias exists, and whether CNN is indeed throwing its broadcasting weight behind a Democratic candidate in the 2020 US presidential election – a new video the network has produced makes it clear that candidate surely isn't Bernie Sanders.
CNN has a correspondent, Ryan Nobles, who is "focused" on Sanders in this campaign – and earlier in the week, shortly after the news that the presidential hopeful had surgery for heart attack issues, Nobles posted a video of Sanders taking reporters' questions. But what immediately jumps out is the fact Sanders appears  a very peculiar shade of purple – suggestive of ill health – something that many Twitter commenters immediately and obligingly concluded, too.
However, the fact that his wife, who appears in the video beside him, sports the same complexion prompted others to suspect that CNN was deliberately making Sanders look unhealthy by applying red filters to his face.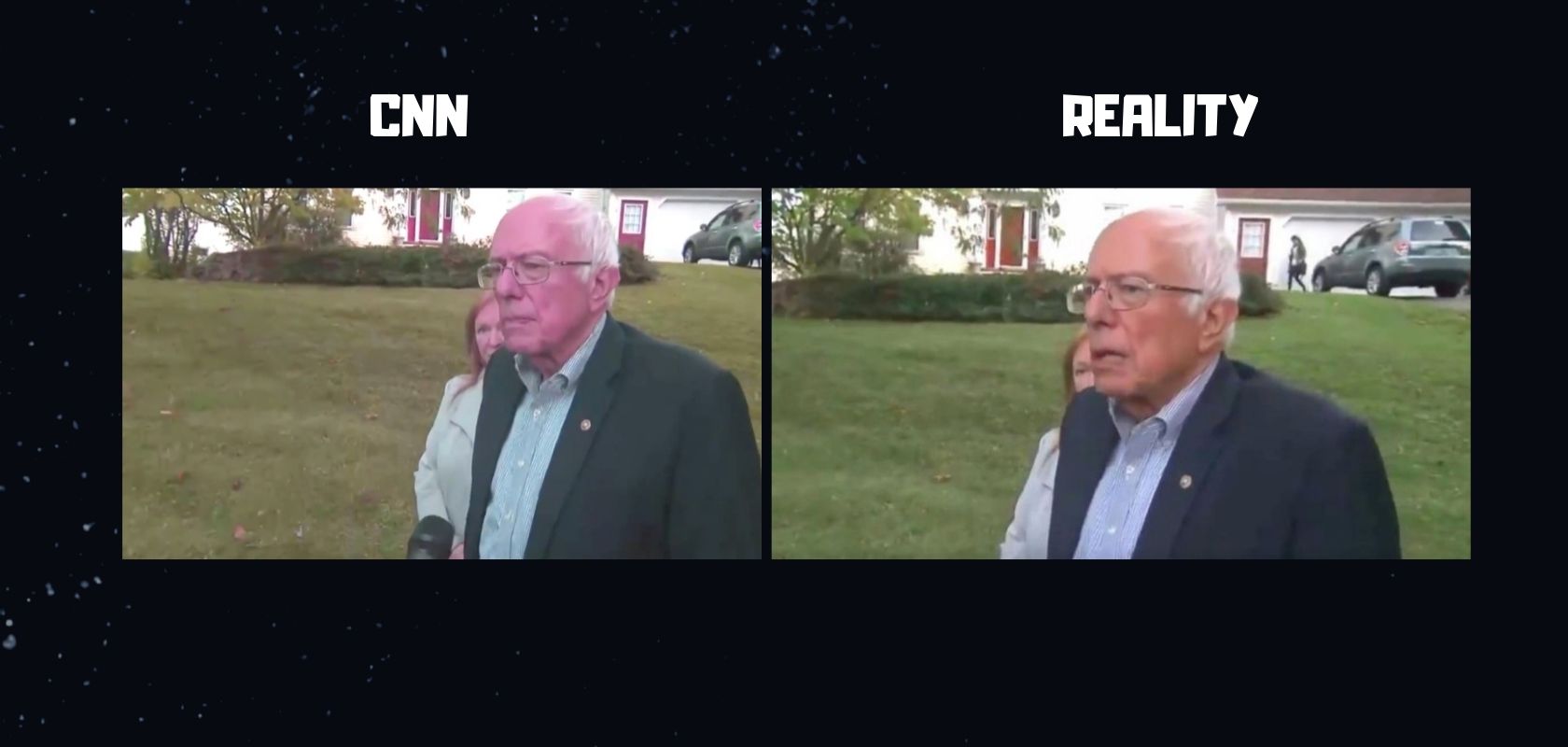 Some of the commenters referred to other videos of the same event, that showed Sanders a normal color.
https://twitter.com/SantaMonica403/status/1181809336839856138
https://twitter.com/kburton40/status/1181757947648577536
It makes you wonder: if this is how CNN treats its "friends" – what won't the network do to its "enemies?"
As for the "why" – Sanders has been in the cross-hairs of mainstream Democrats and the media who support them in the past. In 2016, before they knew Hillary Clinton's real problem would be Donald Trump, the DNC apparently singled Sanders out in the primaries and made sure he didn't receive the nomination.
And now, the Democratic establishment's new favorite candidate is once again not Sanders, but Joe Biden.
The posts on Twitter by CNN's Nobles – beside showing Sanders in a disturbing beet red edition – also suggested that he would be slowing down his campaign, perhaps even rethinking his bid. A number of comments left on the posts picked up on these cues, saying that Sanders looked unwell and expecting his campaign to be over.
Sanders, however, disagrees: "I misspoke the other day. I said a word I should not have said and media drives me a little bit nuts to make a big deal about it," he said later on Wednesday.