Some Boise State University students have displayed a level of intolerance toward those who hold views different from theirs high enough to drive a business off the campus.
Coffee vendor Big City Coffee opened at the university four months ago, but has now decided to get out of the contract and leave after it was bullied by BLM supporters following a Facebook post they made in support of police officers.
The company was not opposed to BLM, but instead backed another campaign, dubbed Thin Blue Line USA, that supports police officers. They are typically the target of criticism and protests organized by BLM activists.
But those who were outraged to find out that Big City owner privately supported the pro-police group said the company was "not supportive of the people of color," as one of the students, Alyssa Wainaina, put it, adding that it had no place on the campus. A social media campaign was started against the coffee company.
The owner of the business, Sarah Fendley, explained her reasons for supporting Thin Blue Line, but to no avail; according to reports, some of her responses on social media to her critics caused even greater outrage.
Fendley said that she backs the organization for personal rather than political reasons, because her partner, a policeman, had been shot five times and left severely disabled and in a wheelchair. She also said that one of her brothers works as a fireman while the other serves in the Air Force.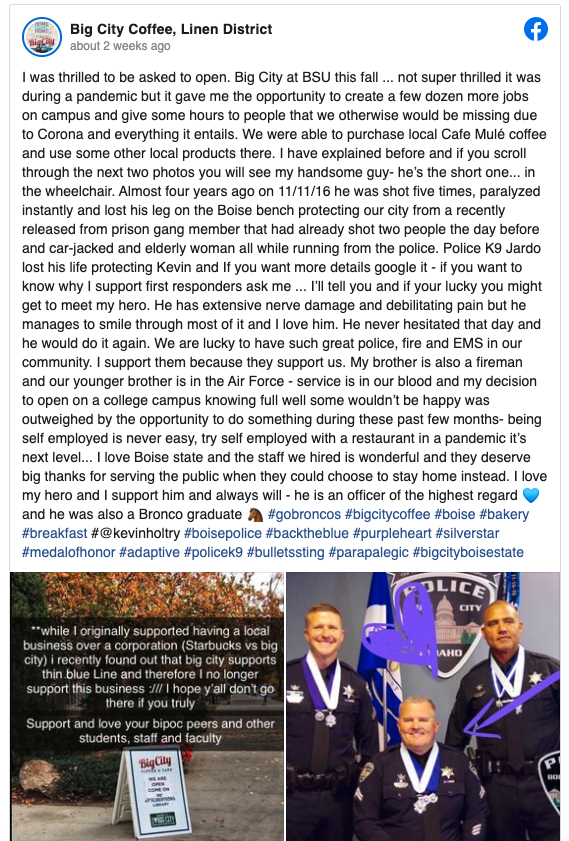 But a student council whose job is to "fulfill the needs of underrepresented groups" said that the coffee vendor's support for the police and others who serve was "a poor message to black students" aimed at silencing them.
And so they decided to silence Fendley and drive her company out. One of her Facebook posts responding to activists' criticism said, among other things, that she supports the police, the fire department and EMS "because they support us."
This further enraged her critics, who said the post was "extremely harmful" in promoting the brand while disparaging the opinions of BIPOC (black, indigenous and people of color) students.
Big City asked to be let out of the contract and left.