There has lately been more chatter and enthusiasm than pretty much ever before around cryptocurrencies – as that possible future solution to some glaring economic, financial an ultimately societal uncertainties and inequalities, now becoming ever more prominent with the global lockdowns that has been laying bare the ultimately make-believe nature of fiat currencies.
With that in mind – what a good time to be a cryptocurrency exchange like the California-based Coinbase, right? A time to grow and thrive and assume that favorable pole position in a world that's just taking shape? But the thing we need to keep in mind with digital currencies, and any associated companies, including brokers, is that the whole industry is squarely based in that of broader tech.
Therefore, any attempt to keep things strictly business and focused will always be challenged at best, and disrupted at worst by political activism brought in by employees to their workplace from the outside world.
Coinbase is no exception to that – but the company's stance may be.
The activist employee uprising was set in motion when CEO Brian Armstrong appeared determined to decouple his company's business ethic from that currently predominant in Silicon Valley, that happily mixes social activism with professional priorities.
Armstrong published a blog post on Sunday calling for "laser" focus on what the company is here to do – namely, develop an open financial system.
(If successful, that would ultimately help right many of the wrongs plaguing society at present – and could even ultimately prove the only way to do it.)
But while Armstrong's pragmatism drew praise from some of those who reacted to the post, others could not see past their current trauma around social issues – preferring to simply shout about them, instead of considering some realistic ways to fix them.
Armstrong appeared unmoved by the later portion of comments to his original blog post, his next move being to send out an internal email offering any Coinbase employee unhappy with the company's direction an opportunity to leave, along with severance and benefits package.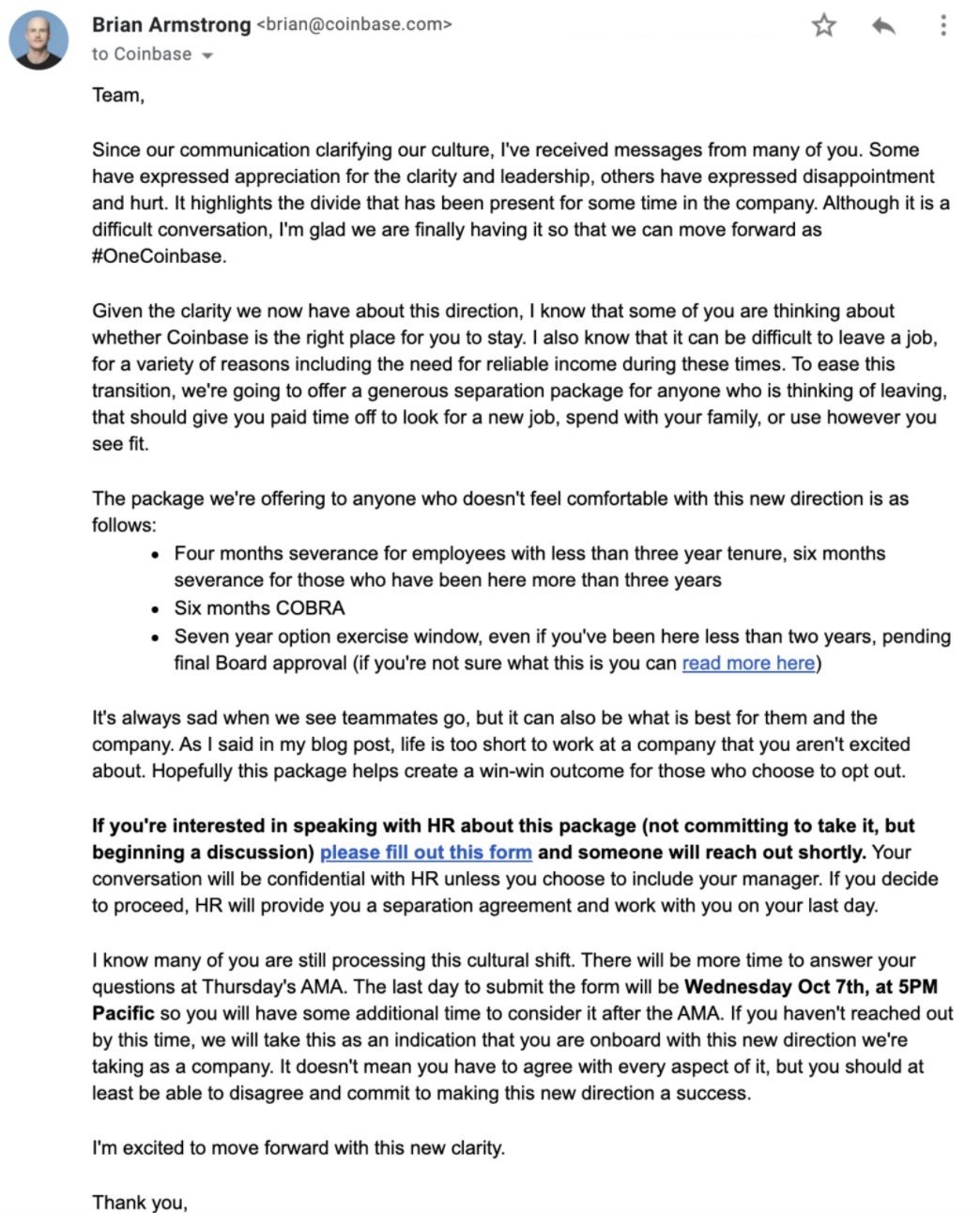 What Coinbase is offering activist employees whose agendas clash with the company's goals is six months of severance and a potential seven year option exercise window.