Traditional office suites such as MS Office and Google Docs provide collaboration on documents via the cloud. But cloud services are not as secure as advertised, meaning it is not advisable to upload sensitive information. The alternative, which is emailing or texting multiple people about changes and making them manually is tedious. Collabio Spaces offers a better solution.
Collabio Spaces is a P2P office suite software that allows different people to co-author documents, without relying on the cloud. Instead, it allows document collaboration via local network, no network connection is required.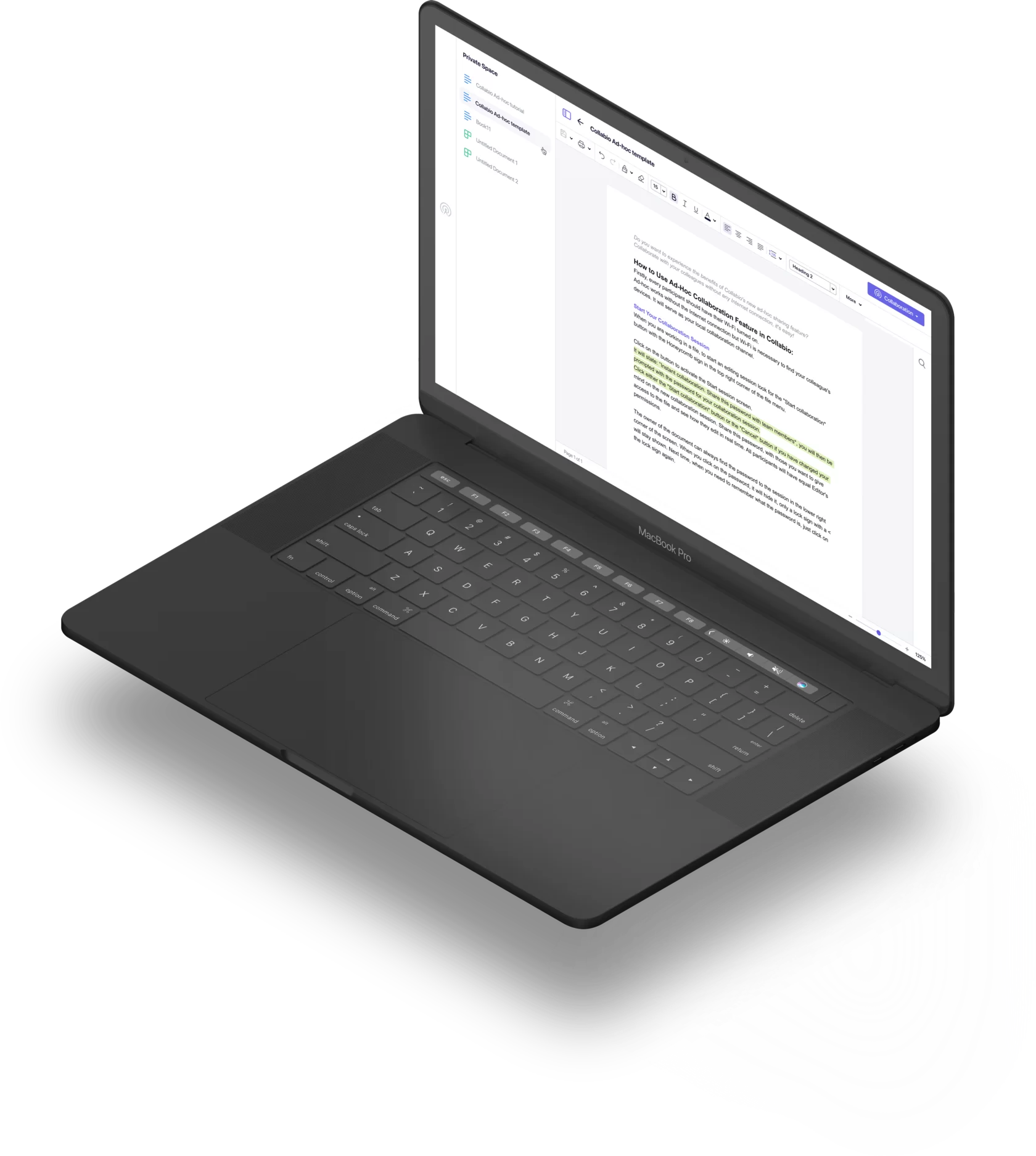 The office suite is developed by XCDS (eXtended Collaboration Document Systems), a tech firm based in London that has been developing office tools for the past 7 years. Part of XCDS' team include developers who worked on Quickoffice, before it was acquired by Google in 2012. The developers have since been working on improving document collaboration, and finally brought to the market a P2P document co-editing product last fall.
Currently, the supported document formats are DOCX, XLSX, ODS, and ODT. But it has other features such as the ability to e-sign documents and PDFs, annotate and comment on PDF (even via audio), scan and recognize texts and images using a camera, and view presentations.
"When we started with Collabio we were ready for the long game," XCDS CTO Egor Goroshko told TechCrunch. "We knew that we would need to implement most of the features users were familiar with, before we could start developing our own ideas."
"Long story short, our cloudless collaboration works exactly the same way as a cloud one. Of course there is some difference in the way you connect to the document but after that, you have exactly the same experience as if you work in the cloud," he added.
The main difference between Collabio's P2P cloudless collaboration and the typical cloud collaboration is the lack of constant access to the document. The developer calls it "Ad-Hoc collaboration," and accepts that it is most applicable for "occasional document discussion and updates."
Goroshko also added that, for now, a shared document can only be locally saved by the host device.
"Other peers have session document access but the application does not upload/transfer files to collaborators' devices," he explained. "[The] session lasts til the host keeps the document open. As soon as you close the document, peers lose their access and can't save the document locally. This is made for reasons of privacy but we are now considering giving users the option to allow connected peers to save a copy of the document."
The app works via a local network, allowing collaboration on devices connected to the same network. That means it does not require an internet connection, which the developers argue could be quite useful in situations where there's poor connection.
According to Goroshko, Collabio achieves P2P connectivity via WiFi or Bluetooth. Basically, Collabio works like Airdrop; once it identifies a peer's address a connection is established.
"All work is done only on devices in the local network so our ad hoc collaboration does not need the internet, the same way as you do not need the internet to exchange files via AirDrop," Goroshko explained. "Just like with AirDrop, you do not need any specific configuration for Collabio Spaces, everything is done automatically. You start a session and peers see it on their devices, they simply connect to a selected document, and if they know the code, they can edit the document."
"You launch a collaboration session with a honeycomb icon, and any nearby devices with [the] Collabio Spaces app show shared documents," he added. "Under the hood, it works the same way as sharing files through AirDrop or streaming audio/video through AirPlay. People nearby can join editing, if they know the security code assigned to the session."
On a mobile device, up to five people can be simultaneously connected to a shared document. The desktop version supports more peers.
But the app is only available on MacOs and iOS. That said, the developer plans to roll out the app on Android and Windows later this year.
"We started with an iOS app in September 2020 and introduced a macOS version in October. With our early releases, we mainly concentrate on testing the app with real users and prove our ideas. Starting from our launch, we've got almost 15,000 of installs and valuable feedback on what users need and what can be improved. We pushed intensively on the market starting in February 2021 this year and got more than one thousand users during this month."
XCDS is working on a major release set to launch this May. Some of the updates include the ability of P2P collaboration from anywhere via the internet, not just for devices connected to the same local network.
"Our goal is to create an editor specifically for team work, to help people get the most from collaboration," said Goroshko.
"Working together with others gives you a lot of advantages but requires more effort to sync with others. Planning, tracking, discussions, reviews — currently most of this work is performed separately from the document or locked inside the document. We want to cover this gap and give our users the most from collaboration with each other."

Defend free speech and individual liberty online.
Push back against big tech and media gatekeepers…