It feels like it happens all the time these days – university students and teachers get accused of engaging in hate speech, on or off the campus, almost always on social media – and this often ends up with their suspension, or even expulsion/sackings. Also known as, "canceling."
At least in recent years, most of those caught on the wrong end of these stories are people from the conservative spectrum of US politics, accused of hate speech, racism, or simply displaying insufficient amounts of wokeism.
But in the case of Collin College's history teacher L.D. Burnett the shoe is (seemingly) on the other foot: and she says it feels like being "thrown under the bus."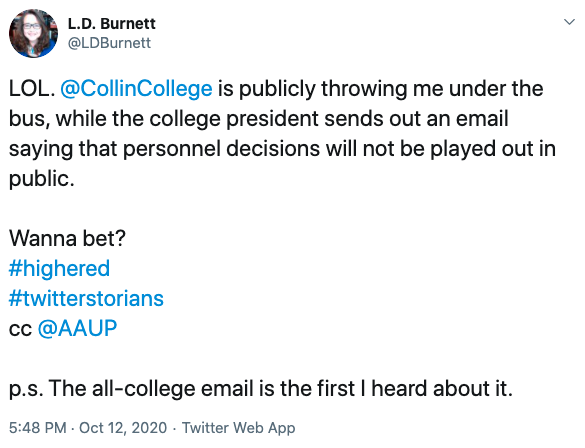 This is not some conservative showing unfair treatment – quite the opposite, Burnett was recently so enraged by US Vice President Mike Pence's performance during the VP debate that she decided to take her wrath to Twitter.
Other than retweeting angry posts replete with colorful language, Burnett repeatedly refers to Pence as a "demon" on her own.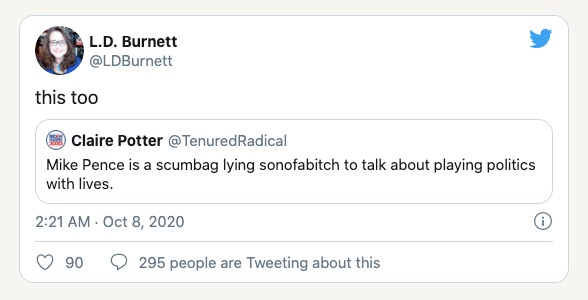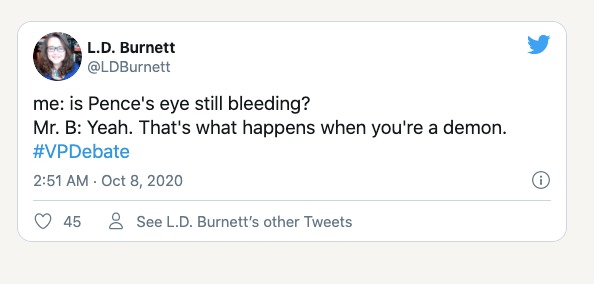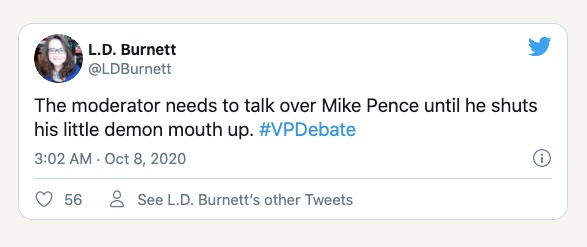 Lucky for L.D. Burnett that she is operating in the United States, because in Europe, language like this could easily land her hate speech charges and a day in court, where she would get the chance to explain that her goal was *not* to dehumanize a political opponent for sinister purposes.
Also lucky for this teacher that the public college that employs her is limited in the action it can take by the First Amendment free speech rules.
And so from Burnett's tweets we learn that the college president sent an email out – that rebuked her behavior on Twitter as unprofessional and hateful – never mentioning, however, measures such as suspension, or firing.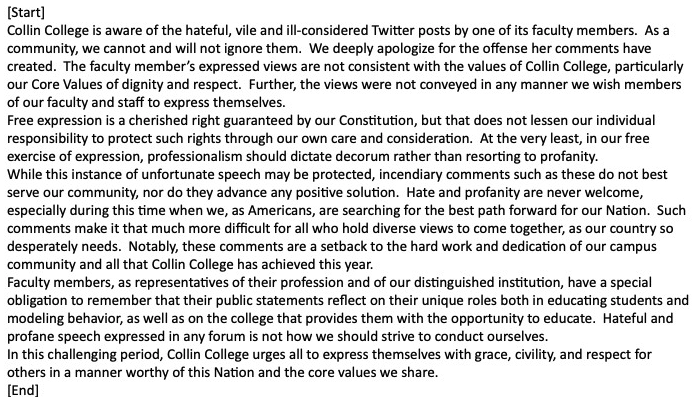 The email acknowledges the college's legal status that mandates respect of free expression.
The email also states that profanity and hate speech are not the preferred way forward, particularly at a time of serious societal divisions in the US.
So, the issue Burnett takes with her employer here is that the college president "executed personnel policies in public" by sending the email to "all faculty." Naturally, Burnett would have preferred this to have been done in private.
And if you're a liberal in the US these days shooting your mouth on Twitter – that's the extent to which your employer usually can "throw you under the bus."