For a second it seemed like cheap and easily available official streaming services would slowly bring about the end of content piracy thanks to the product they offer, without much need for outside enforcement.
Netflix, Amazon, and others have contributed to a decline in traditional torrenting – where users content from the internet to their device. But unlike music streaming services which pretty much each hold the entire catalog of music – there has been serious fragmentation in the video streaming market. Users must be subscribed to different platforms to have access to all the content they want, driving up the cost – and once again, opening up the market and demand for unauthorized content sharing.
The new incarnation of piracy and the new front in the fight against it comes in the form of Internet Protocol Television (IPTV) which allows a "user-friendly" way to deliver high-quality video content free of associated costs.
But instead of addressing the problem of fragmentation in their industry, video rights holders seem to be determined to fix it by going after IPTV sellers any way they can.
TorrentFreak writes that Comcast's Sky has been flooding Google with takedown notices alleging violations of broadcast rights as well as copyrights of their logos.
What made Google's search function the new battleground has been a police raid in Italy in September that removed Xtream-Codes from the pirate market, causing an upset that lasted several months and prompted users to "turn to search engines in order to find a replacement."
Sky started targeting IPTV sites indexed by Google with the goal of removing them from the web as early as March, TorrentFreak said.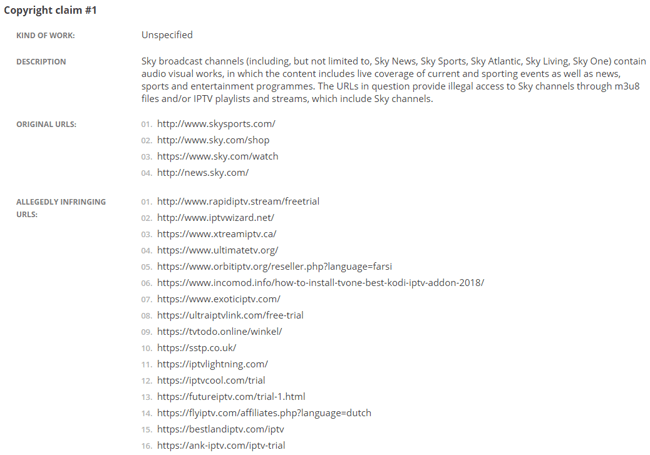 But Sky's claim that the sites in question actually directly infringe may be tenuous, the report suggests – as they are probably merely "facilitating" infringement, with other URLs used to actually stream content.
But that's not the only or even the best method Sky now relies on with its takedown notices.
Arguing that copyrighted graphics, including logos, are being used illegally by IPTV services to promote the content they stream is something that is far more likely to meet DMCA requirements and actually end up removing these sites from Google's search index, the report said.