Congressman Ted Lieu has defended the FBI for its censorship relationship with Twitter, suggesting that the FBI was only targeting "foreign influence operations," – despite the fact that many of those targeted in the latest revelations were US citizens and protected by the First Amendment.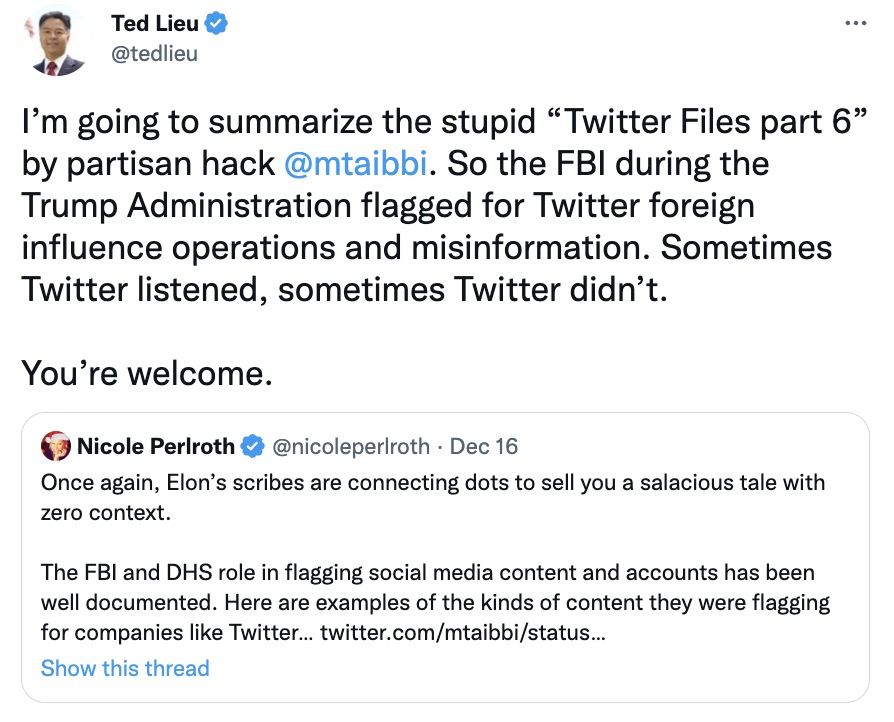 "So the FBI during the Trump Administration flagged for Twitter foreign influence operations and misinformation. Sometimes Twitter listened, sometimes Twitter didn't," Lieu tweeted dismissively.
Billy Baldwin, the brother of actors Alex and Stephen Baldwin was one of those who had his Twitter account included in a lengthy list of accounts that the FBI's National Election Command Post (NECP) flagged to Twitter. Another example of a non-foreign influence operation was Right Side Broadcast Network that live streams conservative events. That account too was flagged by the FBI.
Matt Taibbi, one of the independent journalists releasing the Twitter Files, fired back at Democratic House Judiciary Committee member Ted Lieu who accused him of "lying" about the FBI flagging Twitter accounts.
The latest Twitter Files batch released by Taibbi showed that the FBI was in constant communication with Twitter. The agency even requested account information, including location data.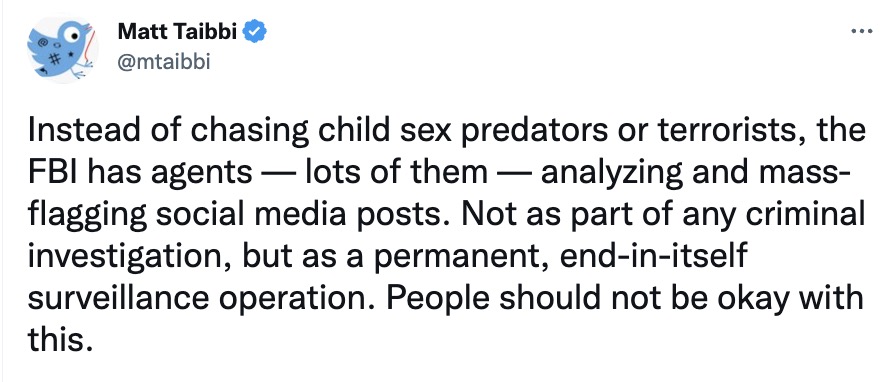 Lieu accused Taibbi of lying, writing, "I'm on the House Judiciary Committee that has oversight over the FBI and you are lying.
"The FBI has lots of agents chasing child sex predators and terrorists. Please stop undermining and lying about federal law enforcement."
Taibbi fired back: "Being on that committee you should know: – How much has been spent, and how many DHS/DOJ employees have been assigned, to monitoring and flagging social media?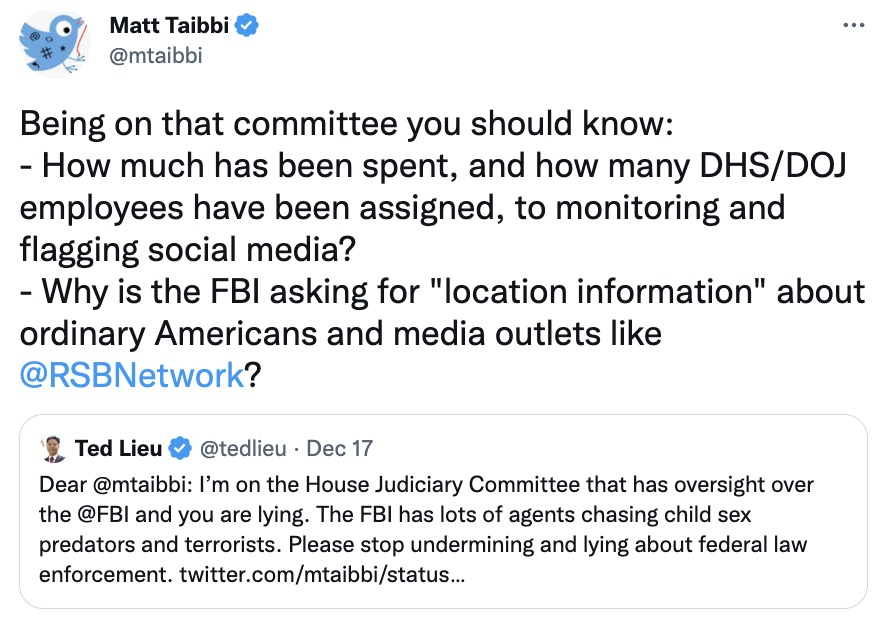 "Why is the FBI asking for 'location information' about ordinary Americans and media outlets like Right Side Broadcasting Network?
"What 'law enforcement' objective is served by asking for Billy Baldwin's location information?
"Why is the FBI/DHS in the business of analyzing and flagging social media content at all? When were these programs created and who approved them?"
Taibbi referenced an email sent on November 6, 2022, by the National Election Command Post to the FBI asking for help about over 25 accounts "that may warrant additional action."
The latest batch of Twitter files showed that the bureau was in constant contact with Twitter in recent years and recommended user bans.