Sgt. Jamie Rivera, a cop from Stratford, Connecticut, had been disciplined by the town's mayor after he called the Black Lives Matter organization a terrorist organization on Facebook. He was suspended for three days without pay and was also ordered to attend "implicit bias training." The police union, however, has appealed the decision and filed a grievance claim.
The disciplinary action against Sgt. Riviera was announced during the Town Council meeting on Monday, and no one opposed the decision at the time of its declaration in the meeting.
Rivera had actually made the Facebook post back in September, which has widely been shared across several social media platforms since then. "I'm just gonna say it!! I'm pro Trump," the post said. "If anyone doesn't like it. So be it. I'm a cop. I became a cop in 2001. I've seen a 180 about how people feel Me !!! Black lives matter is a terrorist organization!!!!" wrote Rivera on Facebook.
The cop had also shed light on some sensitive issues such as suicides in police forces due to the trauma they face. "Also sept 10 is National suicide day. Do any of you know how many cops KILL themselves everyday cause they deal with shit you see in the movies? This is our real life!!" he wrote.
Although his Facebook post was widely criticized and condemned for accusing the movement of calling for the "killing of cops," there have also been cases where people have privately expressed their agreement with the claims made by Rivera. But none of them have voiced their support for Rivera during the Town Council Meeting, where the decision to dock his pay for three days and suspend him was taken.
What's more, several people have called for even harsher actions against Rivera, such as termination from the police force.
The mayor's chief of staff Michael Downes, in an email, revealed that two investigations were called into the posts by Rivera. "Sgt. Rivera was found to have violated the Police Department's social media policy, including but not limited to engaging in speech that negatively affects the public perception of the Stratford Police Department and undermines public confidence in him and the Department," said Downes.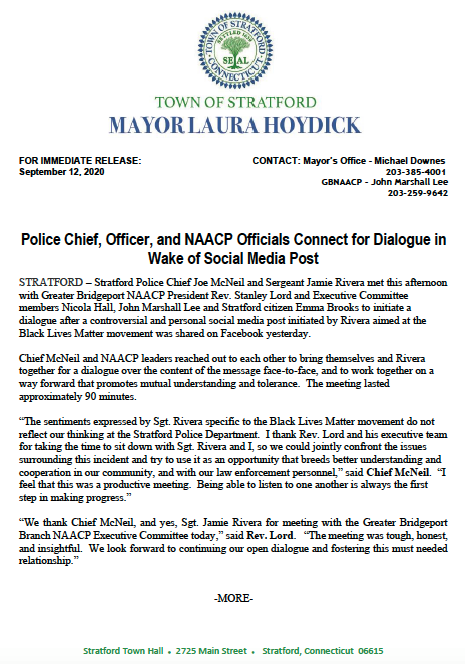 As the police union has currently filed a grievance over the suspension, the details and report of the investigations on Rivera won't be made public until the grievance is settled.
The Deputy Chief John Popik formally handed the discipline to Rivera. Among the three days of suspension, only two will be immediately enforced with the other one being held in abeyance for a period of 12 months. He was also "mandated to attend training on diversity, inclusion, sensitivity and implicit bias."
Rivera also served as a public information officer; but after the suspension, he was revoked from that post as well. And still, we have people expressing their dissatisfaction over the punishment levied upon Rivera.
"This officer, and others who may share his ideology, certainly have it backwards. I'm not surprised though. This person will most likely grieve his suspension, doze through his (implicit bias) training, and be sent out back on our streets. This administration, the chief and the Police Department have much more to do to restore the public's trust," said Paul Tavaras who represents District 3 in the Town Council.