Mark Deacon, a conservative councillor in the UK, has been suspended from his role for posting an image of him wearing a dress in protest of the idea of a 6PM curfew on men following the murder of Sarah Everard. The councillor faced backlash for being "insensitive" to violence against women.
On Sunday, Deacon posted a picture of himself in a long black wig and floral pink dress. He said he would dress like that if a 6PM curfew against men was imposed.
"If the Green Party and some Labour party politicians get their way and impose this ridiculous 6pm curfew on men, then I'm going to wear my dress more often," Deacon posted on Facebook alongside a photo of himself dressed as a woman.
He later deleted the post, caved, and offered an apology. However, Twitter user @Miss-Eastgate had already shared a screenshot, writing, "Plymouth City Council, really?"
The Conservative Party suspended Deacon, with the Conservative Group leader Nick Kelly confirming that an investigation will start "as soon as possible."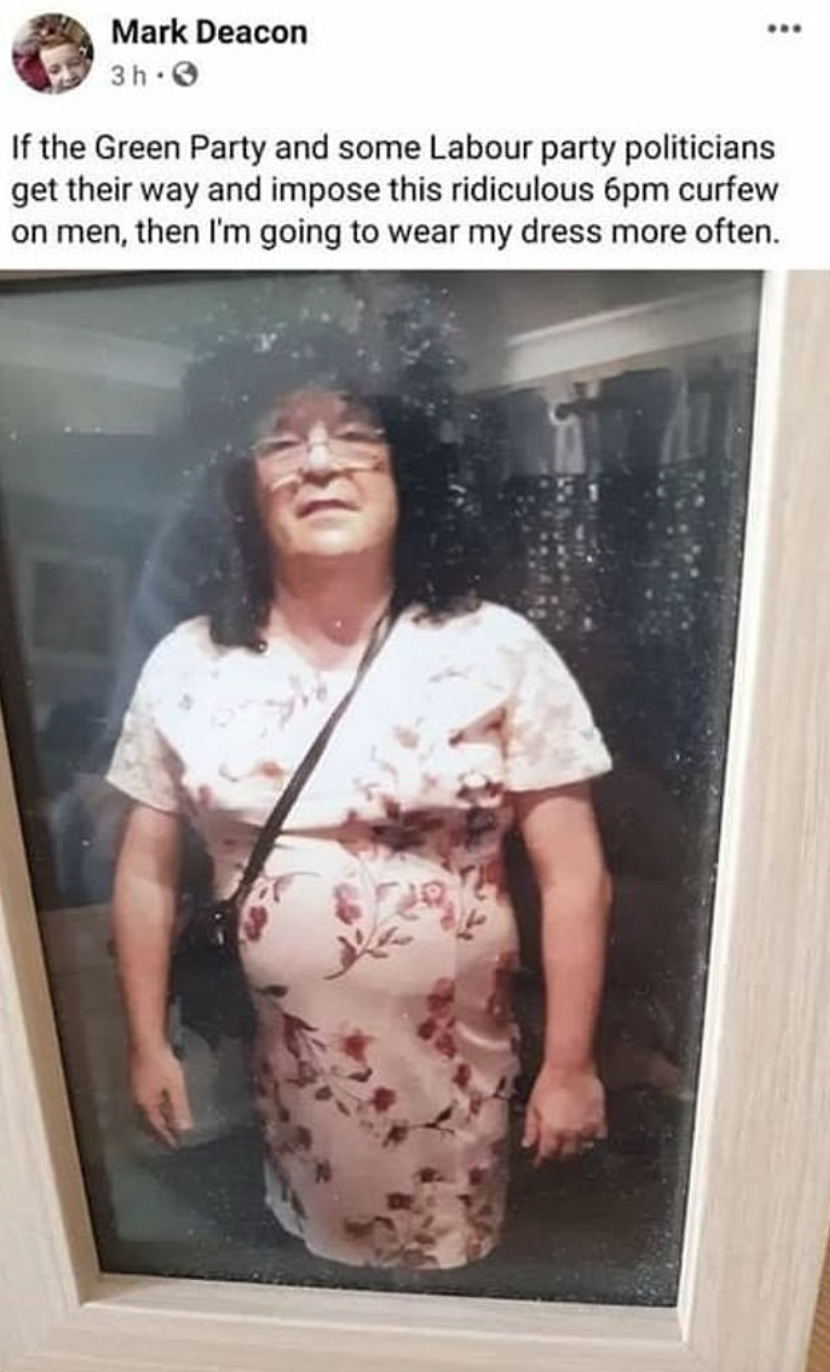 "Following a social media post Cllr Mark Deacon made on his Facebook account on Saturday, March 13 2021 which generated lots of differing views being shared about men being subject to a 6pm curfew.
"The Plymouth Conservative Council Group decided the most appropriate course of action was to suspend Cllr Deacon for an investigation to take place into his actions.
"This investigation will be in accordance with our Group rules and shall commence as soon as possible.
"Cllr Deacon has removed his post and has made a public apology on his Facebook page for any offence he may have caused," Kelly said.
Deacon's post was met with criticism by an online mob calling for his resignation, with some saying the post was "disgraceful" and insensitive of the violence against women.
"It's extremely disappointing to see a senior councillor make a mockery of women's deeply-felt worries about the issue of male violence.
"It is not befitting of the office of councillor and a member of the shadow cabinet of this council to poke fun at concerns of this nature. I welcome his suspension and I hope Councillor Deacon will take some time to reflect on the anger his post has generated, to properly understand why it has caused such offence and offer a full apology for his actions," said Plymouth's minister for customer focus and community safety, Councillor Sally Haydon, of the Labour Party.
A curfew was proposed by a Green Party Baronness after the murder of 33-year-old marketing executive Sarah Everard, allegedly by a police officer. Her murder caused a public outcry over violence against women. The curfew was never seriously considered.
Deacon offered a public apology on Facebook.
"I wholeheartedly apologise for the comments that I made on a post this Saturday Afternoon," he wrote. "I didn't intend any offence that my comments might have caused to a section of the public."