Update – March 21, 2019: The police have dropped the case against Caroline Farrow.
Original article: It would be funny if it wasn't really true. Caroline Farrow, a British Catholic journalist is under investigation for so-called 'misgendering' a child of the transgender activist Susie Green on Twitter. Farrow appeared on 'Good Morning Britain' in a debate with Susie Green last September. While referring to the incident on Twitter, Farrow referred Jackie, Green's daughter with a pronoun that Susie took offense to and shockingly reported her for.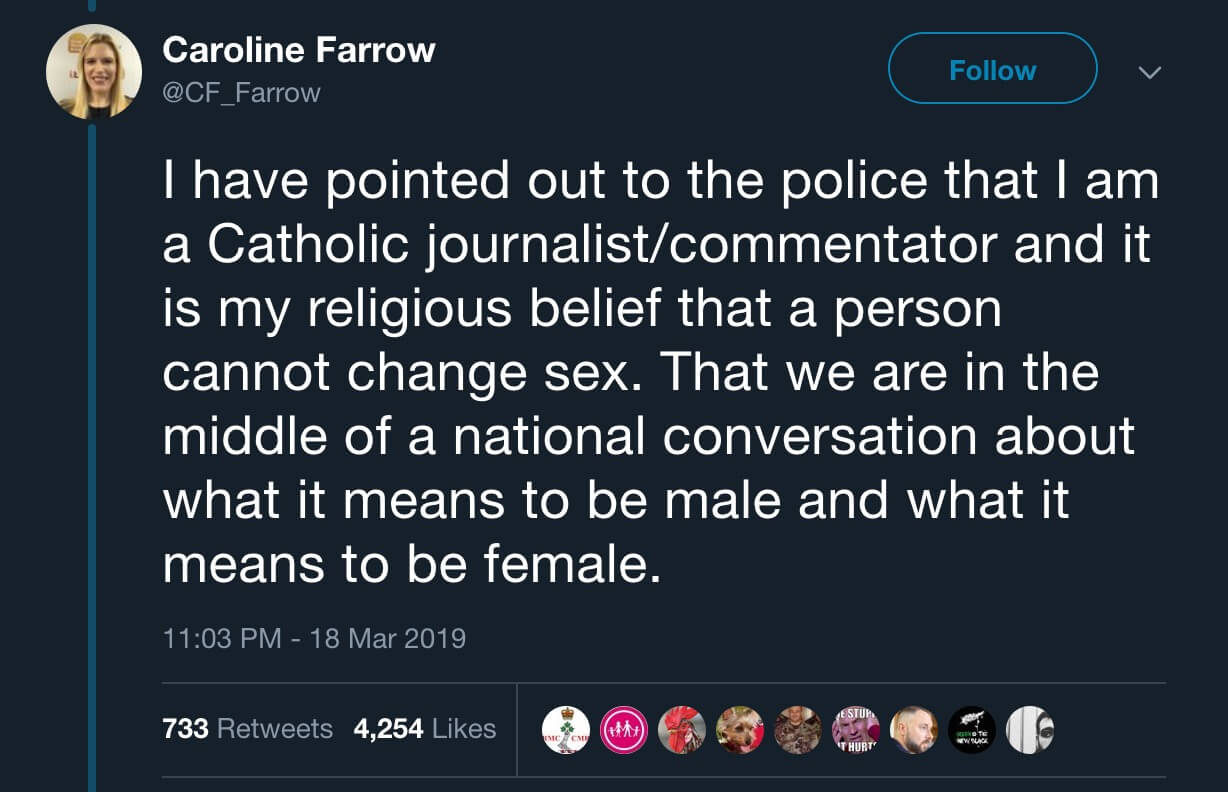 "Had a message from Guildford police tonight about my tweets following an appearance on @GMB with Susie Green and Piers Morgan. Susie Green has reported me for misgendering her daughter," tweeted Farrow.
Farrow pointed out that she is a Catholic journalist/commentator who strictly follows her religion, according to which a person cannot change sex. She said that they were in the middle of a national conversation about gender and what it means to be male and female.
'All I know is that the police want to conduct a taped interview under caution because of tweets I sent "misgendering Susie Green's daughter following a GMB interview." That's all I have been told. I know I haven't ever tweeted Jackie Green directly or directed any abuse at them,' tweeted Farrow.
Farrow might face arrest if she does not appear for the taped interview to be conducted by the police force. After the announcement of an action against her, it was reported that several online trolls have been sending her sexually violent and explicit messages. Farrow expressed her contempt over the fact that the police didn't take an action on the real cyber abuse she was facing, but were solely focused on the 'misgendering' report.
"There are real questions to be asked about how much power and influence Susie Green is able to exercise over the police force. A man doxed my children & ex. Made violent & sexually humiliating threats. Nothing done," tweeted Farrow.
She further added that she was furious over the fact that misgendering was considered a criminal offense.
If it goes ahead, Farrow will be prosecuted for offensive communication based on the UK's Malicious Communications Act 1988. Here's what it says:
"(i) a message which is indecent or grossly offensive;
(ii) a threat; or
(iii) information which is false and known or believed to be false by the sender."
A person who is found guilty of this offense can be subject, upon "conviction on indictment" to "imprisonment for a term not exceeding two years or a fine (or both)."
Farrow expressed that she did not breach this piece of legislation and was confident that she wasn't guilty. Most appear to agree with her.
We recently reported that a feminist activist is suing Twitter for being banned for this same so-called "misgendering" idea.