Another academic has been targeted over his tweets. James Treadwell, a criminology professor at Staffordshire University, is being probed by his employer following complaints made about tweets where he said trans women should not share the same prisons with women.
In one of the tweets, Treadwell referenced research by Prison Reform Trust charity that found out that more than 50% of women in prisons have experienced domestic violence, with another 53% claiming to have suffered physical, emotional, or sexual abuse as kids.
Treadwell added: "Many [women] have been damaged by men time and again. I cannot see any case for now why we should do anything but #KeepPrisonsSingleSex."
There is also a tweet from 2018 where the criminologist said he did not believe trans women and biological women should share the same prisons after trans inmate Karen White was accused of sexual assault by two women.
A spokesperson for the university confirmed that an investigation was ongoing.
The university insisted that it is committed to "equality, diversity, and inclusion" as well as academic freedom.
"We can confirm we have received a complaint about views expressed by Professor Treadwell on Twitter," a spokesperson for the university said.
"As we would do normally, this is in the process of being reviewed in accordance with the University's procedures.
"As a University we are committed to equality, diversity, and inclusion to ensure we promote a positive culture where everyone is able to be themselves.
"We are equally committed to academic freedom and lawful freedom of speech. We cannot comment any further at this stage."
On Wednesday, Treadwell took to Twitter to criticize the investigation. He joked that "cancel culture is a myth," before adding that he was "angry and upset" because he had "no details of what is alleged." He argued that he has "tried to be balanced and reasonable and promote fair debate."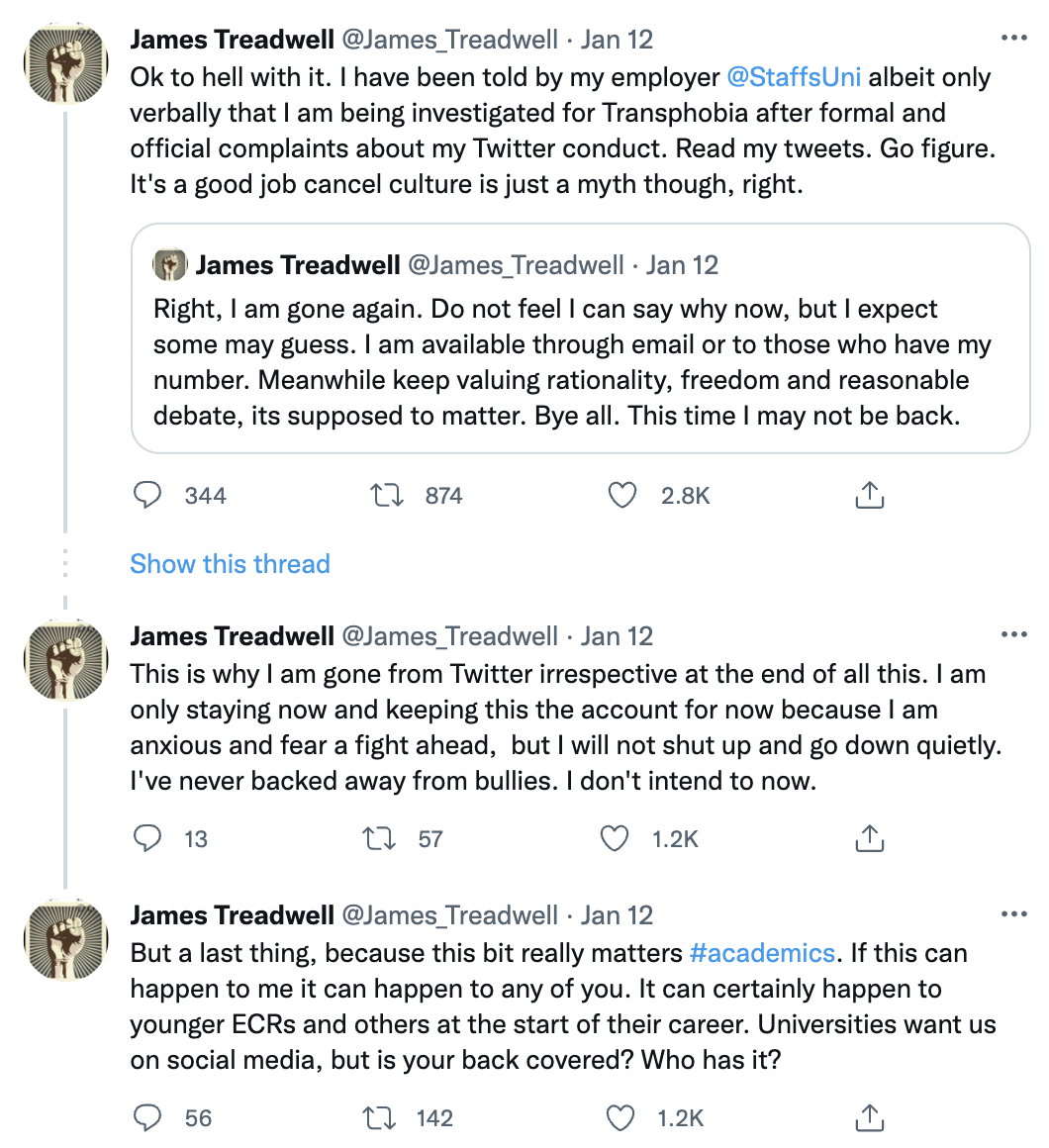 Treadwell clarified: "Lete [sic] be clear again, Trans people like all people deserve dignity and respect. Academics giving their personal views do too."
He added: "This is where we are at in debates now. This is the landscape academics operate in. I am a pretty legally savvy one who tries to act respectfully and decently.
"Hell yes I can be brusk, opinionated and stubborn. But I respect anyone's right to disagree and hold a different view.
"But we have entered a place where that isn't enough. Oddly literally nobody has approached me directly to debate my stance or views.
"They have clearly however gone to my employer wanting me sanctioned or sacked. Nice to know that this is how open and inclusive the politics is."