In the ongoing Ukraine war, the West has intervened by applying sanctions on Russia, effectively crippling its economy and causing its currency to plummet. The Vice Prime Minister of Ukraine Mykhailo Federov went as far as requesting cryptocurrency exchanges to ban all users in Russia and its ally Belarus.
However, a few of the largest crypto exchanges have refused the request, saying it went against what crypto stands for.
In a series of tweets, the CEO of US-based Kraken Jesse Powell said that while he understood the "rationale" for Federov's request, his company would not freeze all Russian accounts unless it was legally required to do so.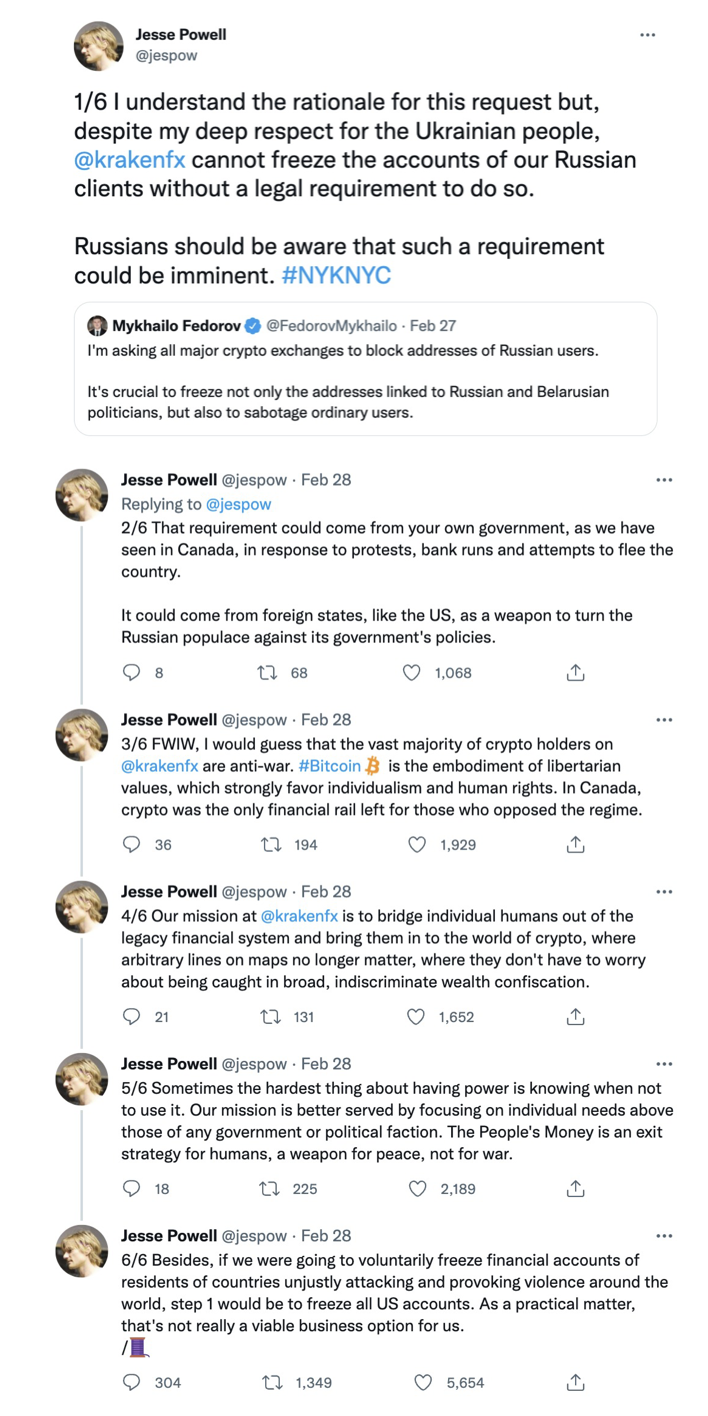 In Powell's view, the request contradicted crypto's "libertarian values." And, crypto should be "a weapon for peace, not for war."
He reminded followers of Kraken's mission of bringing people into the "world of crypto, where arbitrary lines on maps no longer matter, where they don't have to worry about being caught in broad, indiscriminate wealth confiscation."
Powell concluded by pointing out that the US was responsible for most conflicts and wars around the world.
"Our mission is better served by focusing on individual needs above those of any government or political faction," he wrote.
"Besides, if we were going to voluntarily freeze financial accounts of residents of countries unjustly attacking and provoking violence around the world, step 1 would be to freeze all U.S. accounts. As a practical matter, that's not really a viable business option for us."
A spokesperson for the world's largest crypto exchange Binance, told CNBC that the company was complying with sanctions, but it would not comply with Federov's request to "unilaterally freeze millions of innocent users' accounts."
"Crypto is meant to provide greater financial freedom for people across the globe. To unilaterally decide to ban people's access to their crypto would fly in the face of the reason why crypto exists," they added.
Like Binance, Coinbase also said that it is complying with sanctions, but it is not going to honor Federov's request, because it would harm ordinary Russians and contradict Coinbase's mission of "economic freedom."
"At this time, we will not institute a blanket ban on all Coinbase transactions involving Russian addresses. Instead, we will continue to implement all sanctions that have been imposed, including blocking accounts and transactions that may involve sanctioned individuals or entities," a spokesperson told Motherboard. "Our mission is to increase economic freedom in the world.
A unilateral and total ban would punish ordinary Russian citizens who are enduring historic currency destabilization as a result of their government's aggression against a democratic neighbor. We remain vigilant as this invasion evolves and are deeply committed to playing our part."
However, the Ukraine-based NFT marketplace DMarket froze the accounts of all users in Russia and Belarus, and even banned the Russian ruble.
The crypto community has largely responded to the war by supporting Ukraine, instead of sanctioning Russia, with Binance committing $10 million and launching a fundraiser, the goal being $20 million.