Critics have lamented that Amazon has stopped streaming a documentary on Justice Clarence Thomas.
Customers have noticed that "Created Equal: Clarence Thomas in His Own Words," a documentary on the renowned supreme court justice, is no longer available for streaming on Amazon Prime.
To celebrate Black History, Amazon created a page called "Amplify Black Voices," which "features a curated collection of titles to honor Black History Month across four weekly themes (Black Love, Black Joy, Black History Makers, and Black Girl Magic)."
On Amazon Prime, the company added multiple films, including docu-dramas and documentaries on the country's first black supreme court justice, Thurgood Marshall. The site even added two films about Anita Hill, the woman who made claims that Thomas sexually harassed her.
But Thomas's documentary has been removed in all regions.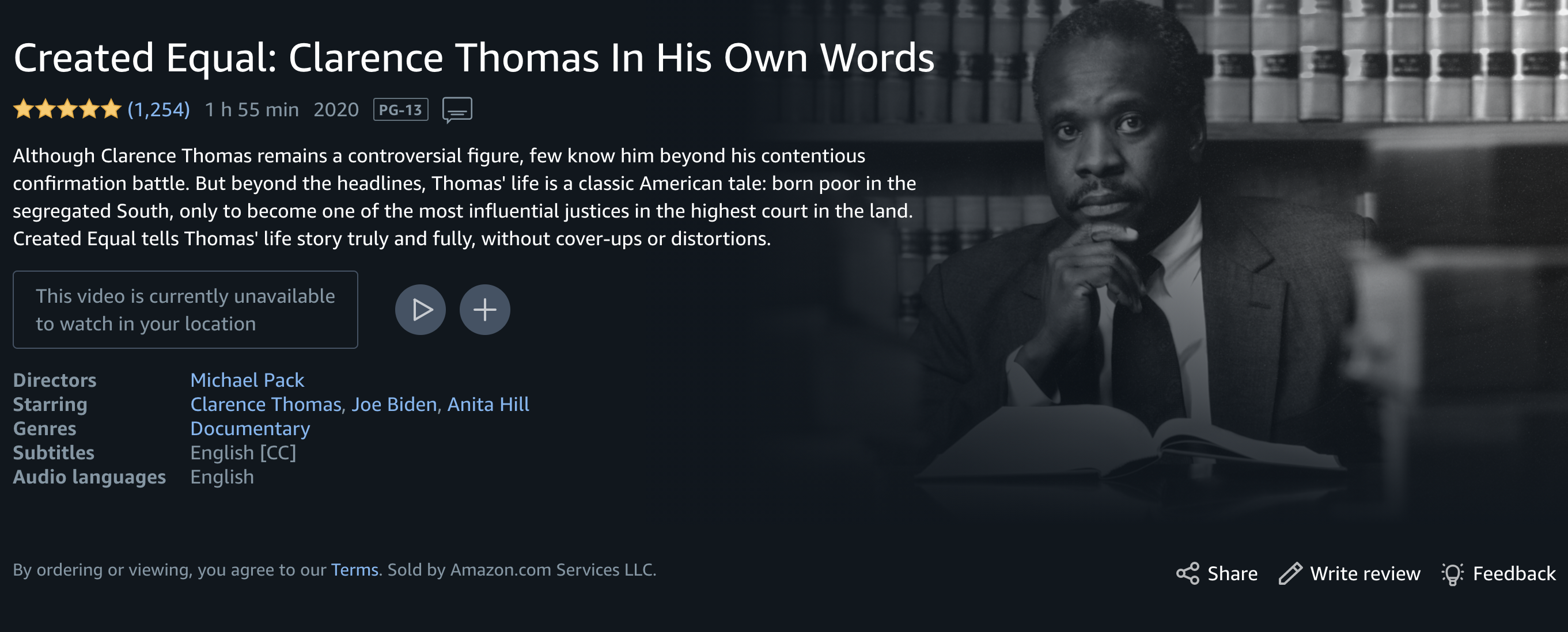 The Created Equal DVD is number 38 on Amazon's documentary section, was broadcast nationally on PBS last year, and has a 99% audience rating on Rotten Tomatoes, Breitbart noticed.
"It is a marvel of filmmaking that two hours pass so quickly. At the end of a screening I recently attended, there weren't many dry eyes in the room," Kathleen Parker, a columnist for The Washington Post and Pulitzer winner, wrote about the film.
Thomas' story is one of humble beginnings in segregated Georgia. He attended a segregated Catholic school, and later went to high school in a seminary. However, he rejected the Catholic faith, and like many blacks in the '60s he joined the black power movements.
Much later he rejected the black power path and embraced the principle "All Men are Created Equal," which is in the Declaration of Independence. Believing in individual rights instead of group rights is considered a conservative view.
Thomas has recently been a critic of Big Tech and censorship and has talked about amending Section 230 of the Communications Decency Act that gives platforms immunity from liability for user content.
According to Mark Paoletta of Breitbart News, Thomas' documentary "should be widely streamed by Amazon at all times – and particularly during Black History Month – to show the diversity of thought in the black community and to celebrate Thomas's amazing life journey."