China is known for its authoritarian regime and strict control over freedom of speech and expression. It's natural that the state-owned Chinese media outlets such as the People's Daily may very well only post information that the authoritarian government approves of.
With several Chinese citizens as well as global watchdogs knowing that the Chinese government is censoring news related to the current situation of the COVID-19 pandemic in their country, we now have a not so pleasant revelation about the Daily Mail, a widely read British daily.
Daily Mail is one of the most widely read British publications in the whole of the US. At such a juncture, an investigation by the Daily Caller News Foundation revealed unsettling findings about the Daily Mail.
According to the findings of the said investigation, the Daily Mail had published thousands of articles in a content-sharing agreement with the People's Daily. However, it isn't clear if the British daily still has an ongoing agreement with the Chinese news outlet as they're not making it clear – but they are still posting the articles.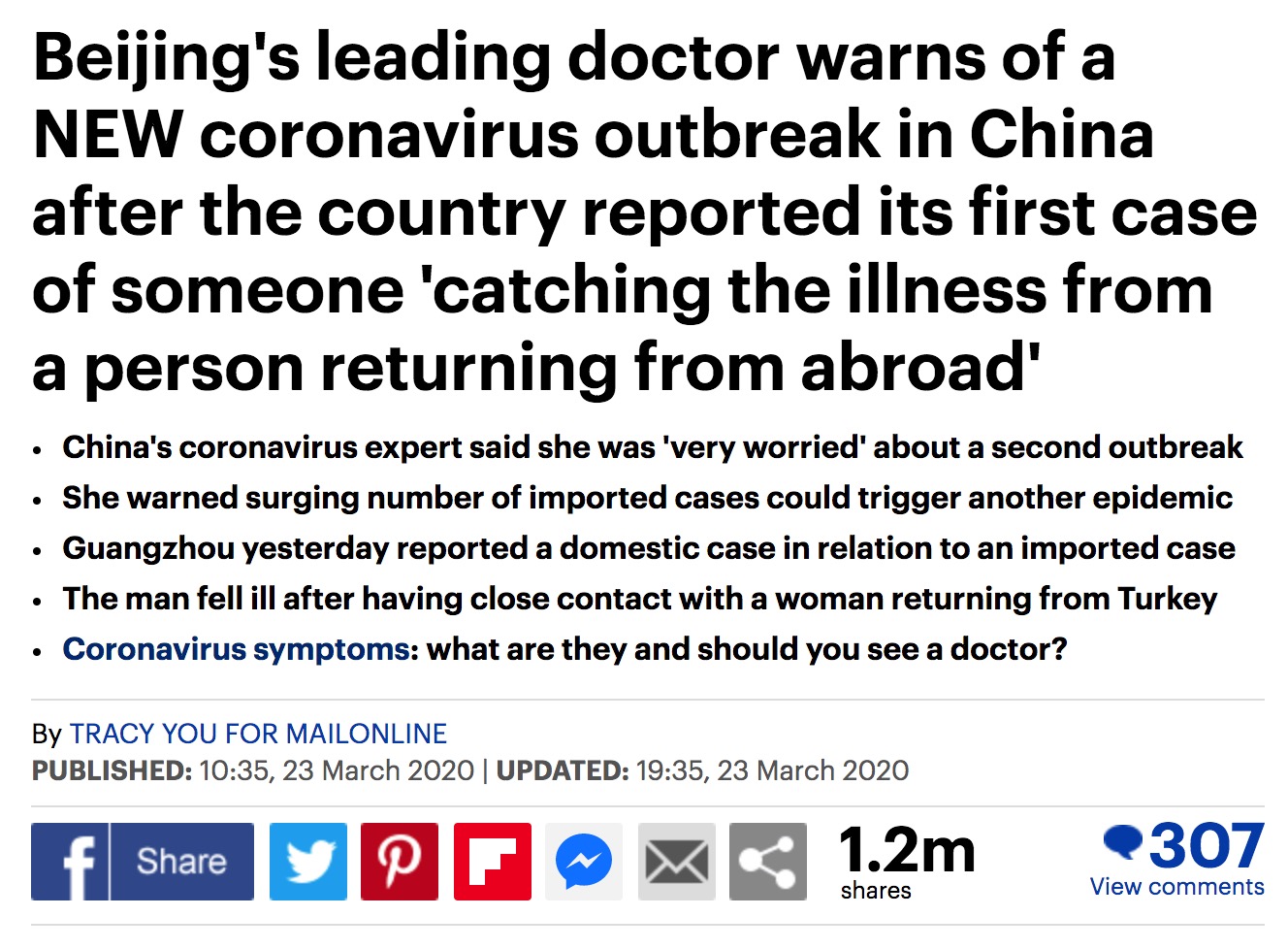 Nonetheless, the Daily Mail has once again shared a Coronavirus related news that was posted in the People's Daily. Here's what the headline of the article read: "Beijing's leading doctor warns of a NEW coronavirus outbreak in China after the country reported its first case of someone 'catching the illness from a person returning from abroad".
The article says that the leading Coronavirus specialist professor Li Lanjuan was "very worried that imported cases could trigger another large-scale epidemic in our country".
Simply put, the report by both People's Daily and the Daily Mail say that China successfully contained the outbreak until a Turkish citizen reinfected the country's people.
Ever since coronavirus became a global pandemic, several experts have time and again suspected that the Chinese government was fudging figures and simply pushing the blame on other affected countries such as the USA and Italy.
Saying that the virus infestation was brought back again by a Turkish individual is one such fallacy spread by the China government.
What's more, the Chinese state-run news outlet makes even bolder claims such as the US army initially infecting and bringing the virus into the country. All things said and done, the Daily Mail echoing China's propaganda looks murky.
The Daily Mail hasn't responded for comment.