Political commentator Dan Bongino and his content manager Matt Palumbo have slammed Facebook's fact-checkers for constantly "fact-checking" his posts and said that this is slashing their reach and revenue.
In an interview with Insider, Bongino said that despite his link posts often being among the top-performing posts on Facebook in terms of interactions, Facebook doesn't help him and "do everything they can to get in my way."
"We're fact-checked on Facebook on my page all the time for utter absurdities," Bongino added, describing the situation as "the biggest scam in the social media ecosystem right now."
Palumbo also revealed that the constant fact checks were having a detrimental impact on Bongino's reach and revenue. He said that a fact check "dings the page's monetization by double-digit percentages, and can also result in traffic to the page being temporarily throttled."
Bongino and Palumbo pointed to several examples of fact checks that they deemed to be unfair.
In one of these fact checks, a post on Bongino's site titled "Pelosi Says the Quiet Part Out Loud: 'China Would Prefer Joe Biden'" was labeled false. The post states that Pelosi had "confirmed a report from National Counterintelligence and Security Center (NCSC) regarding foreign election interference that concluded that China "prefers President Trump doesn't win re-election."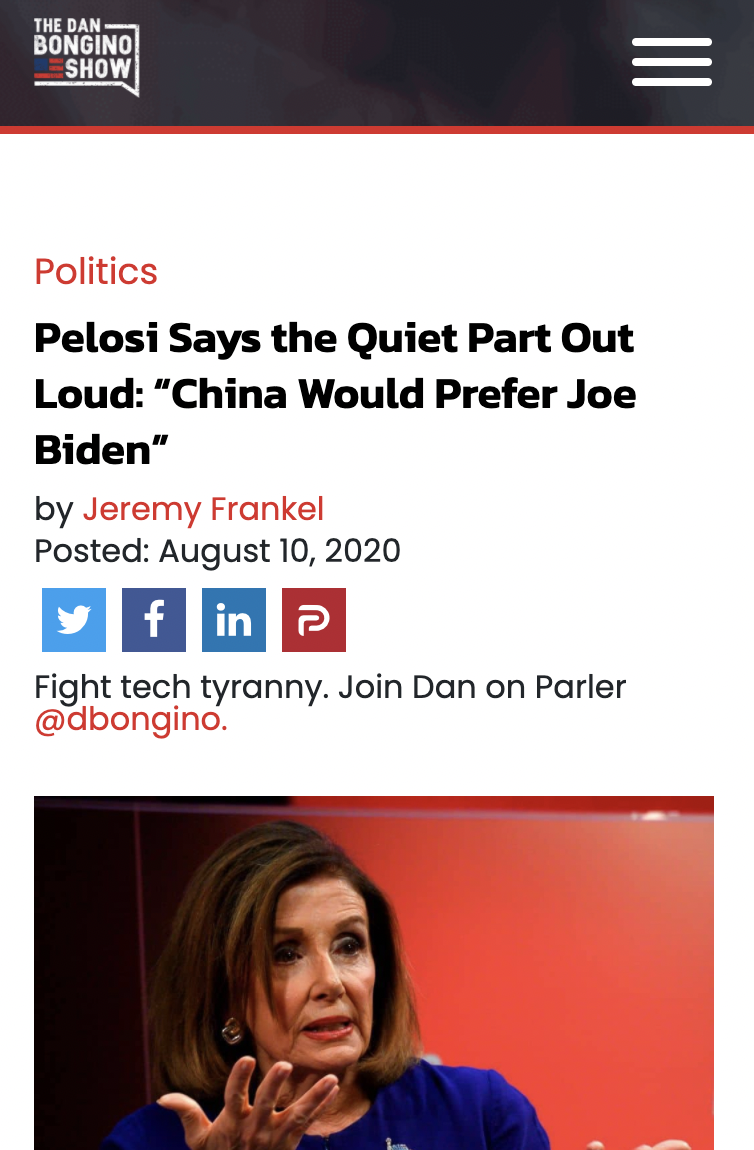 Yet despite Bongino's post acknowledging that Pelosi is quoting this NCSC report, Bongino's Facebook post was still flagged as "partly false," with the fact-checker from Lead Stories claiming that the clip of Pelosi's statement was "edited to omit the context of Pelosi's words to give the false impression that it was Speaker Pelosi's belief."
In another fact check, a post on Bongino's site titled "Violent Crime in South Bend Doubled During Mayor Pete's Tenure" was flagged for being "mostly false" because of a fact check from Politifact.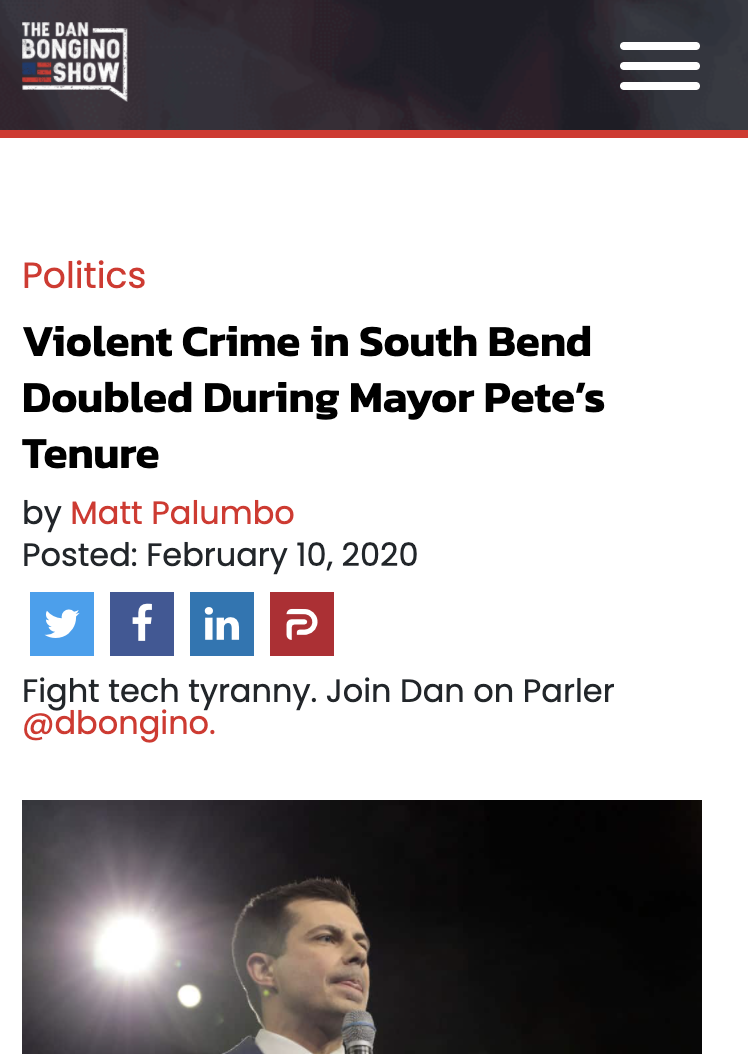 Despite Bongino's post being an accurate reflection of the FBI's figures for violent crime in South Bend, Politifact argued that because South Bend police changed how it reported aggravated assaults in 2016, the post was "mostly false."
Palumbo contends that the framing is legitimate because it's unclear what proportion of the increase in violent crime can be attributed to this reporting change.
During the interview, Bongino said that he would expect Facebook executives to acknowledge that he's done a lot for the platform by giving the company his content for free.
"You'd think Facebook would be kissing my butt, and instead they attack us relentlessly," Bongino added.
Bongino's experience with Facebook's fact-checkers is reflective of many other Facebook users who have had their posts suppressed after contentious fact checks.
But he has responded to the censorship of his content by building his presence on the free speech platforms Parler and Rumble which don't censor their users in response to third-party fact checks.