A big picture is now emerging based on reports from a number of US states that (concerted or not, time will tell) efforts to legislate some form of digital IDs have been picking up pace.
And in some cases, legislators behind these schemes seem to opt for the "fake it till you make it" approach, too.
In Pennsylvania, the focus is now on what some observers see as a "watered down" version of a previous proposal to tie people's identities – their driver's license or state ID – into an app.
Dan Miller, a Democrat member of the Pennsylvania House of Representatives, announced earlier this month in a memo that a bill to this effect that previously failed would be reintroduced in the near future.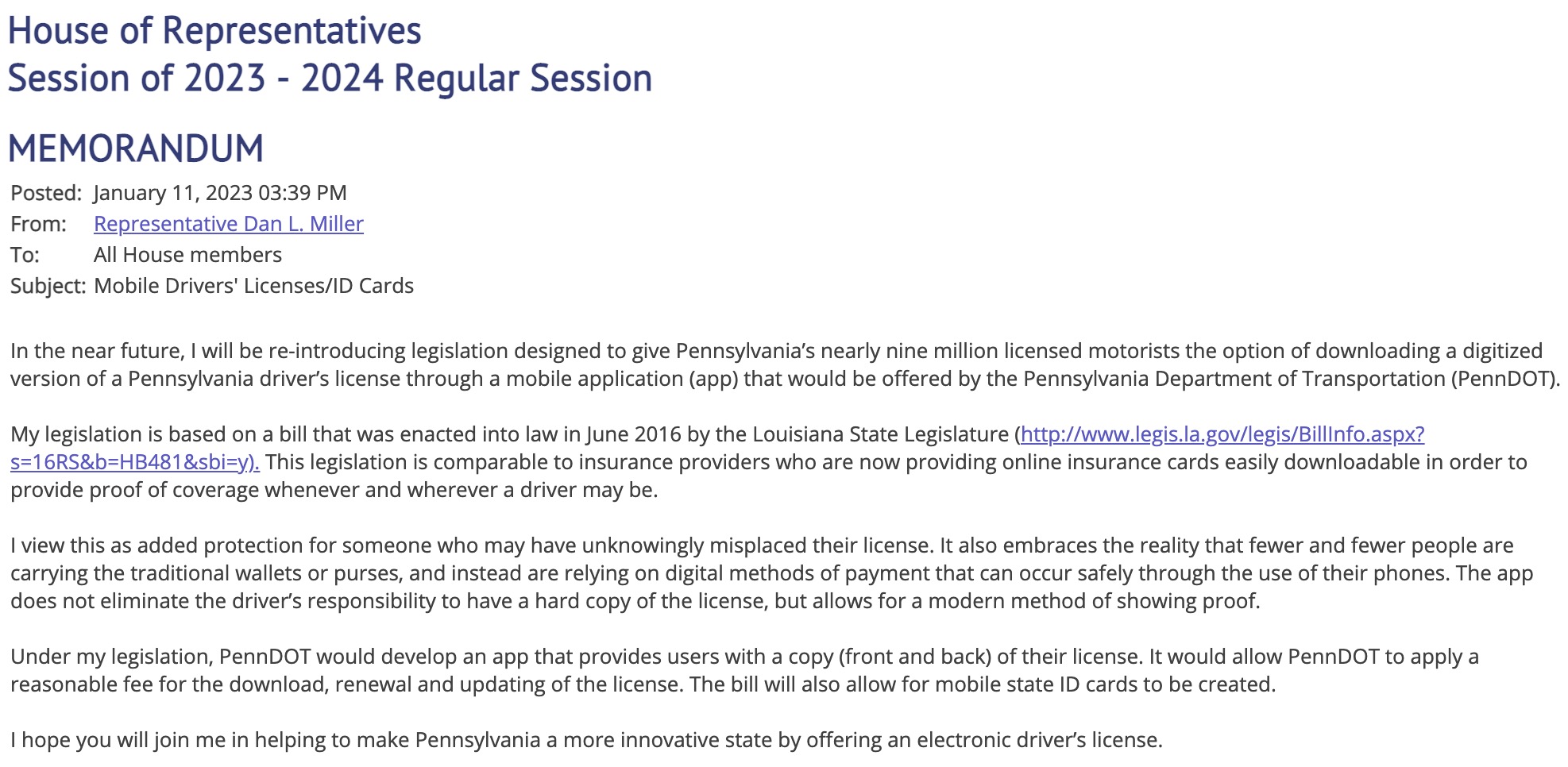 On January 11, Miller's memo, titled, "Mobile Drivers' Licenses/ID Cards," was distributed to House members, saying that the state's close to 9 million holders of driver's licenses will soon be given what is now the option to download a digitized version of it, as a mobile app.
The Pennsylvania Department of Transportation (PennDOT) would be behind the app.
Miller refers to a 2016 bill that became law in Louisiana as the basis of his own proposal, which he said is "comparable to insurance providers who are now providing online insurance cards easily downloadable in order to provide proof of coverage whenever and wherever a driver may be."
Again with the questionable and controversial schemes, packaged into neat "convenience packages" – critics will no doubt say.
The rest of the memo does not do a good job of dissuading such concerns. The representative writes that the need to introduce a new bill and make it into state law is driven by the idea it might add protection "for someone who may have unknowingly misplaced their license."
This type of vague rhetoric – and justifications thereof – is what some people's taxpayer money gets them these days.
In addition, and in Miller's own words, his proposal "embraces the reality that fewer and fewer people are carrying the traditional wallets or purses" and are opting for "safely" conducting payments on their phones (devices otherwise known to the rest of the world as riddled with every type of malware).
"The traditional" wallets and purses be damned – Miller wants PennDOT, or, more likely, some third party contracted developer, to come up with an app that provides users "with a copy (front and back) of their license."
And then – PennDOT would be able to "apply a reasonable fee for the download, renewal, and updating of the license," Miller writes, and adds, almost as an afterthought, "The bill will also allow for mobile state ID cards to be created."