The American vote is determined by the voice of the people, and that has been determined by television for decades. Millions of dollars were spent on television ad campaigns, radio campaigns, and canvassing in the last millennia. In 2019, all of these tactics are starting to become archaic.
Since Obama, the American presidency has been a battle for control over social media. The internet literate are now the majority of the voter base within America. Facebook has become one of the most important fronts in the battle for ideological supremacy.
Facebook campaigns, from the grassroots liberal efforts to the corporate veterans, are heavily financed and promoted across the site. They're not an honest reflection of the engagement of the public because all presidential candidates are paying for that engagement.
Several of the Democratic candidates have come out to criticize the Silicon Valley corporations, such as Facebook and Twitter, but all of them use them. They'll whine about the fake news that is published and distributed on such platforms, but they push their own news too.
Of course, they'll criticize these platforms because these platforms do control an unreasonable amount of the public discourse, but the political class is as interested in controlling and influencing the public as the marketers are. The Democrats may have their issues with big tech, but most of them are fine to pay to advertise on their platform.
Below are the amounts, according to our research of Facebook data, that many of the Democratic candidates have spent on Facebook advertisements.
Andrew Yang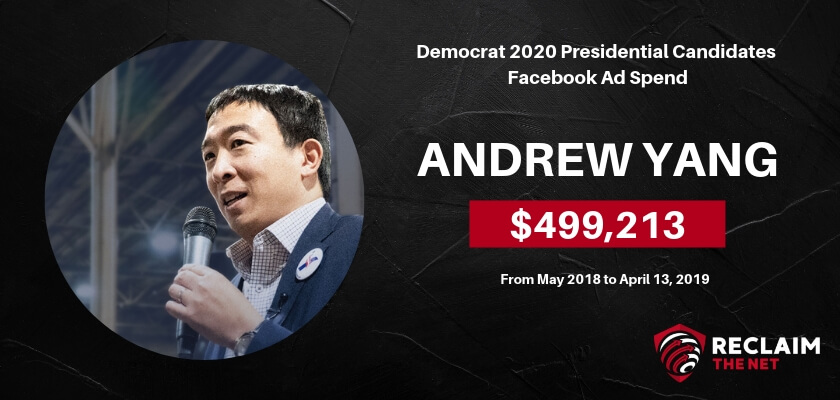 The meme candidate of the Democratic party, has been firm on asserting that Amazon, Facebook, Google, and other tech companies need to be subject to a higher tax rate. One of the promises in his campaign is the Freedom Dividend, a universal basic income program which promises $1000 a month to every American adult. He aspires to raise the funds for this program through taxing the tech companies, as they stand to benefit from the rise of automation, while everyone else suffers from it. The Yang campaign has spent $499,213 on Facebook advertising from May 2018 to April 13, 2019. $154,840 of that amount was spent from April 7, 2019, to April 13, 2019.
Bernie Sanders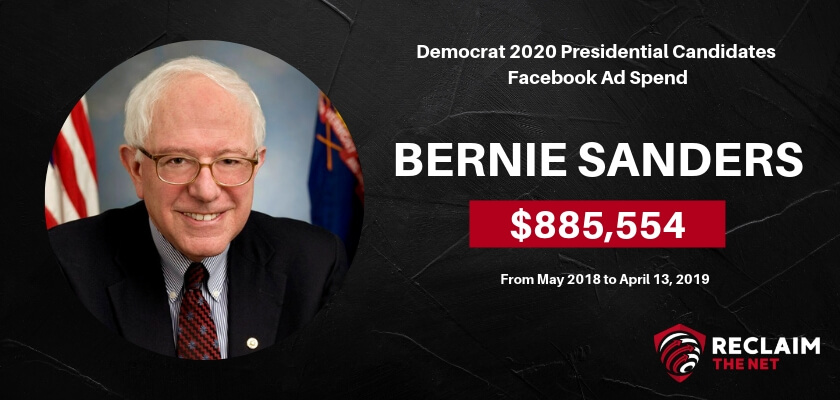 Another Democrat aligned against Amazon and argued to raise Amazon's minimum wage. He won that campaign, Amazon raised the minimum wage, and now several employees are struggling to find hours. During his 2016 run, hundreds of thousands of the dollars he secured were from employees of Apple, Microsoft, and Alphabet Inc., the parent company of Google. His page spent $885,554 from May 2018 to April 13, 2019, on Facebook advertisements. $45,653 of that was spent between April 7th and April 13th of 2019.
Beto O'Rourke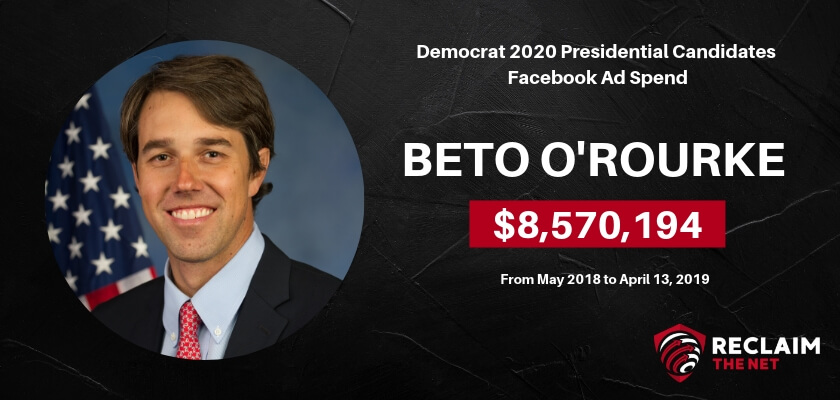 He does not want to see big tech get dismantled as he sees it as a useful and crucial part of modern society. Instead of breaking down Facebook and Twitter into several pieces, or different platforms, he favors regulation. This position is interesting next to the $8,570,194 that his page has spent on Facebook advertising from May 2018 to April 13, 2019. $15,629 was spent from April 7, 2019, to April 13th, 2019.
Amy Klobuchar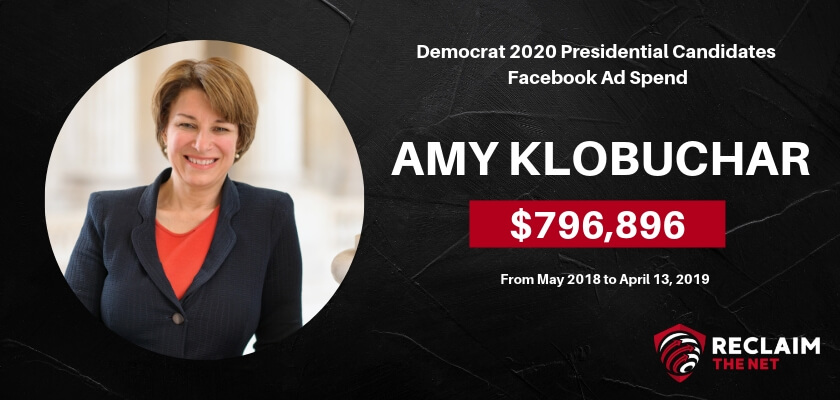 A third-term senator that has sponsored more bills meant to restrict and regulate big tech than any other democratic candidate. This issue is the central issue in her campaign, as she aims to protect the American citizenry from data-mining and identity theft. In 2016 she passed a bill alongside Sen. Mark Warner which required all big tech companies to reveal who paid for the advertisements that they run on their sites. Her page spent $796,896 on advertising from May 2018 to April 13, 2019, $48,379 of which was spent from April 7, 2019, to April 13, 2019.
Kamala Harris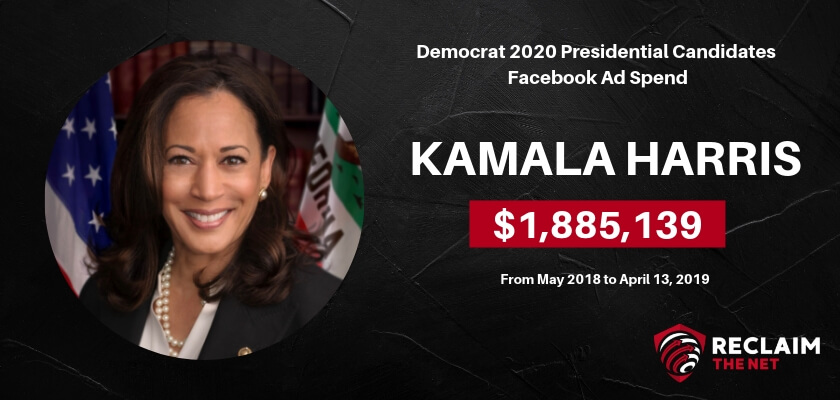 Perhaps the successor of Clinton, Harris is a success among Hollywood, Silicon Valley, and the Hamptons. She will become the establishment candidate if the DNC is to side with the establishment over the populist candidates. Harris has little to no interest in breaking up big tech, as her biggest donors include Alphabet Inc. (Google's parent company) and Apple. Her page spent $1,885,139 on advertising on Facebook from May 2018 to April 13, 2019. Between April 7 and April 13, 2019, her page spent $12,778 on advertising.
Kirsten Gillibrand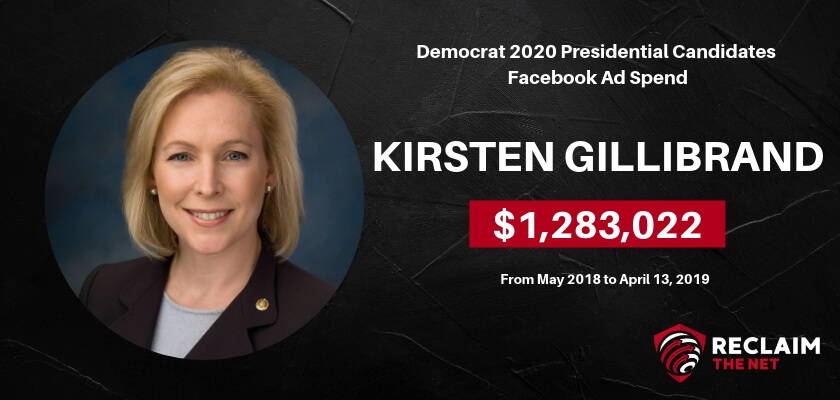 The Senator from New York, has praised Facebook and other tech companies for their parental leave policies, but later qualified that this should be a right of all works, no matter where they are employed. She has since pointed out how large tech companies target individuals' data and that cannot be allowed to happen. Her page has spent $1,283,022 on Facebook advertising between May 2018, and April 13, 2019. Between April 7 and April 13, 2019, the page has spent $9,507.
Tulsi Gabbard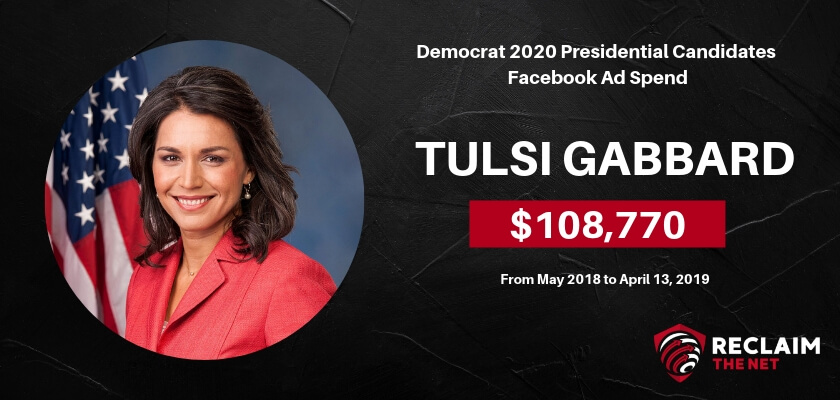 The senator from Hawaii, has stayed true to her position. She believes in a free and open internet, one that gives everyone access to the information and other resources available through it. To her principals, national security, nor corporate independence, is sufficient cause to disrupt the American right to liberty, privacy, and freedom. Her page has spent $108,770 on advertising from May 2018 to April 13, 2019. From April 7 to April 13 of 2019, her page has spent $0 on advertising.
Pete Buttigieg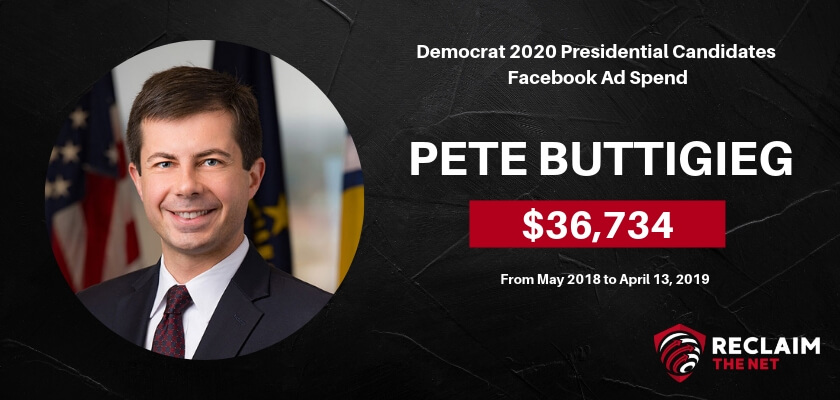 The Mayor of South Bend, Indiana, has positioned himself as a tech-savvy politician. During the questioning of Zuckerberg before the American courts, Buttigieg commented on the ignorance of the policymakers in terms of how tech works. He believes that knowledge of the social media platforms, and empathy for the workers that automation will displace, are the answers to the upcoming issues that America will have to address. From May 2018 to April 13, 2019, his page spent $36,734 on Facebook advertising, $9,797 of which was spent between April 7, 2019, and April 13, 2019.
Cory Booker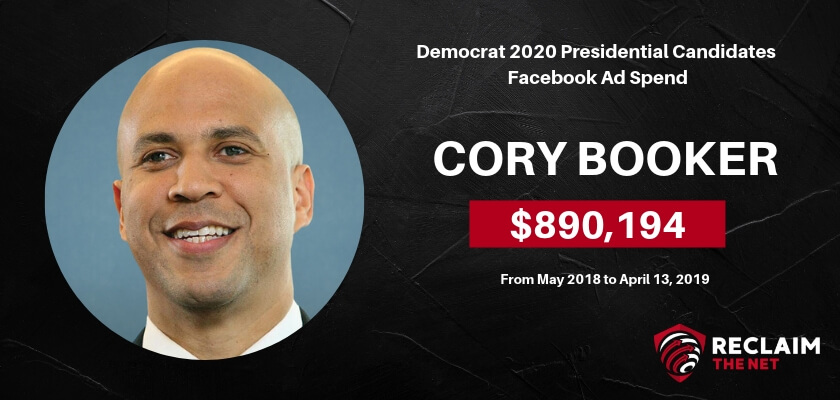 A senator from New Jersey, and advocate for Black Lives Matter, was part of the hearing that called Zuckerberg in to address the Cambridge Analytical scandal. He claimed in his own words that everything must be done to fight the "corporate villainy" of big tech companies. As Mayor of Newark he accepted a $100 million donation from Facebook to benefit the public schools. His page spent $890,194 on Facebook advertising in the last year, from May 2018 to April 13, 2019. Booker's page spent $8,890 on Facebook advertising from April 7 to April 13, 2019.
Elizabeth Warren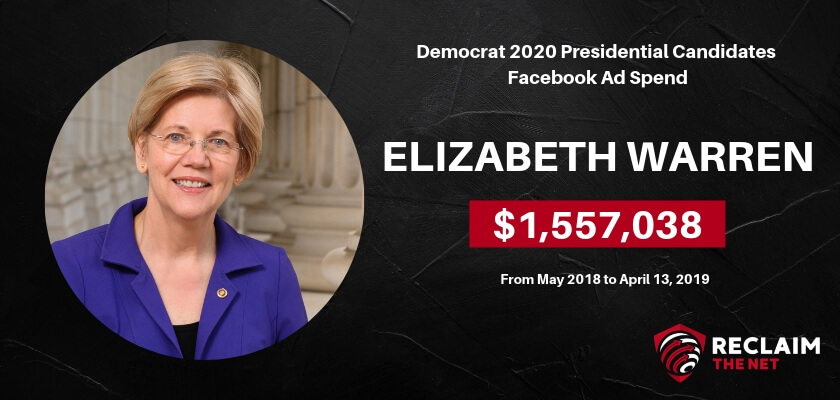 The senator from Massachusetts and perhaps the most outspoken of the establishment Democrats, has opposed big tech since 2016. She compares them to Walmart and other such ubiquitous companies that have slaughtered their competition. Not only coming after Facebook, Warren also has words for Apple, Amazon, and Google. She aims to break up these tech monopolies in the hopes of creating a larger job market with more opportunities across the country. Her page has paid Facebook $1,557,038 for advertising between the May of 2018 and April 13, 2019. Between April 7, 2019 and April 13 her page has spent $67,275 on Facebook advertising.
Republicans also spend money on Facebook advertising, but concerns about consumer information have been a part of the Republican platform since the rise of technology. Donald Trump, the leading Republican and President of the United States of America, has been open and vocal about his distaste for the media conglomerates and the platforms they thrive on. He has claimed before that Facebook curates their information, subduing Republican voices while promoting Democrats. This was the case in 2016, as the censorship that followed the election can confirm.
This era may be over, however, as Democrats are out of the honeymoon phase with Silicon Valley, and now put themselves in opposition to it. Instead of cozying up to the companies, leveraging favor so that their enemies get punished, Democrats now realize it's better to represent the interests of the public than to play favorites. Due to this change, Democrats are now calling for the break up of tech monopolies, the preservation of personal information, and for liberty on the web, all of which have been Republican talking points for longer than a decade.
Interestingly enough, this shift comes as Facebook brings in The Daily Caller, a conservative website which was co-founded by Fox's own Tucker Carlson, to fact-check articles. The left and tech companies seem to have noticed that their vision of a technocratic utopia cannot be achieved through censorship and reaffirming bias. Even through controlling Facebook, Twitter, Instagram, and all of the other popular social media sites, the left cannot wholly dominate the public sphere.
This reality is now crystallizing through Facebook realizing that it must work with voices more right than center if it wants to truly serve the American public, and the left considering a new strategy now that suffocating media with identity politics hasn't worked. A return to policy and conversation that features voices from both sides of the aisle would be an excellent turn in current events, as a stable country is in the interest of all of her citizens. To achieve that, we must discuss with one another. Advertising and working within the different bases will only go so far.