According to a YouGov survey commissioned by encrypted storage provider Tresorit, there is a huge majority of consumers that are still doubtful about Tech Giants ability or interest in defending the privacy of their information. In spite of Apple CEO's having repeatedly stated that privacy and personal data are a top priority for his company, a staggering 78% of the interviewed has doubts about this.
The survey mentioned 6 other tech giants together with Apple – Amazon, Microsoft, Facebook, Google, Dropbox, and Instagram – and interviewed an undisclosed number of U. S. and U.K residents.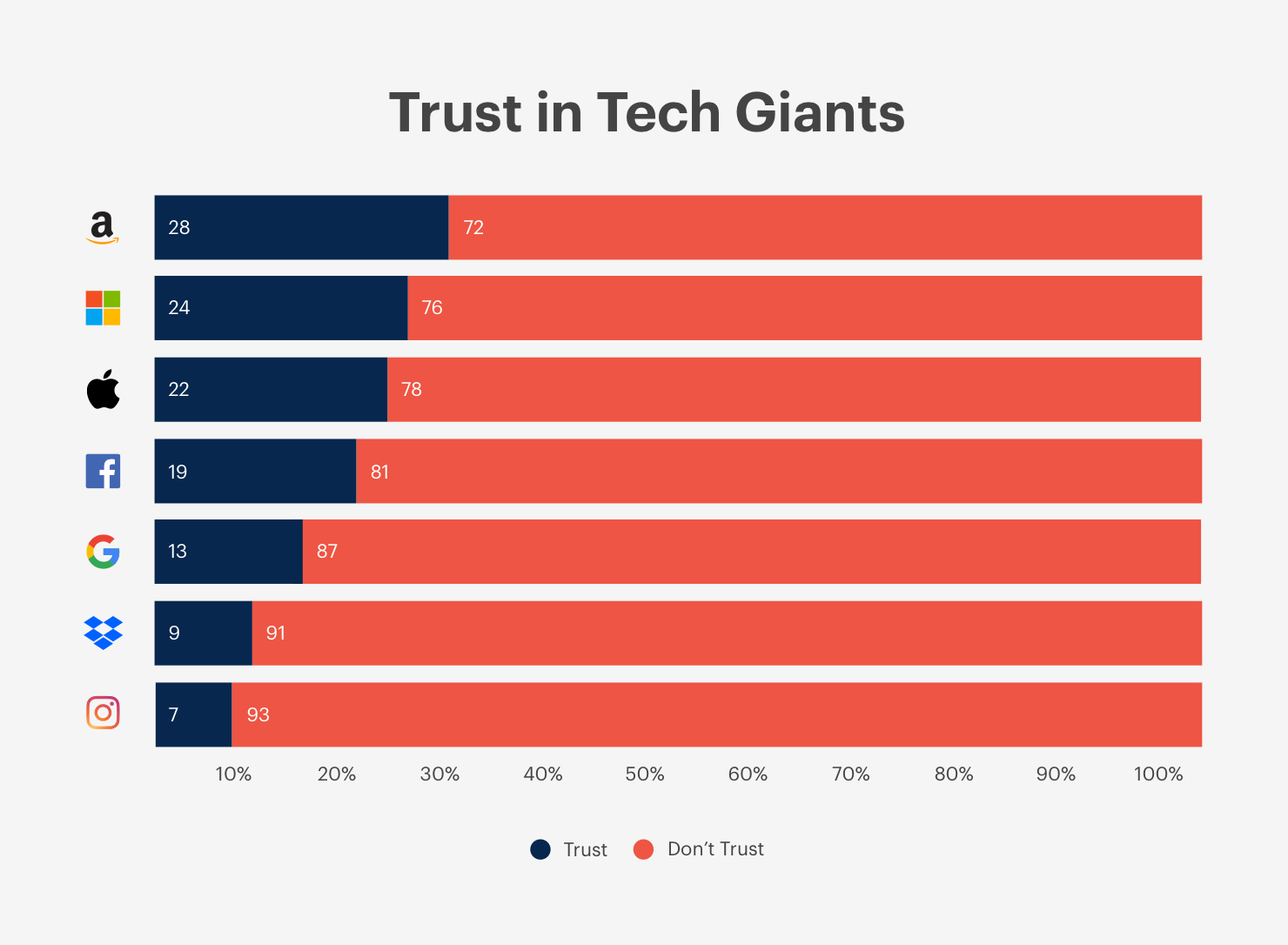 The survey shows Amazon to be the most trusted company with just 28 percent.
Distanced by 4 points we find Microsoft, with 24% of users trusting it. Apple follows with 22%, Facebook and Google with 13%, then Dropbox and Instagram with 9% and 7% respectively.
The survey reflects the recent events coming out of Silicon Valley, with the tech giants' data breaches and privacy scandals dominating the headlines.
Apple has so far dodged major scandals and takes great care in underlining its defense of privacy. Tim Cook repeatedly promised to protect personal data and publicly defends government regulation of how tech companies should handle data. In 2016 Apple resisted all pressures from the Justice Department to unlock an iPhone belonging to one of the San Bernardino shooters. The feds had to back down and had to pay Cellebrite to hack the phone.
It also pulled a number of parental control apps from its store as they featured technologies that gave to the developer access to "sensitive information", violating Apple's policies on privacy and security.
However, if the results of the survey are accurate, tech companies will have to do much more in order to battle prejudice and win the trust of the consumers again.
As Tesorit posted on its blog:
"Privacy laws are changing to protect personal information but new legislation and policies are difficult to enforce and take time to effect real change. At the end of the day, Big Tech's business model still capitalizes on monetizing user data and insights at the cost of privacy, but as consumer awareness grows, they may be forced to pivot and rethink certain strategies."