These days, Disney owns a lot of intellectual property, brands, and media organizations – and it appears the company thinks it owns your tweets too.
A new Twitter dispute has caused conflict (like there wasn't enough already) between Star Wars fans and Disney after the entertainment conglomerate tried to monopolize the #MayThe4th hashtag on Twitter.
What started as a pun of "May the force be with you," has become a true celebration of the Star Wars franchise. May 4th officially became the day to commemorate George Lucas' work, and there are many ways in which followers express their enthusiasm during the day. One of them is to make the #MayThe4th hashtag trend on Twitter.
But this year, Disney (who took over the Star Wars franchise when it bought Lucasfilm in 2012) has decided to try and insert itself into the equation and hijack the trend that everyone was using anyway.
Disney, the current owners of the franchise, started a campaign on Disney+ to celebrate the day. They encouraged fans to share their favorite Star Wars memories using #MayThe4th, but in a second tweet, they indicated that anyone who uses the hashtag must agree to Disney's terms and conditions of use.
The message, "By sharing your message with us using #MayThe4th, you agree to our use of the message and your account name in all media and our terms of use here: disneytermsofuse.com," did not leave Twitter users very impressed and they accused Disney of trying to monopolize a hashtag that fans have used for years.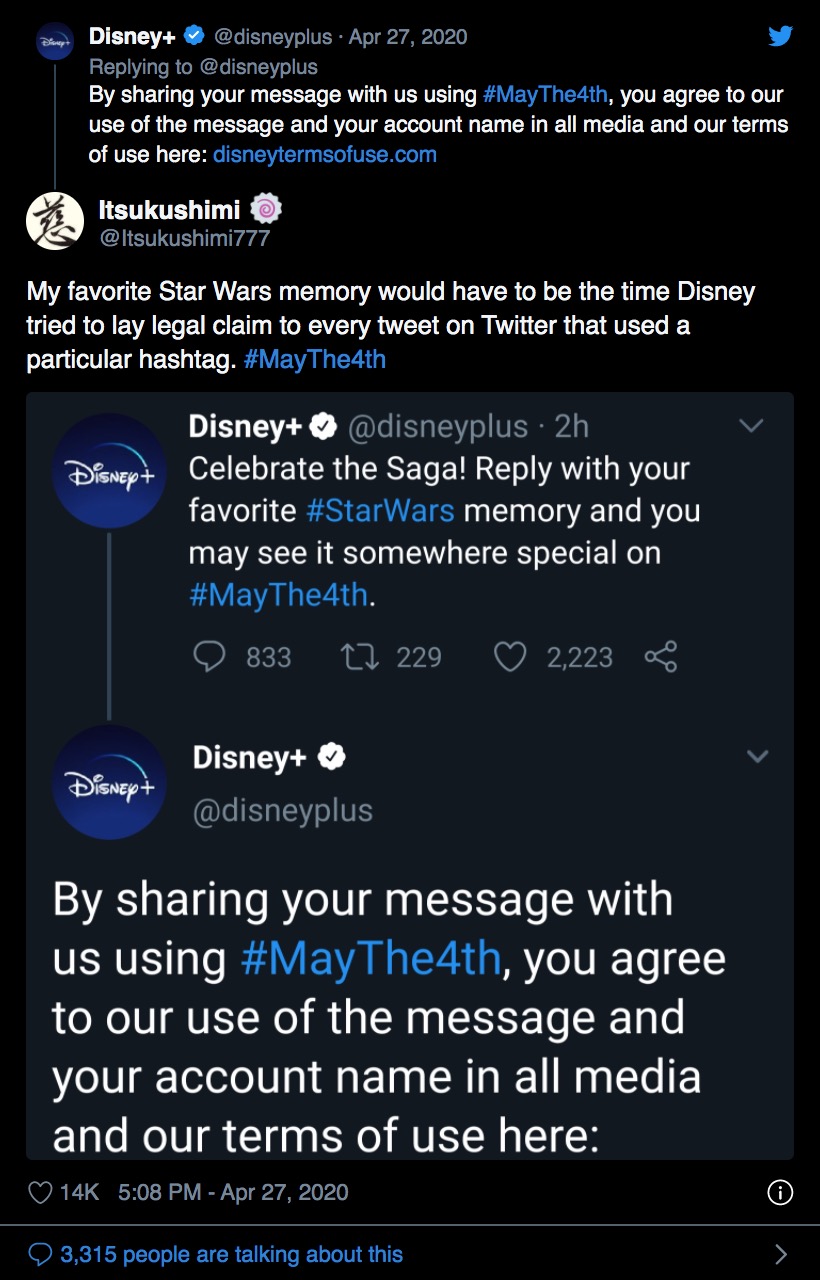 Many of the messages in response to Disney were from users saying that Disney could not place conditions on the use of hashtags or a calendar date; others simply pushed back at Disney for them trying to appropriate the hashtag.
Disney's move is particularly striking as the corporation has, over the years, argued against fair use and lobbied for stronger copyright laws in order to protect its works.
If Disney's lawyers hadn't been so strident over the years, in trying to ferociously protect its intellectual property, perhaps we wouldn't be living in the kind of world where Disney themselves are so fearful about using the content of others in their marketing that they're putting out random binding arbitration tweets out on Twitter.
By the way, if you're tweeting, you've already sold your soul to Twitter as Twitter's terms say, "by submitting, posting or displaying Content on or through the Services, you grant us a worldwide, non-exclusive, royalty-free license (with the right to sublicense) to use, copy, reproduce, process, adapt, modify, publish, transmit, display and distribute such Content in any and all media or distribution methods now known or later developed (for clarity, these rights include, for example, curating, transforming, and translating)."