The popular blockchain-based streaming platform, DLive, has just merged BitTorrent, which will result in a combination of resources to provide decentralized peer-to-peer content to users.
The union of DLive and BitTorrent
The DLive team will work hand-in-hand with BitTorrent developers in a platform integration process, which will result in important changes for both services.
The first will be related to marketing, since BitTorrent's 100 million monthly active users can easily gain access to DLive's service offerings.
The second change will be the use of technologies and contents of both platforms with each other operating under a single ecosystem. DLive will use BitTorrent storage systems, as well as its BTFS (BitTorrent File-Sharing) to share its multimedia content. As for BitTorrent, it will combine its recently-released streaming service, BLive, with the already established DLive platform.
The next benefit between the two communities will be the use of the BitTorrent account system, so users will have immediate access to the services offered by both platforms. This is a breakthrough for DLive, who will now have BitTorrent's 100 million active users at their disposal.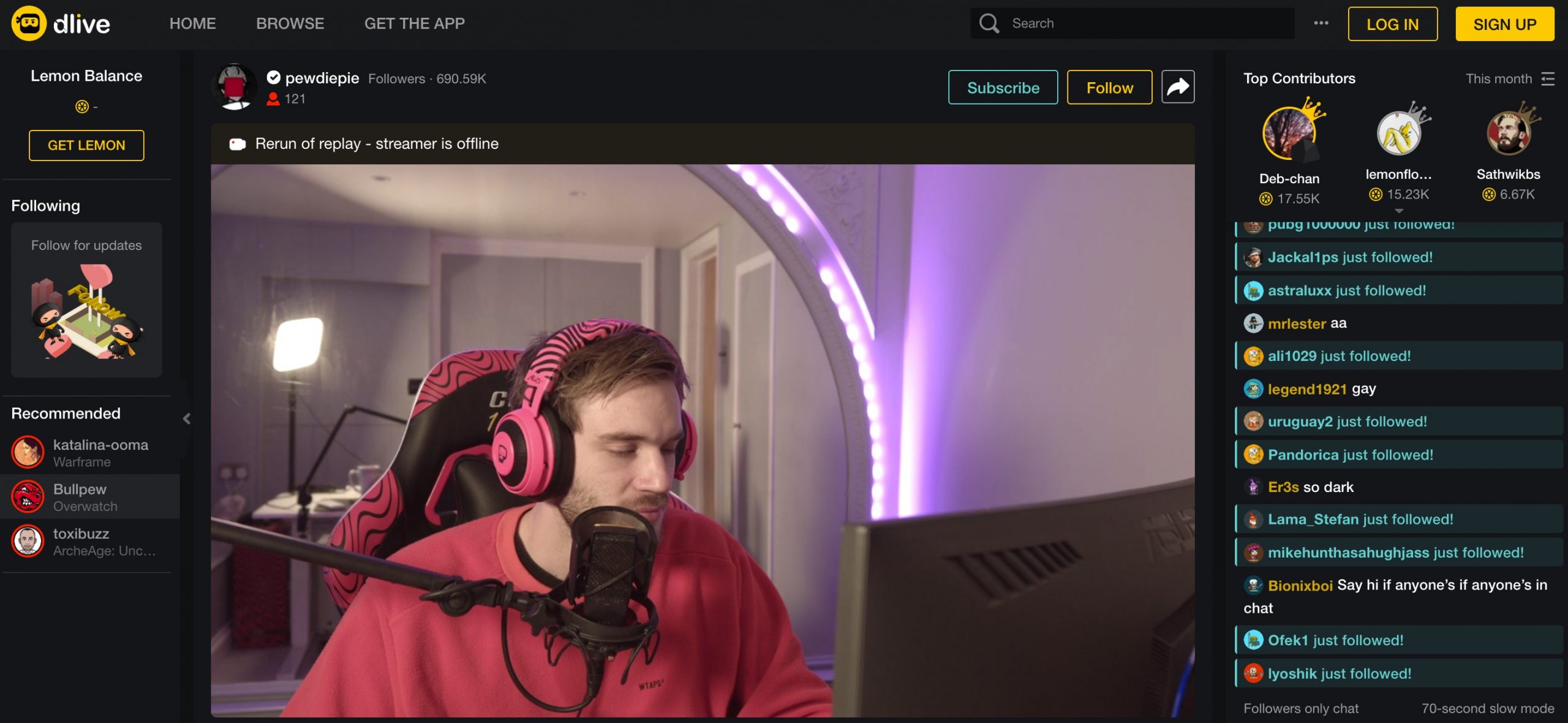 The last big change for DLive will be the transition from Lino Blockchain to the TRON Blockchain. This will not happen immediately, but through progressive changes in which the LINO Coin will gradually be discontinued.
On Jan 15th, 2020, the Lino team will release a plan to compensate all LINO holders.
In a statement, BitTorrent CEO, Justin Sun, stated: "DLive is one of the best real examples of what is possible when combining blockchain and digital media". He hopes that with this agreement, content creators (in this case, streamers) can recover the value of their work, which is currently centralized by multimedia platforms that simply take over the rights of their videos.
"We are ecstatic to have the opportunity to be part of the BitTorrent ecosystem," said Charles Wayn, CEO of DLive. "I've watched them pioneer the digital peer-to-peer space. DLive's goal of empowering creators and rewarding communities is one step closer with the amplification of this new venture."
The legacy of both companies
DLive is a streaming platform that over the past year has managed to create a name in the multimedia world thanks to celebrities like PewDiePie, Ninja, James Charles, and Jack Black.
BitTorrent, meanwhile, is a leading company when it comes to peer-to-peer sharing technology. Since its founding in 2004, BitTorrent, Inc. has created the most important decentralized protocol in the world.
Additionally, its BitTorrent and µTorrent programs are currently the most important platforms for sharing user-to-user content on the internet, so they are pioneers in terms of decentralized technologies.
The move comes as many companies are gearing up to take on YouTube and Twitch, which many creators have felt disappointed by in 2019.