Twitter has now deleted more tweets by President Donald Trump, including one in which he was (kind of) doing the widely popular YMCA dance. The tweet was actually taken down due to a copyright complaint filed by The Village People's publishers. Although the takedown is not surprising from the movie industry's perspective, in this case, deleting only Trump's tweet and not taking down others that have tweeted the same video and audio could be construed as selective censoring based on a political motivation.
It is also worth noting that copyright holders at large have been very positive towards Trump when he was elected to the office, as they collectively believed that he would help them in the fight against piracy. The Copyright Alliance even went on to issue a public letter, in which it said that Trump had a wide copyright portfolio, Torrent Freak reported.
Ironically, we now have Trump facing a number of copyright allegations just for posting clips. What's more, many musicians and other artists do not like to have their work promoted, shared, or used by Trump. But the same is not the case with other prominent personalities. As of today, there have been multiple lawsuits filed and takedown notices issued for Trump's tweets featuring copyright protected content.
The takedown notices in this case are for a tweet that featured a video compilation of Trump dancing to the 'YMCA' song by the Village People. He wrote, "VOTE! VOTE! VOTE!" and shared the compilation video. The Village People's label Scorpio Music also seems to be staunchly anti-Trump, as it even threatened to sue over the unauthorized use of the group's music during rallies and campaigns. At such a juncture, Trump tweeting his dance video to the YMCA song attracted two takedown notices.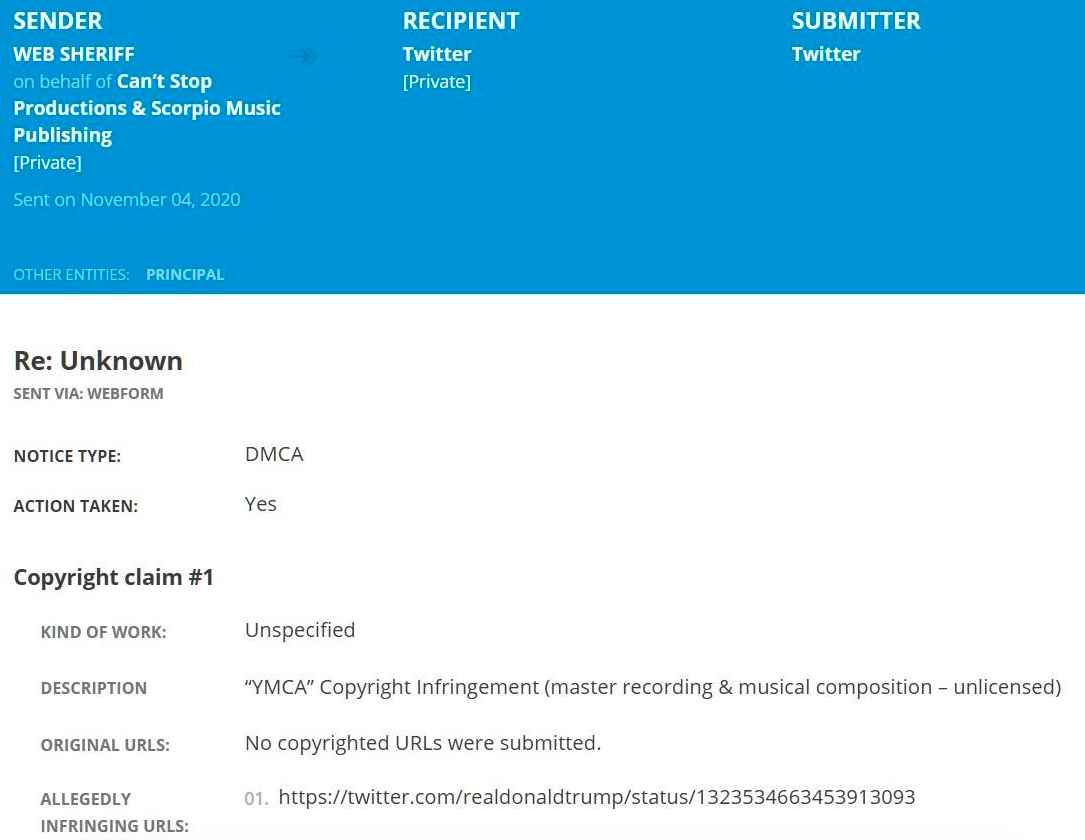 It was found that both the copyright takedowns were filed by Village People. While the first one was by Web Sheriff, an anti-piracy company that represents the music group, the other was by Sheriff posted on behalf of 'Scorpio Music' and 'Cant Stop Production.'
From TorrentFreak:
"It appears that even the Village People are not all in agreement on the issue either. According to TMZ, the group's founder Victor Willis says that Trump is free to use YMCA. Willis' company reportedly owns the US copyrights and granted a retroactive nonexclusive license to the Trump campaign."
While takedown notices are generally used for preventing any activity that infringes copyrights, in this case, it was used as a measure to distance a music track from a public personality. What's more, the video wasn't originally created by Trump. It was shared by profile with the username @som3thingwicked. But somehow the tweet sharing the video by @som3thingwicked hasn't been taken down, while Trump's tweet is facing a copyright strike.