The Department of Justice sent federal agents to the home of Joerg Arnu, a Rachel, Nevada, resident who runs a website dedicated to information about Area 51. He described the experience as "humiliating," adding that the feds "held his girlfriend at gunpoint."
Local news reporter George Knapp broke the news on Twitter, writing, "FBI agents came down hard on the operator of a popular website devoted to all things Area 51-its programs, lore, and legacy. More than a dozen agents served a no-knock warrant on the Rachel, NV home of Joerg Arnu, owner of http://dreamlandresort.com."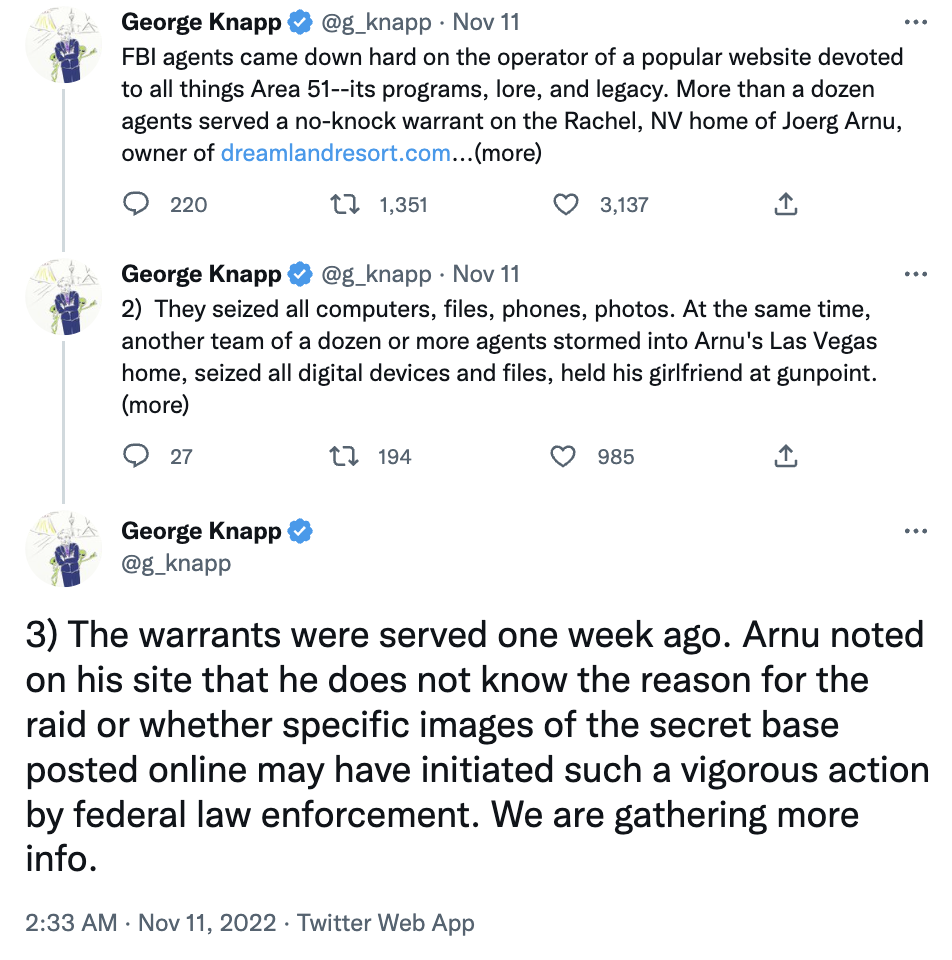 The website's description reads: "Monitoring Area 51 since 1999: Take an inside look at Area 51, a.k.a. Dreamland, the world's most famous secret Air Base. For 20 years and counting Dreamland Resort has been the most comprehensive source for information on Area 51, Black Projects, the Nellis Ranges, TTR, and the ET Highway. The webmaster is a 25-year Area 51 Research veteran and a resident of Rachel, NV, right outside the gates of Area 51."
"Last Thursday very early in the morning my homes in Rachel and in Vegas were searched by a combined team of FBI and AF OSI (Department of the Air Force Office of Special Investigations). I will spare you the details but it got quite tense and humiliating for me in Rachel and for my girlfriend in Vegas. All my laptops, phones, memory sticks, cameras, drones, and other items were seized," he wrote on his message board.
"I lost ALL my data, medical files, financial and tax records, passwords, everything. On top of that, I am stuck with thousands in cost for repairs and replacement of the most essential electronics and expected legal fees."
Knapp reported that the agents "held his girlfriend at gunpoint."
Arnu added that he had taken down some content: "To the best of my knowledge I have not broken the law. The search warrants are not very specific but aerial photos of Area 51 and other installations came up repeatedly. So I have taken those down for now to defuse the situation."
"I am concerned that overzealous government agents may use bogus charges against me to 'send a message.' Putting the truth out there can not hurt," he concluded.
Arnu is the fifth journalist to be raided since Biden-appointee Merrick Garland took over the DOJ. Last month, the DOJ released a memo announcing significant revisions to the Justice Department's regulations regarding obtaining information from, or records of, members of the news media including "limited specified circumstances" where the DOJ does not need to follow due process to obtain information.