After getting one of his Instagram posts temporarily deleted last week, Donald Trump Jr. has called out the social network for its censorship and said that it needs to stop.
In a recent Instagram post, Trump Jr. said that he was always aware of the social media censorship but he never knew it was this bad. He then shared a number of examples of how his followers claim to have been censored on Instagram which include:
Claims that Instagram is removing followers from his account
Claims that Instagram is blocking users from liking his posts
Claims that Instagram is temporarily locking users out of their accounts after liking his content
Claims that Instagram is automatically following liberal accounts that his fans do not want to follow (which would have the effect of replacing his posts with posts that they do not want to see)
Claims that he has been shadow banned from Instagram search results for some users
He also shared some screenshots which show that some users have been blocked from taking specific actions on Instagram along with messages from those users stating that they have had their ability to like posts disabled.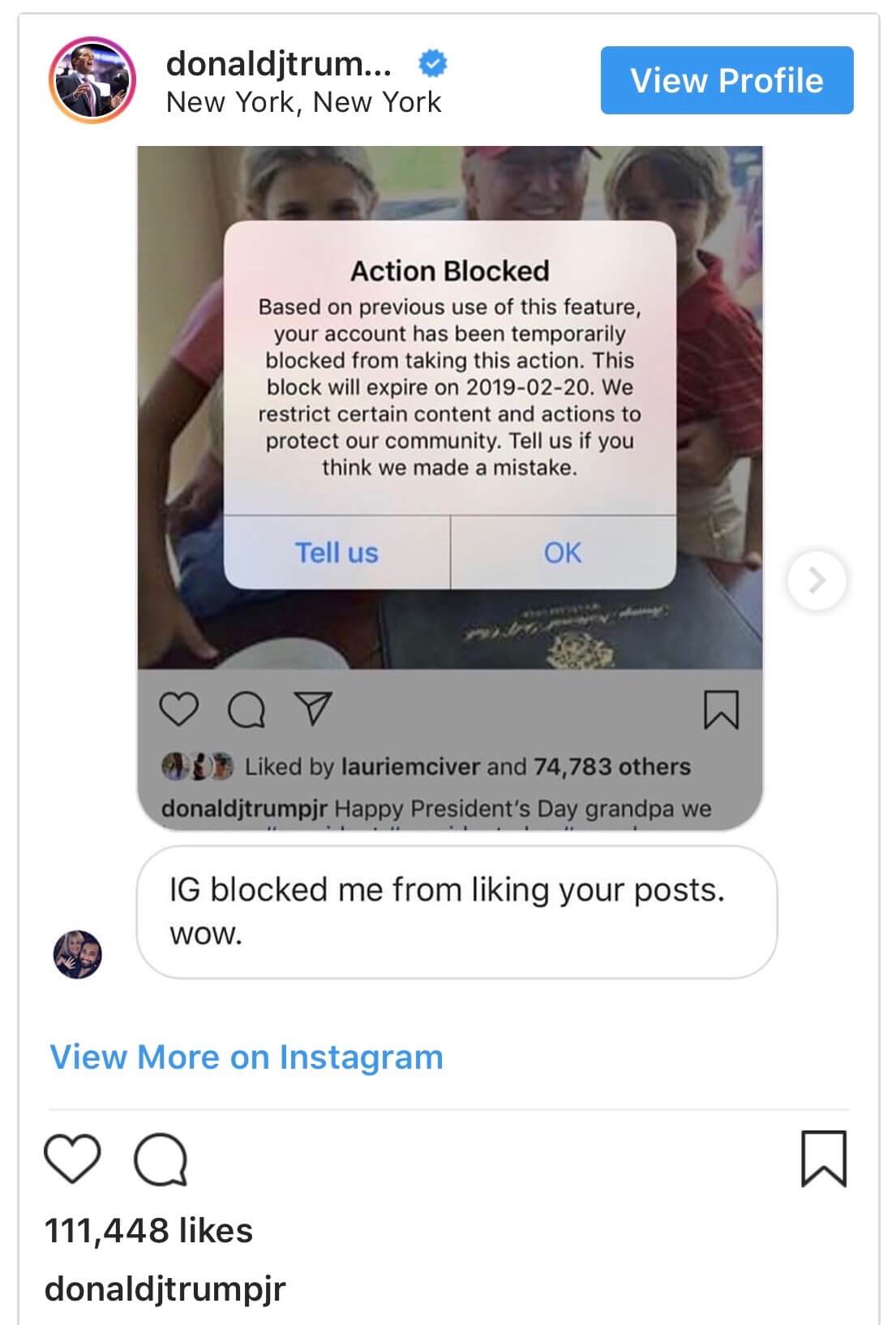 Trump Jr. then went on to highlight that this is just based on interactions with his audience and that he believes the scale of the problem is much larger because many people won't even be aware of this social media censorship.
He finishes by saying:
The attack on free speech cannot be allowed to continue on platforms as large as Instagram and with as much reach. This is no longer a simple little error or coincidence as they keep claiming. This is a systematic and sustained one way attack. IF THIS IS HAPPENING TO YOU, I URGE YOU TO SCREEN SHOT IT EACH AND EVERY TIME AND POST IT ON ALL YOUR PLATFORMS SO WE CAN FINALLY GET THE TRUTH OUT AND PUT AND END TO THIS OPPRESSIVE NONSENSE. PLEASE HASHTAG SO WE CAN ALL FOLLOW ALONG AND SEE THE TRUTH COME TO LIGHT.
Instagram responded to these claims of censorship in the following statement to Breitbart News:
The 'action blocked' message is shown to people when we detect they may be taking part in spammy behavior, for example, liking multiple posts, following multiple accounts or similar. This is a measure we have in place to prevent spam on Instagram and isn't specific to any one account.
However, this seems to be happening to Donald Trump Jr. on a very large scale and it's strange that so many people would be caught in Instagram's spam filters when trying to engage with his account.
Last week, Donald Trump Jr. called out the big tech companies for their hypocrisy in a powerful opinion piece. However, since then, they seem to have become even more emboldened with their censorship practices.
Instagram has already temporarily deleted one of Trump Jr.'s posts this week and seems to be censoring memes related to the actor Jussie Smollett.
The other social media sites also seem to have scaled up their censorship efforts over the past week. Facebook was recently caught blacklisting posts for calling out the Jussie Smollett hate hoax, despite the fact that he's now been indicted for filing a false police report. YouTube also quietly changed its community guidelines earlier this week to prohibit reporting on hate crime hoaxes.
The issue of social media censorship is really starting to boil over. Trump Jr. is drawing some much-needed attention to the rising level of social media censorship and in response, these social media companies seem to be doubling down and getting even more aggressive with their censorship.
The good news is that it seems to be having the Streisand effect. As the social media companies try to quietly implement new policies that censor people, the people who are experiencing the censorship are getting louder and bringing even more attention to this censorship. The more they try to hide this censorship, the more it will be exposed.