eBay is facing backlash after removing listings of used copies of the six Dr. Seuss children books that will no longer be published because they are considered "insensitive."
Two days ago, Dr. Seuss Enterprises, the company responsible for reprinting his books, announced that it would stop reprinting six books because they contain racial stereotypes. The six books are: The Cat's Quizzer, If I Ran a Zoo, McElligot's Zoo, Scrambled Eggs Super!, And to Think I Saw It on Mulberry Street, and On Beyond Zebra.
Dr. Seuss Enterprises' announcement was met with criticism, with people calling it another example of cancel culture.
Realizing that the six books would soon become rare, people who own the books started listing them for sale on eBay at exorbitant prices. The price of a Copy of "If I Ran the Zoo" went as high as $510 after 54 bids.
However, on Thursday, eBay began removing listings of the books. An email to sellers claimed that the listings were removed for violating the online store's "Offensive material policy."
eBay's move was met with heavy criticism on social media. The online store is being accused of censorship, tech book burning, and virtue signaling.
"You can't make this stuff up. @eBay is blocking my listings of @DrSeuss's "The Cat's Quizzer" & citing it as offensive material. Yet anti-Semite Louis Farrakhan's books are okay? #cancelcancelculture." one angry Twitter user wrote.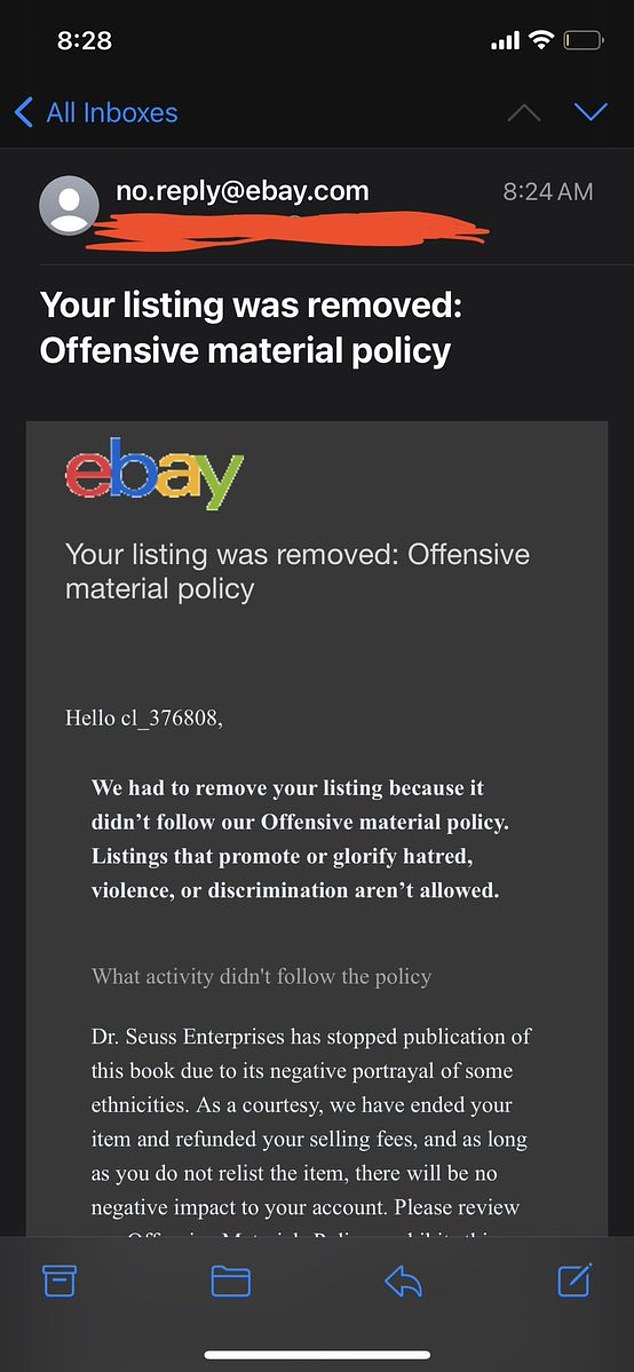 "You can buy Mein Kampf on eBay easy, but you can't buy Dr. Seuss books," another Twitter user wrote. "Virtue signaling tires me out dude."
People angry at the cancellation of the book also pointed out that President Biden did not mention Dr Seuss on Read Across America Day, which is held annually on the deceased author's birthday. Former presidents, including Obama and Trump, recognized Theodor Seuss Giesel's contribution in the children's books in their proclamations every year.
"[Dr Seuss'] tales challenge dictators and discrimination. They call us to open our minds, to take responsibility for ourselves and our planet," Obama said in his Read Across America Day proclamation in 2014.
In Trump's proclamation in 2018, he encouraged Americans to "always remember the still-vibrant words of Dr. Seuss: 'You have brains in your head. You have feet in your shoes. You can steer yourself in any direction you choose."
The White House is yet to explain why Biden left out Dr. Seuss in his proclamation on Read Across America Day.