The coronavirus epidemic outbreak that started out of China's city of Wuhan early in the year is not yet quite under control.
Though various reports quoting World Health Organization now suggest that the virus might – or might not have peaked in terms of its daily spread – the former scenario, if it proves true, may provide some good news for the humanity.
But definitely not for anyone looking to make a quick buck off some "disaster merch" – at least not on eBay.
Currently, records show that 1,300 people around the world have died to date from the disease caused by the virus, while 64,000 more people are infected.
But online vendors are now selling t-shirts with printed messages reading, "Wuhan City Tours," and the like – which the website said served to "mock the deadly virus."
More likely, it's the mocking of a deadly disease claiming a large number of victims that doesn't sit well with everyone. But is it enough to disrupt the flow of online trade, and based on what law?
In any case, eBay thought this kind of comedy merchandising was unacceptable and removed a number of t-shirts, costing anything from to about 11 to 15.5 British pounds.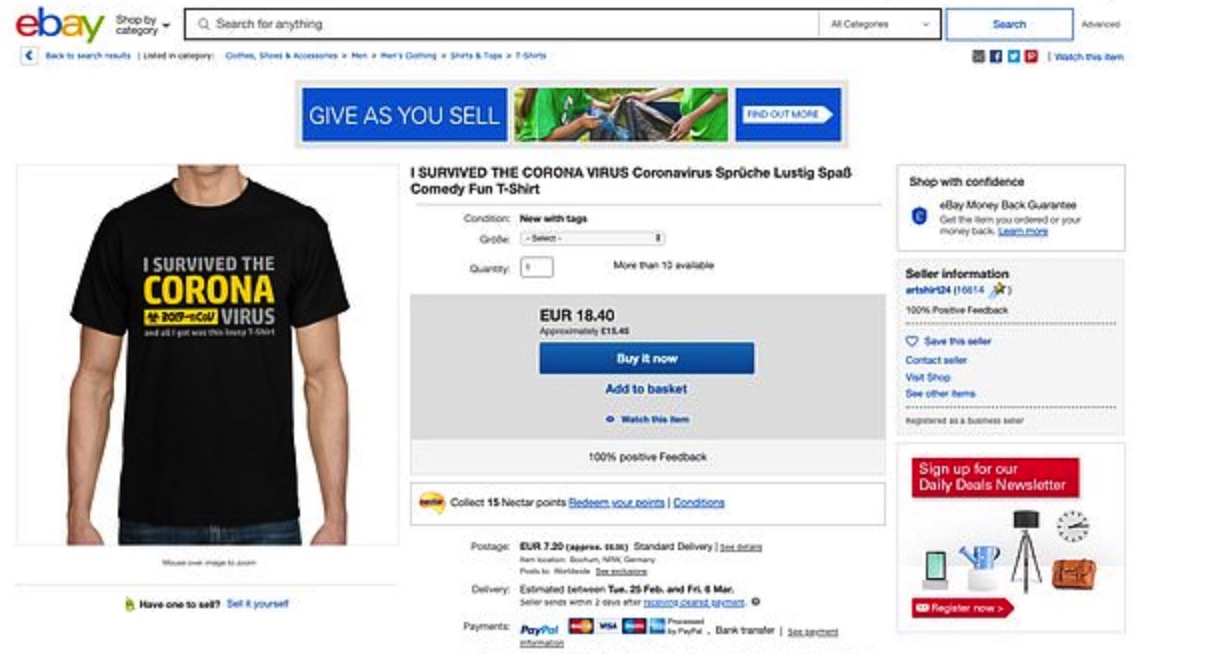 But if there are people out there willing to buy such goods – poor taste or otherwise – what's to stop them?
It turns out eBay has a "Disaster and Tragedy Policy" that these have now breached.
The policy, which sellers must adhere to, states that products that "portray, glorify, or attempt to profit from human tragedy or suffering, or are insensitive to victims of such events" cannot be listed on the platform.
Amazon, meanwhile, appears to be less sensitive to such concerns.
The giant e-commerce site continues to offer t-shirts featuring depictions of gas masks and messages such as, "I survived Coronavirus 2020" in a variety of colors – and within the price range of items outlawed on eBay.
For Amazon's edgier clientele, there's even a shirt with a slogan reading, "Coronavirus. Welcome to hell. Free entry."
When asked about the censorship an eBay spokesman said in a statement that the company was not keen on allowing sellers to profit from showing disrespect and insensitivity to its global community, especially when it comes to natural disasters or terrorist attacks.