Twitter CEO, along with owner Elon Musk met with the EU on Wednesday. At the top of the agenda for the EU was ensuring that Twitter is going to comply with its upcoming censorship law that is scheduled to be enforced on August 25th, 2023.
The censorship law is entitled the Digital Services Act and we've extensively covered how the EU has been pushing for Twitter to commit to complying with it.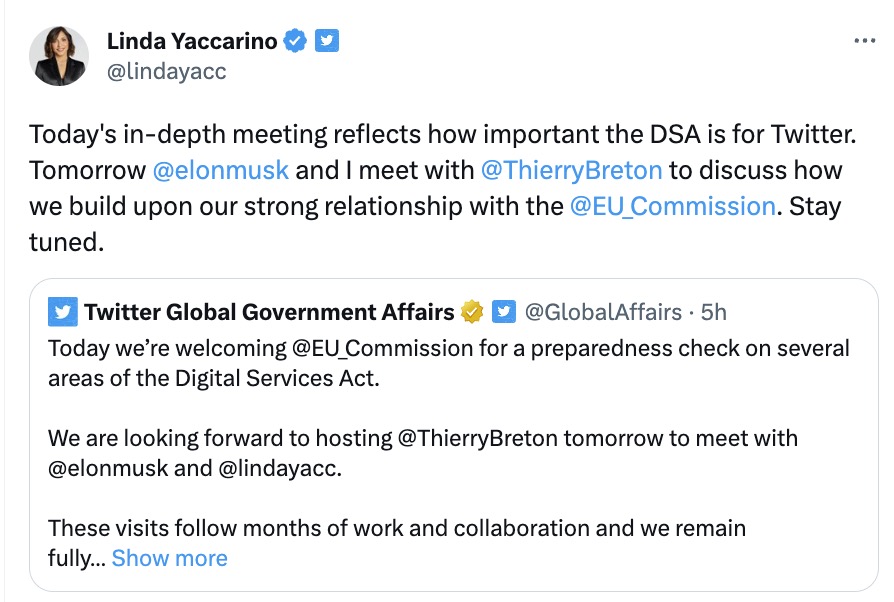 Ever since he took over Twitter, Elon Musk has been under fire from various political and media corners, and the EU was hardly to be expected to miss out on this witch-hunt of sorts.
Now, Musk appears to be appeasing the Brussels bureaucrats by promising that his social media company will respect EU laws designed to fight "disinformation and hate speech."
This transpires from an interview Musk gave to the France 2 channel, and according to reports, he phrased it like this (the interview was, as is the custom in continental Europe, dubbed in the local language rather than subtitled):
"If laws are passed, Twitter will obey the law."
The law he seems to have been referring to, responding to a question, is the Digital Services Act (DSA), which is already in force and will start to be applied on August 25.
It basically regulates content moderation – or, some would say, censorship – on the web.
The EU is certainly not one of those who would call it that – positive language is used instead to describe the legislation, as something that will force big platforms to protect consumers, and, "reduce harm."
Notwithstanding its actual market position and user numbers – compared to true Big Tech behemoths – the EU now considers Twitter "a very large" platform, and thus, content posted on there is "fair game" under the DSA.
But Musk appears to be talking out of both sides of his mouth in a way that might please free speech enthusiasts, but is positively enraging EU officials – namely, he removed Twitter from a group of social media companies that had previously agreed to the EU's "anti-disinformation code."
It is formally a voluntary commitment – but in reality, it was introduced as something these companies would either submit to – or else.
The European Commission has not only a commissioner for "values and transparency" – but also a deputy, one Vera Jourova, who scathingly described Musk's decision to abandon the "voluntary code" as picking to go about things "the hard way" and heading towards "confrontation" with the bloc.
(So much for the "voluntary" nature of it all, eh.)
Speaking for France 2, Musk seems to have gone for a "platitudes word salad," perhaps on purpose.
Here are some of the things he has said:
"(Twitter's goal is to have) good interactions from many different viewpoints (promoting) better understanding between people from different political parties or different countries" – and – "I want Twitter to be a force for good in civilization."